PRIZES, PREMIERES & PUBLICATIONS
Payne's Pulitzer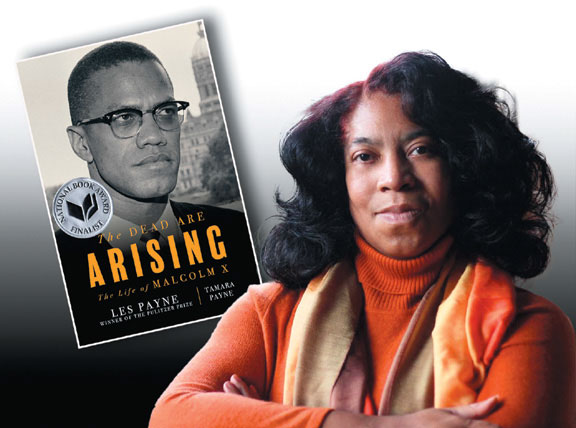 The epic biography of Malcolm X — coauthored by Tamara Payne '88 and her father, the late Les Payne P'88 — is the winner of the 2021 Pulitzer Prize for Biography.
The Dead Are Arising: The Life of Malcolm X is "a powerful and revelatory account of the civil rights activist, built from dozens of interviews, offering insight into his character, beliefs and the forces that shaped him," as the Pulitzer judges noted when the award was announced in June.
Les Payne — a Pulitzer-winning journalist, former Newsday editor and co-founder of the National Association of Black Journalists — began working on The Dead Are Arising in 1990. His daughter Tamara joined the book project as a researcher soon after her return from living abroad in China in 1991. When Les died in 2018, Tamara, then principal researcher, completed and published the book, which was intended "to put Malcolm finally in the context of American history, and to give recognition to how important he really is," as she explained in the spring 2021 issue of the PSS. Read the profile here.
Eat Wheaties!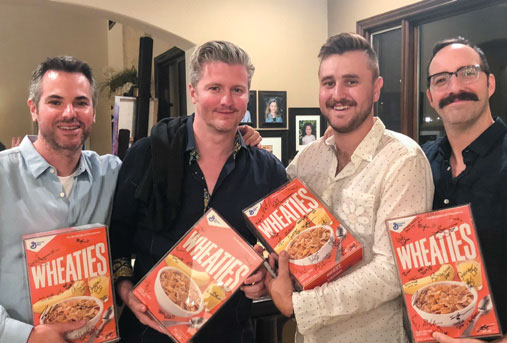 A new award-winning comedy from executive producer Daniel Webb '13 explores the pratfalls of social media and "going viral."
Eat Wheaties! follows Sid Straw (played by Tony Hale of Arrested Development and Veep), who is asked to plan his University of Pennsylvania reunion, only to see his life unravel as he takes to Facebook to prove that he was in fact college friends with movie star Elizabeth Banks. The film — "dryly funny, sweet and surprisingly touching" (Richard Roper, Chicago Sun Times) — is the first feature from executive producer Daniel Webb '13.
Webb, who was also the film's graphics producer, broke into Hollywood as an intern to Mark Neveldine '95, the writer, director and producer of films such as Crank, Gamer and The Vatican Tapes. Webb later served as an assistant to Neveldine and his producing partner, Skip Williamson, an executive producer of the Underworld series. After writing, producing and directing a number of short films, music videos and commercials, Webb joined the crew of Eat Wheaties!, which premiered at the Calgary International Film Festival in September 2020 and was screened opening night at the Heartland Film Festival, where it won the Humor and Humanity Award. Eat Wheaties! also won Best Comedy at the 2020 San Diego International Film Festival, prior to its April 2021 release.
SHH, IT'S A SECRET

Christopher McDonald '77, L.H.D. '13 joins the Marvel Cinematic Universe as an as-of-yet undisclosed character in the Disney+ series Secret Invasion, set to premiere in 2022. He recently wrapped filming on Rosaline, a comedic take on Romeo and Juliet, and is now shooting the upcoming Netflix series The Watcher. In 2021, he appeared in American Crime Story: Impeachment (produced by Brad Falchuk '93 L.H.D. '14) and Land of Dreams, which premiered at the Venice Film Festival. The critically praised HBO comedy Hacks — which features McDonald as a schmoozy Las Vegas casino owner — is now streaming in its entirety.
MAKE IT, DON'T FAKE IT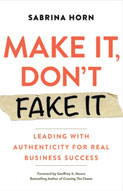 Silicon Valley PR veteran Sabrina Horn '83 gets beyond catchy slogans to offer practical, ethical and sustainable advice on corporate leadership. In her new book, Make It, Don't Fake It: Leading with Authenticity for Real Business Success, the award-winning CEO and public relations expert calls for a more grounded approach to tackling risk, managing setbacks and overcoming crises. In her no-nonsense, straight-shooting style, Horn delivers real, workable strategies with firsthand accounts of painful mistakes, lessons learned and empowering examples of authentic leadership.
POST-APOCALYPTIC VISIONS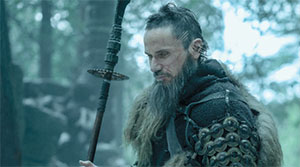 In the wake of an early 21st century virus, humanity is left without sight. Hundreds of years in the future, See takes up the story of the tribes of survivors, including the royal tax collector and witchfinder general Tamacti Jun, played by Christian Camargo '92 (Twilight series, Dexter). The Apple TV series launched its second season in August. (PHOTO COURTESY OF APPLE)
Good Trouble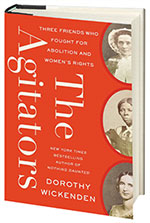 In a new collective biography, Dorothy H. Wickenden '76, L.H.D. '14 offers intimate portraits of three extraordinary women whose "agitating" changed the country forever.
In The Agitators: Three Friends Who Fought for Abolition and Women's Rights, Dorothy H. Wickenden '76, L.H.D. '14 tells of the intersecting lives of Harriet Tubman, Martha Wright and Frances Seward, who operated out of Auburn, less than 30 miles from Geneva, at a time when upstate New York was a seething center of radical reform. Wickenden, the executive editor of The New Yorker and a former HWS Trustee, details how these women shaped national policy and individual attitudes toward abolition, the Underground Railroad, the early women's rights movement and the Civil War. As the New York Times review noted, "The Agitators is a masterpiece, not least, of structure…Entwining these three asymmetrical lives as deftly as Wickenden does proves illuminating. Tubman's actions reveal the existential stakes of Wright's and Seward's agitations. Her freedom journeys made their words flesh."