Steward Says Farewell, Miller to Lead HWS Athletics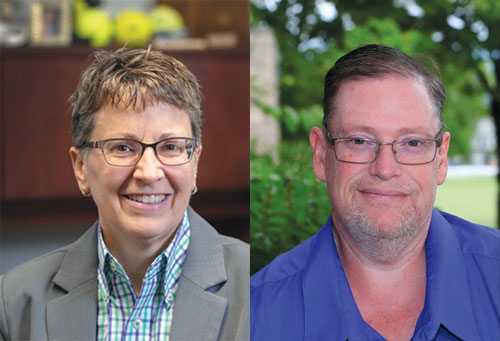 After a 33-year career in college sports, Deb Steward, Associate Vice President and Director of Athletics and Recreation, announced her retirement in October. She will be succeeded by Brian Miller, previously the Colleges' Associate Director for Athletics and Recreation and Director of Athletic Compliance.
Steward, who has served in a leadership role at HWS for the past 16 years, says she's "grateful for the trust that our coaches, staff and student-athletes have put in me, and enormously proud of what we have accomplished together."
"It's remarkable what Deb has built here," says President Joyce P. Jacobsen. "In the past 18 months alone, she led our teams through the uncertainty of the pandemic and set us on an exciting course to expand our athletic opportunities. I remain grateful for Deb's dedication to the Colleges and her strong guidance. She will be missed."
Among other honors, Steward has been recognized as the Women Leaders in College Sports Division III Administrator of the Year. During her tenure, Steward hired 20 head coaches; broke the Colleges' single day fundraising record; oversaw athletics achievements that earned conference, regional and national acclaim; and coordinated important athletic and recreation facility advances at HWS.
Miller, who looks forward to working with coaches, staff and students, notes Steward's support and influence as "a mentor, teammate and great friend whose positive impact on these Colleges is undeniable."