Commencement: Weird Edition
After a truly unusual academic year-and-a-half, the Classes of 2020 and 2021 received their diplomas this spring, in person, on the Quad.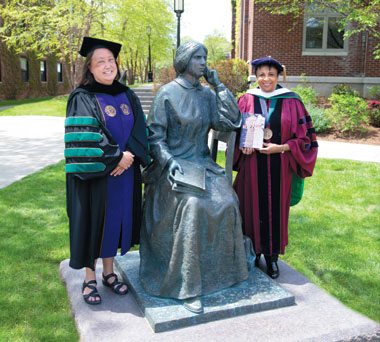 IN HER VALEDICTORY ADDRESS to the Classes of 2020 — given in June 2021 — President Joyce P. Jacobsen offered a meditation on the weirdnesses of the past year. Graduates had left HWS for "a world that was locked down and socially distanced, gripped by social and political unrest, obsessed with rule-following and rule-not-following." But there were "other weird things" — like the solidarity that emerged during the pandemic — that conjured for Jacobsen "a world in which even more weird, strange, bizarre and fateful things could happen."
As Jacobsen told the 2020 grads, "If weird can lead to good, then let's continue to be weird. Be at one with your weirdness, and the weird collectivity of what we have all been through. Let that feed your compassion for others, who experienced their pains and losses, just as you experienced yours…Above all, keep alive your love of learning…Be the geeky person who wants to know more. Be the weirdo who cares about ideals, who doesn't give up on your own goals and ideals and helps others to reach theirs."
HWS presented the Most Rev. Michael B. Curry '75, D.D. '20 with an honorary doctorate during the 2020 Commencement ceremony. In his remarks, Curry, the Presiding Bishop and Primate of the Episcopal Church, reflected on the hardships and sacrifices of the past year, and a vivid memory of his father telling him, "The Lord didn't put you here just to consume the oxygen."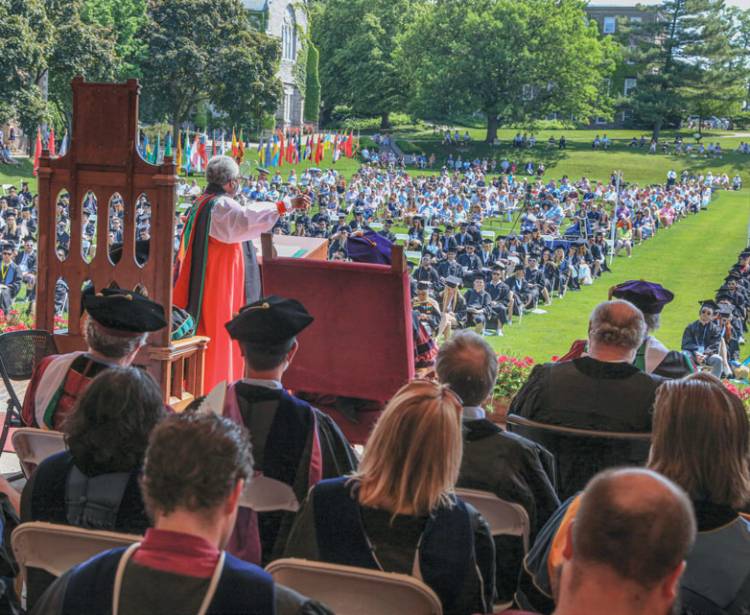 Just weeks earlier, Librarian of Congress Carla Hayden L.H.D. '21 delivered the 2021 Commencement address and was presented with an honorary degree and the 42nd Elizabeth Blackwell Award. In her remarks, Hayden reflected on Dr. Blackwell's model of determination and resilience, and the previously unfathomable achievement of a 19th-century woman earning a medical degree, much less graduating at the top her class. Hayden said, "Elizabeth Blackwell predicted: '100 years hence, women will not be what they are now'…'None of us can know what we are capable of until we are tested.' This past year has been a test for all of us. It made you stronger and opened your eyes to opportunities and some surprising possibilities."
HONORIS CAUSA
HWS awarded six honorary degrees during the 2020 and 2021 Commencement exercises. In addition to Curry and Hayden, the Colleges recognized four other esteemed recipients, who have each made a considerable impact in their respective professions and communities, and on Hobart and William Smith.
Margaret "Peggy" Bokan Greenawalt '66, L.H.D. '20, Retired financial executive, philanthropist and advocate for increased female leadership
G. Peter Jemison L.H.D. '20, Artist, activist, Historic Site Manager of Ganondagan State Historic Site and member of the Heron Clan of the Seneca Nation
Mary L. Beer R.N., M.P.H., L.H.D. '21, Director of Public Health for Ontario County
Christopher N. Lavin '81, L.H.D. '21, Executive Director of the Boys & Girls Club of Geneva and the Geneva Community Center