Welcome to Pittsburgh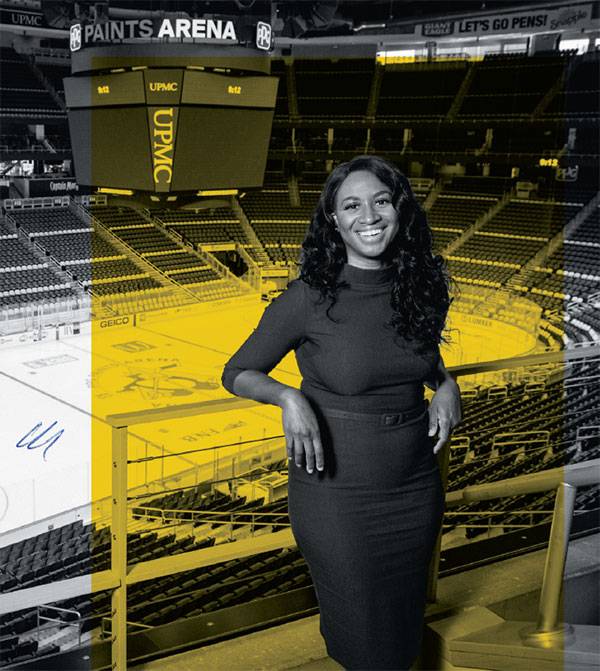 Delvina Smith Morrow '09, a senior director with the Pittsburgh Penguins, on the power of community partnerships and the hockey team's investment in the region's future.
BY ANDREW WICKENDEN '09
In the late 1950s, entire blocks of Pittsburgh's Lower Hill District were leveled to make way for the Civic Arena. The urban renewal project promised jobs, even as it displaced small businesses and thousands of residents from the majority Black neighborhood. Built for the local opera company, the arena was most notably the home of the Pittsburgh Penguins. After the hockey team moved in 2010, the venue was torn down and the remaining parcel of land became a vector of disappointment.
How does a city move forward without leaving its residents behind? Pittsburgh is facing the question again
with the 28-acre, $1 billion Lower Hill Redevelopment, which broke ground this September. The project is a collaboration between the Penguins, the city and local developers to transform the Civic Arena site, now a parking lot, into a bustling "destination." Whether it can be done sustainably and equitably depends on the longevity of partnerships, programs and investments like those managed by Delvina Smith Morrow '09, the Penguins' Senior Director for Strategic Community Initiatives and Diversity, Equity and Inclusion.
"Anyone who knows Pittsburgh knows Mr. Rogers and the importance of being a good neighbor," Morrow says. "That's how we're approaching this development: how can we be a good neighbor to the community?"
There are new buildings and outdoor spaces planned, places to "live, work, play and celebrate," but at the heart of the redevelopment is an "economic engine for the benefit of local residents," Morrow says. Since joining the Penguins in 2019, she has helped craft a community impact plan that will see the redevelopment's anchor tenant, First National Bank, reinvest $230 million in the Hill District. Meanwhile, she directed a $100,000 "rec to tech" investment, retrofitting a community center as an innovative tech lab for local students. In June, the First Source Center opened in the heart of the neighborhood, offering job training, financial literacy support and wealth building advice, as well as administrative resources for entrepreneurs, from copy machines to conference space. It's "a one-stop shop for workforce development opportunities," Morrow says, "whether they're tied to the Lower Hill project or not." Through these kinds of initiatives, she says the Lower Hill project will establish a durable economic model for the neighborhood, the city and the region.
Still, the legacy of the Civic Arena looms large for Hill District residents, and reactions so far range from optimistic to wary. "The community wants to hold the Penguins and the development team accountable," Morrow explains, "and we are 100 percent on board." When she joined the Penguins, she started attending community events, asking the residents and organizations in the team's back yard what they need. She says that even with the new redevelopment's emphasis on equity issues — from homeownership to cultural preservation to supporting minority- and women-owned businesses — it's the personal relationships that will ultimately determine "the narrative of what the Penguins are trying to do."
A native New Yorker, Morrow says Pittsburgh's "neighborly" air was never more apparent than during the pandemic. As COVID forced the NHL and the redevelopment to pause, she directed the Penguins' local response, coordinating with elected officials and police precincts, local organizations and neighbors, to deliver food and supplies across the city. She says it's this kind of direct engagement that shows Pittsburgh residents "that the Penguins are not just talking heads — we're here, we're part of the community."