Abbe Center for Jewish Life
In her speech at the dedication of the Abbe Center for Jewish Life, former Abbe Center for Jewish Life Director and Hillel Adviser Lorinda Weinstock quoted the Ethics of the Sages: "Know from where you came and to where you are going."
Weinstock explained that the donation from her former Hebrew student, Trustee Richard K. Abbe '92 and his wife Merav, is a poignant milestone in the history of Jewish living and education at the Colleges. "We now have our very first permanent home for Jewish life on campus."
"With this new space, we've created a place for people to go and to feel comfortable," Abbe recalled in an interview before the dedication. "It's also one more place we can point to on a college tour to show diversity at HWS."
The new space accommodates nine students with a variety of majors, minors and interests. The home's spacious dining room, living room, conference room and separate kosher-style and true kosher kitchens make it an ideal space for gatherings.
Situated directly across the street from Temple Beth-El, the Abbe Center's location is perfect for cultivating relationships between HWS students and the Geneva community. Students have already begun to establish traditions with the synagogue youth group, like an annual Hanukkah party, occasional Sunday brunches, movie nights and other weekend activities.
"When we plan a celebration or holiday dinner, we know we can rely on the Abbe Center for our needs," says Co-President of Hillel Andrea Rocchio '11. "The proximity of the Abbe Center to Temple Beth-El makes it easy to attend services and stay connected with the Geneva Jewish community."
Even the furniture is something the students can feel good about, not only because it's brand new and members of Hillel had a say in choosing it, but because they requested that all furniture be environmentally friendly, "in keeping with the Jewish movement of being stewards of the Earth," explained Evan Brown '08. All of the furniture in the home can be dismantled, recycled or repurposed.
Tina Wasserman Kosher Kitchen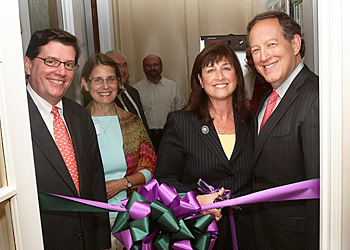 Tina Wasserman, a renowned Kosher chef, food scholar and author paid tribute to the importance of food in sustaining Jewish identity during the ribbon cutting ceremony of the new Tina Wasserman Kosher Kitchen in the Abbe Center for Jewish Life. The Kosher kitchen is named in honor of Wasserman by her husband, Dr. Richard L. Wasserman '70, a trustee at Hobart and William Smith.
The new kitchen allows residents and HWS cooking staff to make an endless array of home-style kosher dishes using separate kosher cookware, utensils, stoves and dishwashers. "We've had a rabbi supervising the setup of the kitchen," Tina explained. "Supplies in the kitchen have been marked blue for milk, red for meat and green for pareve."
Students will be able to enjoy typical kosher dinners, like falafel and brisket, but the kitchen will see its greatest use for weekly Shabbat dinners. Before the establishment of the Abbe Center, Shabbat dinner drew around 20 people, but more recently, that number has grown to as many as 50 people each week, thanks in large part to the addition of the Tina Wasserman Kosher Kitchen.
Wasserman Garden of Quiet Repose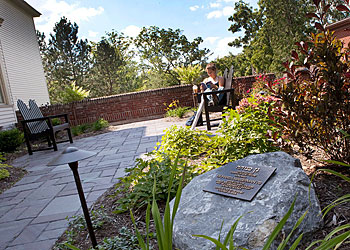 Three months after the dedication of the kosher kitchen, Tina honored Richard with another new addition to the Abbe Center – the Wasserman Garden of Quiet Repose.
"This garden was a surprise I gave Richard for his birthday," explained Tina. "I wanted to create a space in his honor that was peaceful, combining his passion for gardening, his strong faith and his love of the Colleges. It's a place we both hope will be used by all members of the Colleges, both Jewish and non-Jewish, where they will feel comfortable."
The garden includes a curved path of individual Vermont slate stones surrounded by plants. Along the path are two long benches made of poly-wood, a recycled material from the same green-friendly company that crafted the Colleges' Adirondack chairs.
DEDICATION
Dedication of Abbe Center for Jewish Life by Lorinda Weinstock.
Read the event transcript.