Rabbi Sally Priesand Celebrated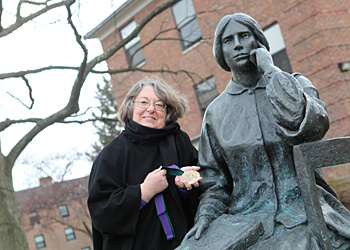 The Elizabeth Blackwell Award, named for Dr. Elizabeth Blackwell, the first woman in modern times to receive the Doctor of Medicine degree, is given to women whose lives exemplify outstanding service to humankind.
On April 23, 2009, formal ceremonies were held in the Vandervort Room to honor Rabbi Sally J. Priesand, the first woman rabbi ordained in the U.S. and the 37th recipient of the prestigious Elizabeth Blackwell Award.
Since her ordination on June 3, 1972, Priesand has led the way for nearly 1,000 women who have followed in her footsteps and joined the rabbinate. During her career, she served as a rabbi at the Stephen Wise Free Synagogue in New York City and Temple Beth-El in Elizabethtown, N.J. She went on to become rabbi of Monmouth Reform Temple in Tinton Falls, N.J., a position she held for 25 years.
In addition to her rabbinic roles, Priesand has served on the board of each of the major institutions of Reform Judaism, including the Central Conference of American Rabbis, the Union for Reform Judaism and the Hebrew Union College-Jewish Institute of Religion (HUC-JIR). She is also a member of Jewish Women International, Hadassah, the National Council of Jewish Women, the National Organization for Women and the National Breast Cancer Coalition. In 1997, the Women's Rabbinic Network was instrumental in establishing at Hebrew Union College the Rabbi Sally J. Priesand Visiting Professorship in Jewish Women's Studies.
She is an Honorary Vice President of the Jewish Federation of Greater Monmouth County and President of Interfaith Neighbors, an organization whose primary purpose is to provide rental assistance and support services for those who are homeless. She also chairs the Clergy Advisory Committee of Planned Parenthood of Central New Jersey and serves on the board of the Holocaust, Genocide and Human Rights Education Center at Brookdale Community College. She is on the board of the Jewish Heritage Museum of Monmouth County.
Priesand holds a Bachelor of Hebrew Letters and a Master of Arts in Hebrew Letters as well as a Bachelor of Arts degree in English from the University of Cincinnati. She also holds an honorary Doctor of Humane Letters degree from Florida International University, and an honorary Doctor of Divinity degree from HUC-JIR.