Academic Opportunity Programs
OPPORTUNITY PROGRAMS
The Hobart and William Smith Colleges Academic Opportunity Programs, comprised of the Arthur O. Eve Higher Education Opportunity Program and HWS AOP, are designed to support students who present an alternate academic profile and who demonstrate high potential to compete successfully in an academically competitive environment.
The Academic Opportunity Programs staff provides academic counseling, academic and personal support to more than 75 Hobart and William Smith program students each year.
ADMISSION & APPLICATION INFORMATION
All candidates that want to be considered for the HEOP/Scholar program must go through the general admission process.
Request info ABOUT THE HEOP PROGRAM
BRIEF BACKGROUND
Academic Opportunity Programs, which includes HEOP and the HWS AOP program, is an access and academic support program that by nature is fluid in its operation by creating a web of support for first generation and traditionally underrepresented populations in higher education. The Arthur O. Eve Higher Education Opportunity Program (HEOP) is funded by the New York State Department of Education and Hobart and William Smith Colleges.
HEOP is regarded as one of the most successful academic access and support programs of its type in the nation based upon student achievement and graduation rates according to the Teagel Foundation.
SUPPORT SERVICES OFFERED TO STUDENTS
Academic, personal, financial and career counseling: The Academic Opportunity Program staff can assist its students by providing essential counseling and advising support in the areas of academic, financial aid and social support. The staff also works closely with students to help them take advantage of many other campus resources available such as Career Services, the Counseling Center, faculty advisers, and the Center for Teaching and Learning.
Tutorials: Tutoring and academic support is provided by both Academic Opportunity Program staff and through the Colleges' Center for Teaching and Learning.
Full-need financial aid package: Financial aid is provided through a combination of grants, loans and work. First-year students also receive assistance in purchasing their books and supplies.
ELIGIBILITY REQUIREMENTS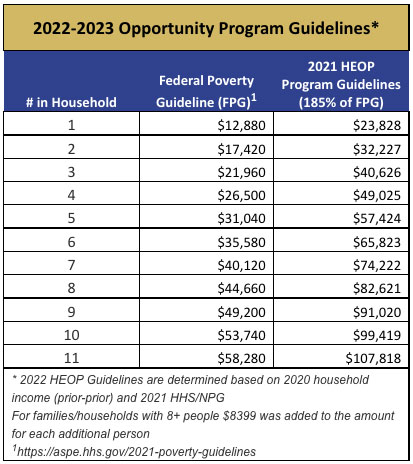 General
HEOP applicants must be a resident of New York State for one year prior to the first term of enrollment.
Academic
Must have acquired a high school diploma or the equivalent, be non-admissible by the College's regular admissions standards and demonstrate the motivation and potential to succeed academically despite one's academic background.
Economic
The applicant or his/her family must also meet one or more of the following economic requirements:
Earn a yearly income not in excess of New York State economic guidelines for HEOP as shown on the program guidelines chart.
Receive, or be a dependent of an individual receiving, either Aid to Dependent Children, Home Relief or Family Day Care payments through a New York State or

county

Department of Social Services.
Live with foster parents who do not provide economic support for college.
Be a "ward" of the court.
SUMMER INSTITUTE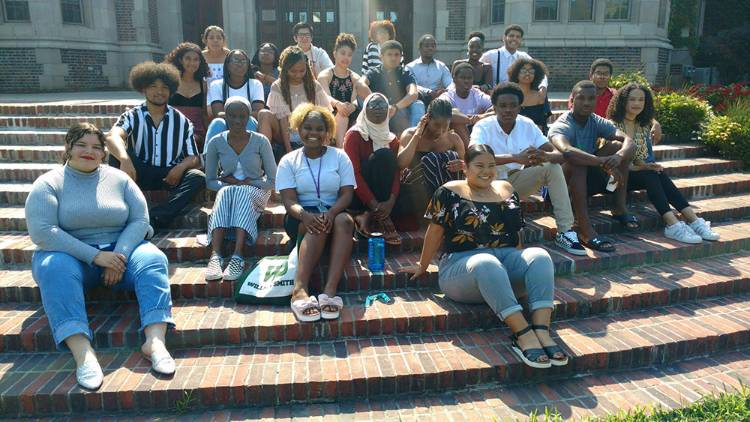 HEOP/AOP Class of 2025 Information:
Arthur O. Eve Higher Education Opportunity Program New and Updated Information will be posted regularly.
Dear Accepted HEOP/AOP students for the Hobart and William Smith Colleges Classes of 2025:
Congratulations on your acceptance to Hobart and William Smith Colleges through the Arthur O. Eve Higher Education Opportunity Program (HEOP) and AOP.
This year we will be returning to an in-person Summer Institute (SI) Program. The SI dates are Saturday, July 3 to Saturday, August 7.
Summer Institute: July 3 – August 7, 2021 (on campus program)
When a student is accepted to Hobart and William Smith Colleges through the Academic Opportunity Programs office (HEOP/AOP), that student will typically attend a five-week intensive academic summer program, required for all first-time enrolling Academic Opportunity Program students. Participation and completion in "good" academic standing is essential in order for a student to fully matriculate as an HEOP or opportunity program student at Hobart and William Smith Colleges. This year, we will teach courses in Writing and Rhetoric (1 credit/3 credit equivalent), History of Education Movements (1 credit/3 credit equivalent) Exploring the Water Cycle (1 credit/3 credit equivalent), Film Analysis, and Learning Strategies and Mindsets for your College Career. In addition, individual counseling sessions are scheduled to assist students in making the transition to the college environment. The Summer Institute sets the foundation for making the successful transition to HWS through academic preparation in essential skills necessary for college success, and building identity and community as new college students. In addition to learning administrative processes, students receive in-depth orientations to learn about the many services available on campus.
Further information about the Summer Institute will be sent to enrolled students via email.
Fall term meetings and beyond: Upon returning to campus for the fall term all first-year students are required to meet with their assigned Academic Opportunity Program adviser once a week. The meetings are designed for academic and social support. Graded and academic work in progress will be reviewed and discussed to ensure that the student is effectively utilizing the skill sets learned over the summer. These meetings are also a perfect time to discuss any issue that may need to be addressed. Meetings are typically scheduled for a half hour. In the fall, all first-year students are required to sign an academic contract outlining all of the program expectations for student participation in Academic Opportunity Programs.
Summer Institute Emergency Information Form
STUDENT PROGRAMMING
Center for Teaching and Learning Workshops in Study Skills, Test taking Strategies, Effective Note Taking
Dr. Alger L. Adams '32 Academic Excellence Award Dinner
Martin Luther King Jr. Celebration
Afro-Latino Alumni/ae Association's (ALAA) Spring Weekend
International Women's Day Reception
New Faculty Reception
Multicultural Reception
Career Services: PATHWAYS link when attending the Summer Institute
Annual Graduation Barbeque
Many co-sponsored events with the Office of Intercultural Affairs
STUDENT RESOURCES