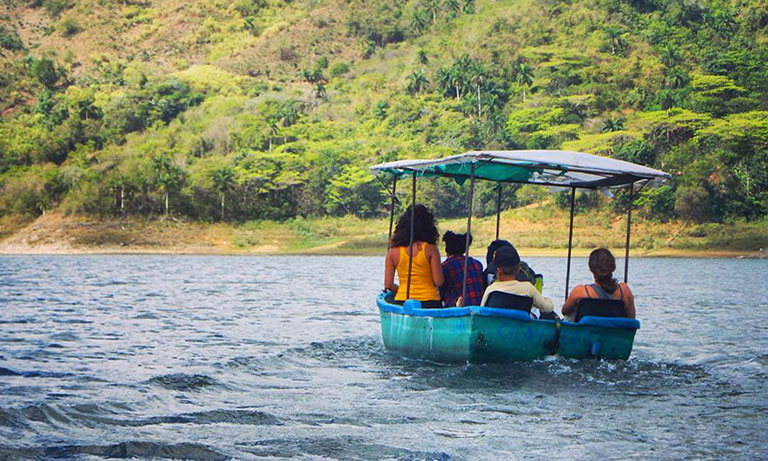 Cuba
CUBA'S NATURAL AND CULTURAL WONDERS
with Faculty and Friends of HWS
May 13-23, 2024
Program description
Discover Cuba on this once-in-a-lifetime, 10-day program with Professor Meghan Brown (Biology and Environmental Studies) and Professor May Farnsworth (Spanish and Hispanic Studies). During this intimate educational exchange, we will experience the healthiest and best-preserved nature in the Caribbean and immerse in day-in-the-life experiences with Cuban community leaders, business owners, artists, and farmers. We will explore the intricate links between Cuba's culture and environment starting in Santiago de Cuba, traveling across the expanse of the island, and ending in Havana. Our small H&WS delegation will allow us to explore Cuba's amazing cities and UNESCO heritage sites (e.g., Santiago de Cuba, Trinidad, Havana) and be immersed in its natural wonders (e.g., El Cornito, Humboldt National Park, El Nicho). We will be mostly staying in modest homes with Cuban families to provide opportunities for substantive interaction. This will be an active program, including snorkeling, hiking, birding, and boating as well as attending lively concerts, dance workshops, and viewing the works of Cuban visual artists. This exclusive program was developed by Professors Brown and Farnsworth based on their expertise and in conjunction with Son dos Alas. To register your intent and begin the invoicing process email Melisa Riviera at mriviere@sondosalas.com.
Trip Leaders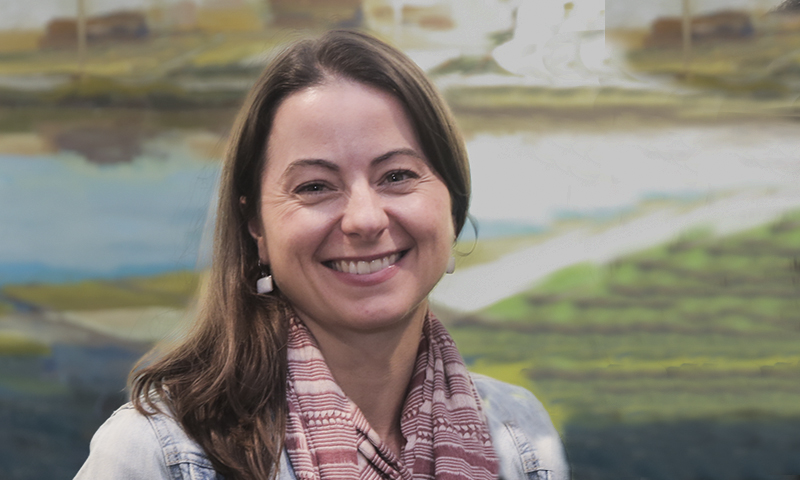 Meghan Brown studies and teaches about the critical role humans play in shaping Earth's environments. She has been at the Colleges since 2006. Meghan is a Fulbright fellow, a National Science Foundation grantee, and a recently featured scientist in National Geographic. Her research addresses questions such as: How do organisms respond to climate change in lakes? Is the ecology of Caribbean islands shaped by their economies? What role do non-native species play in the conservation of native species? She is currently leading a group of American and Cuban scientists who focused on understanding non-native plants, which was covered by Scientific American and the journal Nature. Recently, she generated the fictional ecology for Jeff VanderMeer's novel Hummingbird Salamander; The Smithsonian Magazine highlighted the science-in-fiction collaboration. Meghan has a wealth of experience teaching intergraded classes in ecology, including undergraduate abroad programs in Latin American (Lake Atitlan, Guatemala), Russia (Lake Baikal, Siberia), Italy, Australia and New Zealand. Her favorite class to teach is Aquatic Biology, which utilizes the natural laboratory of the Finger Lakes.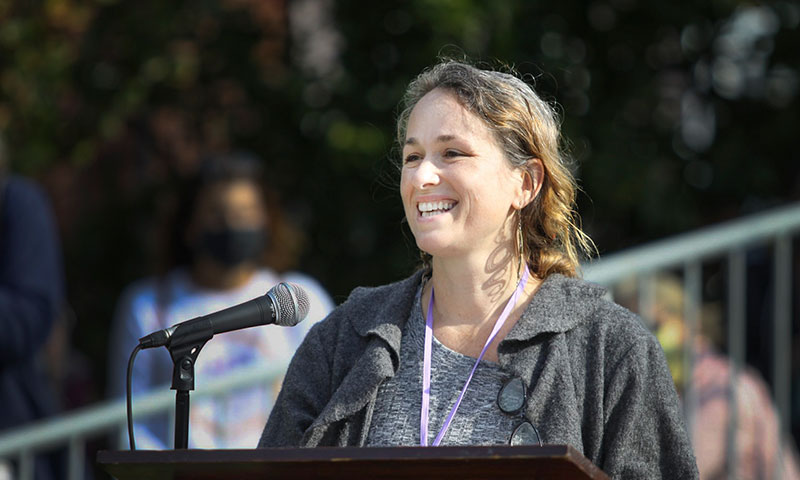 May Summer Farnsworth has taught Spanish and Latin American studies since joining the faculty at HWS in 2007. She has traveled extensively in Latin America and has published a series of scholarly articles and literary anthologies focused on popular culture and social justice in Latin American theatre and performance. Her research as a Fulbright Scholar in Buenos Aires led her to write a book about feminist theatre in Latin America (Feminist Rehearsals, forthcoming U of Iowa Press). May has coordinated interdisciplinary study-abroad trips for HWS students in the Dominican Republic, Ecuador, and Chile. She also directs a collective-impact action team dedicated to equity and academic opportunities for Latinx families in the local community. Her bilingual youth advocacy earned her the civically-engaged faculty award in 2021. This year, May is teaching courses on Spanish conversation, bilingual education and Latin American/Latinx drama.
Cost
$4260 PER PERSON* (Includes all program content and associated tips.)
An initial $1000 deposit is required by November 13, 2023, to reserve your participation. A second $1760 deposit is required 120 days prior to program start date. Final payment of $1500 is due 90 days prior to program start date on February 13, 2024. As space remains available, you may complete your full registration and payment by January 13, 2024. No further registration is available after January 13, 2024. Rates are per person. See payment schedule below.
*DOES NOT INCLUDE ROUNDTRIP AIRFARE (Airfare to/from Santiago de Cuba and Havana are not included.)
Payments and passports
DUE November 13, 2023:
$1000 deposit
Passport main page color scan (you may submit this immediately or wait until November 13)
DUE January 13, 2024:
$1760 deposit or $2760 deposit
Passport main page color scan if new registration
DUE February 13, 2024:
Son Dos Alas requires two deposits and all traveler passport information no less than 120 days prior to the program start date. This is a hard deadline to secure your academic entry visa for Cuba and provide the necessary time for fiscal transfers.
Final payment is due no later than 90 days out form the program start date.
Cancellation/refund policy:
A 50% refund of deposits is available up to 90 days prior to the program start date.
Final payments are non-refundable.
Should cancellation be necessary within the 90-day window prior to program start date, 50% of the total program cost (less unrecoverable direct program costs) can be applied toward future travel with Son Dos Alas within one calendar year from the proposed program start date.
Son Dos Alas accept various forms of payment via check, ACH transfers (bank to bank), Zelle, Venmo or credit card payments. Unfortunately, credit card payments incur an additional 3.5% fee (through PayPal). We encourage other direct payment forms to avoid this fee.
To register your intent and begin the invoicing process email Melisa Riviera at mriviere@sondosalas.com. You will need to include a color scan of the main page of your passport. Make sure all the date on the passport is visible. Please include in your email your preferred payment method and you will be invoiced directly to make your deposit.
You can learn more about Son Dos Alas and meet the team here.
WHAT IS INCLUDED
Cuban D-type academic entry visa
OFAC compliancy (including informational materials and documentation)
Academic visits and cultural activities, as listed in the itinerary
SDA cultural, health, and safety orientation provided upon arrival in Cuba
Spanish to English translator for all tours, guest lectures, and cultural and academic visits
Accommodation in a casas particulares, private homes turned b and b lodging, overseen by local host/host families
Cuban Institutional affiliation and certification for your program with the Center for Psychological and Sociological Research (CIPS; a research institute of the Ministry of Science, Technology, and Environment, CITMA).
Academic tuition for all lectures, conferences, and site visits
Two cell phones per delegation with local lines for local/international calls and internet use (initial $25USD per line included. Expenses beyond initial lines are considered a personal expense and delegates should plan to purchase recharge cards).
All delegation group breakfasts, lunches, and dinners
A team of dedicated program managers, of which one or two will be with your delegation alongside a translator from CIPS for the duration of the program.
On-site Director oversees your program itinerary and serves as a 24/7 emergency contact aside from your immediate SDA and CIPS staff
All transportation for site visits, programmed events, and programmed experiences
Airport transfers in Santiago de Cuba and Havana
WHAT IS NOT INCLUDED
Any additional meals or activities not specified or listed as "included" on your itinerary
Incidentals (additional taxis, hospital deposits, calls, internet, or any types of loans)
Domestic airfare to/from Santiago de Cuba or Havana
Personal expenses (passport fees, luggage fees, souvenirs, cell phone services, etc.)
*Suggested for delegates to bring $50-150/USD per day for incidentals, personal expenses, and additional meals
Lodging
To note: the U.S. State Department does not allow U.S. citizens and those under U.S. jurisdiction to stay at state-run hotels. As there are no privately owned hotels in Cuba, the only option for U.S. travelers is to stay at a family owned and run casa particulares (bed and breakfasts). As Cuba has been transitioning from a state-run economy to one that is both state and privately owned, the bed and breakfast business is one of the most successful private businesses blossoming in Cuba. We have found that the quality of service and lodging experience is far better at casas particulares than at hotels. Your ecology delegation will be housed in various casas particulares throughout Cuba.
All lodging throughout Cuba includes:
Breakfast and drinking water (additional water will be available for purchase)
All rooms are set up to fit either two twin beds or one larger king bed. Program cost is for double occupancy, single occupancy through the program is available for an additional $350USD.
Each room has its own air conditioner.
All bathrooms have modern showers with hot and cold water.
Health, Safety, and Security
Your health, safety and security are our primary concerns while you are traveling with us. If you are flying from the United States, your airfare will include health insurance as this is mandatory for traveling within Cuba. If you are not traveling directly from a U.S. port on a U.S. airline, you will need to purchase international health insurance applicable to Cuba to enter the country. As this program entails land travel throughout the island, we will always keep sight of the closest international hospital to our whereabouts for emergencies. Nonetheless, you should travel with over-the-counter medications for usual travel health injuries/incidences (traveler's diarrhea, Band-Aids, antacid, colds, headaches, etc.) as these are very hard to come by in Cuba.