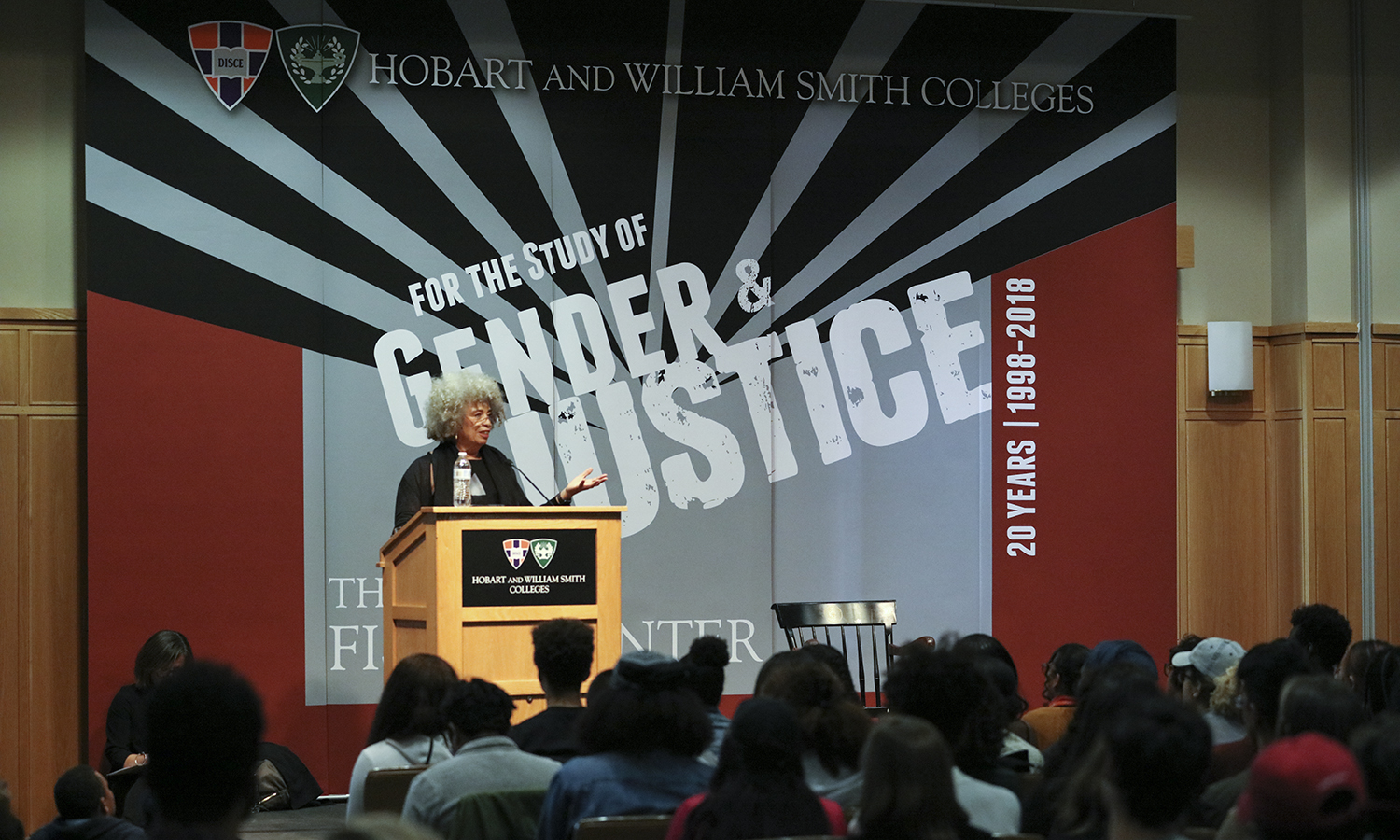 Fisher Center for the Study of Gender and Justice
provoke your assumptions
Provoke your assumptions, challenge your beliefs and grow as a student and citizen by engaging in dialogue, research and scholarly collaboration at the Fisher Center for the Study of Gender and Justice. Bringing together faculty, students and experts in gender-related fields in the arts, humanities and social and natural sciences, the Fisher Center fosters mutual understanding and social justice in our contemporary society.
History
Since its founding in 1998, the Fisher Center has brought hundreds of national and international experts to campus to explore the facets and implications of one driving question: How do we more nearly realize, through our educational program, scholarship and presence in the larger community, our democratic ideals of equity, mutual respect, and common interest in relations between men and women?
The Fisher Center was endowed with a $1 million gift from Emily and the late Richard Fisher, whose son Alexander graduated in 1993.

It was inaugurated in October 1998, with an event titled "Engendering the Future: Educating Women, Educating Men, Educating Women and Men," that featured noted experts Carol Gilligan, professor of psychology and the Patricia Albjerg Chair of Gender Studies at Harvard University; and Michael Kimmel, who has written and edited many books on the topic of masculinity.

The Fisher Center's 20th anniversary was celebrated with an official name change from The Fisher Center for the Study of Women and Men to the The Fisher Center for the Study of Gender and Justice, moving away from the limits of binary conceptions of gender while continuing to lead the campus and community dialogue on pressing issues around gender and social equity. A series of special events took place in the 2018-19 academic year including a keynote speech by internationally renowned activist, professor and author Angela Davis.
In 2022-2023, the Fisher Center will interrogate the multiple meanings invested in the concept of the machine.
Ethical machines, molecular machines, trading machines, killing machines, caring machines, sex machines—what do they all have in common? What separates them? For some, the machine is a figure of liberation and endless innovation. For others, the machine is a figure of enslavement and proletarianization: a deskilling of the human. Does the machine figure singularity or the matrix?
Spring 2023 Speaker Series
February 22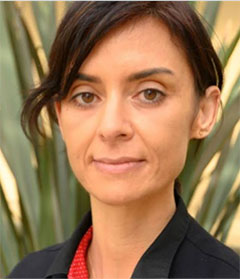 Zoom, 7 p.m.
Kalindi Vora: AI Imaginaries and the Given World
This talk looks at the design of automated and learning machines that interact socially with humans, inscribing histories of racial capitalism, imperialism, and colonization onto projected future social and material worlds as machines become infrastructure for how we become human subjects. After critiquing the limits of technoscience imaginaries, it asks: what other possible forms of sociality, care and relation can we open up through rethinking the infrastructure of human machine interaction? I'll conclude by sharing thought experiments I've done with students about what a decolonized, anti-racist feminist artificial intelligence could be.
Kalindi Vora is Professor of Gender, Sexuality and Women's Studies, of Ethnicity, Race, and Migration, of History of Science and Medicine, and of American Studies at Yale University. Dr. Vora's current research includes ongoing writing and publishing on artificial intelligence and automation through the lens of STS and critical race and gender theories. She is also beginning a book project, supported by a National Science Foundation Science and Technology Studies award (2022-2024) tentatively titled, Autoimmune: Chronic Conditions and Care in a Time of Uncertain Medicine. It places contemporary narratives of illness by patients facing racism and sexism in their daily lives within an analysis of the history of the concept of autoimmunity and contemporary practices of healthcare self-monitoring to understand the potential for patient-physician co-production of medical knowledge.
Kalindi Vora is author of Life Support: Biocapital and the New History of Outsourced Labor from the University of Minnesota Press (2015), and co-author with Dr. Neda Atanasoski (UC Santa Cruz) of Surrogate Humanity: Race, Robots, and the Politics of Technological Futures from Duke University Press (2018) and of Technoprecarious from MIT Press (2020) as a member of the Precarity Lab. Her collected work on transnational gestational surrogacy in India was published in 2022 under the title, Reimagining Reproduction: Surrogacy, Labour and Technologies of Human Reproduction.
MArch 1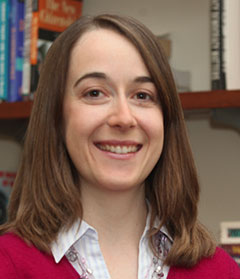 Fisher Center (Demarest 212), 7 p.m.
Karen Frost-Arnold, HWS Associate Professor of Philosophy
Who Should We Be Online? A Social Epistemology of the Internet – a book release event
March 15
Fisher Center (Demarest 212), 5 p.m.
ChatGPT in Higher Education: A Roundtable
March 29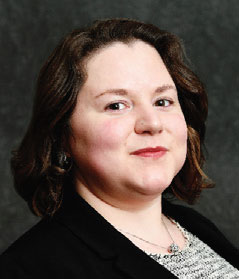 Fisher Center (Demarest 212), 7 p.m.
Macy McDonald, Fisher Center Predoctoral Fellow: How Can We Understand Black Box Machines?
April 12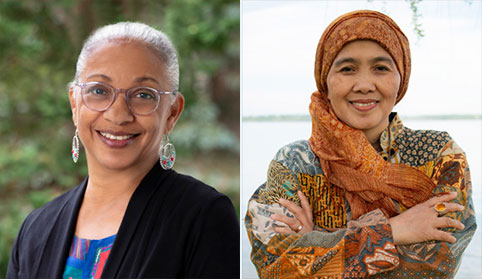 Fisher Center (Demarest 212), 7 p.m.
Janette Gayle, HWS Assistant Professor of History: Is the Garment Industry a Machine?
Etin Anwar, HWS Professor of Religious Studies: Is the AI machine Art Biased toward Veiled Muslim Women?
April 19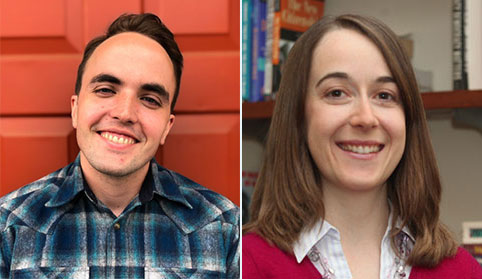 Fisher Center (Demarest 212), 5 p.m.
Karen Frost-Arnold, HWS Associate Professor of Philosophy: Who Should We Be Online?
Danny Schonning, Trias Postgraduate Teaching Fellow: Living Machines: Can We Engineer Poems?
April 26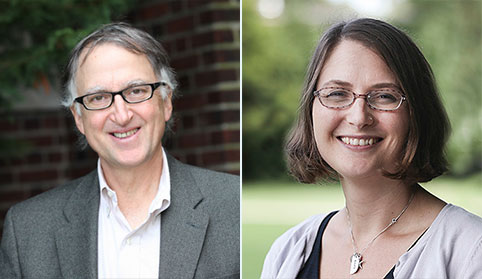 Fisher Center (Demarest 212), 7 p.m.
Chip Capraro, HWS Associate Professor Emeritus of Men's Studies: Are Self-Driving Cars Gendered Moral Machines?
Beth Belanger, HWS Associate Professor of American Studies: Is the Tourist Gaze Racist? 20th Century southern travel and the amateur photographer
Fall 2022 Speaker Series
September 28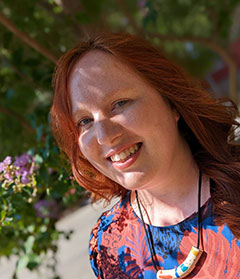 Geneva Room, 7-8:15 p.m.
Sophie Lewis: Baby Factories: Machine Metaphors, Actual Machines, and the Abortion Struggle
The talk will put into dialogue the reproductive freedom struggle (freedom to both safely engage in and quit/abort gestational labor) and the past, present and future of ectogenetic technology.
Sophie Lewis is the author of Full Surrogacy Now: Feminism Against Family (Verso, 2019), hailed by Donna Haraway as "the seriously radical cry for full gestational justice that I long for." Abolish the Family: A Manifesto for Care and Liberation (Verso, 2022) is her second book.
October 26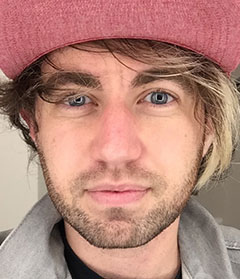 Geneva Room, 7-8:15 p.m.
Cassius Adair is an audio producer, writer, and scholar from Virginia. He is an Assistant Professor of Media Studies at The New School in New York City.
He is a coauthor of the experimental scholarly book Technoprecarious (MIT, 2020) and is currently writing a book about transgender people and the Internet.
He is the lead producer of the podcast Transcripts, a production of the Tretter Transgender Oral History Project. He has also worked as a story consultant or script editor for major literary and media projects, including Brit Bennett's #1 New York Times Bestseller (and Mariah Carey and Noname reading list pick!) The Vanishing Half; Wondery's chart-topping series Twin Flames and Harsh Reality; the award-winning audio documentary "Not This Again" for KCRW's Bodies podcast; and StoryCorps' Peabody-nominated "Stonewall Outloud" podcast series.
November 16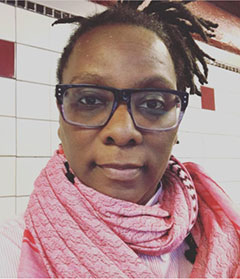 Geneva Room, 7-8:15 p.m.
Shanté Paradigm Smalls is a scholar, artist, and writer. Small's new book, Androids, Cyborgs, and Others: Black Afterlives in Imaginary Futures, thinks through the ethical, theoretical, and material desire to preserve Black life, creativity, and futurity by investigating how Black sentient life—human, plant, hybrid, machine—renders itself and gets rendered in the near-present-and distant-future. Smalls's teaching and research focuses on Black popular culture in music, film, visual art, genre fiction, and other aesthetic forms. Dr. Smalls' first book, Hip Hop Heresies: Queer Aesthetics in New York City, won the 2016 CLAGS Fellowship Award for best manuscript in LGBTQ Studies. Dr. Smalls is currently an Associate Professor of Black Studies in the Department of English and Faculty in the Critical Race & Ethnic Studies Institute, and Founding Co-Director of the LGBTQ+ Center at St. John's University in New York City. In addition, Small is co-editing an anthology Black Non-Binary with Tavia Nyong'o featuring writers, artists, critics, and scholars as they consider the expansive relationship between diasporic blackness and the genres of gender.
2022-2023 Faculty Research Fellows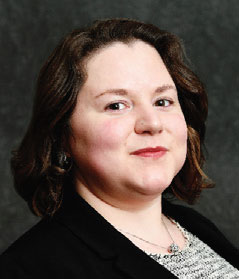 Macy McDonald is a Ph.D. candidate in English with a specialization in algorithm studies at The University at Buffalo, SUNY and the 2022-23 Pre-Doctoral Fellow at the Fisher Center. Their research analyzes the rise of datadriven decision support tools by asking what drives us toward data? And, perhaps more importantly, what drives are embedded in data? Their dissertation project, "Machine Bias: An Allegorical Approach" draws from algorithm studies, digital rhetoric, and literature to capture the significance enacted but unrepresented by black box machines.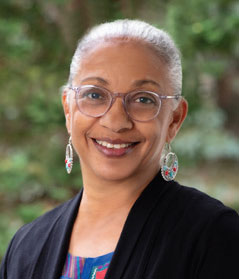 Janette Gayle is an Assistant Professor of History and joined the HWS faculty in 2017. She holds a Ph.D. in History from the University of Chicago, and teaches courses in African American, Labor, and Women's history. Her work at the Fisher Center will critically examine the experience of Black women as industrial workers in the New York garment industry. Her analysis is framed around the idea of the industry as a machine in which workers were expected to function like machines at a relentless and ever-increasing pace to meet the demands of employers intent on maximizing profit.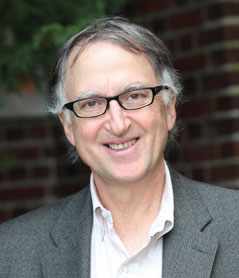 Rocco (Chip) Capraro is an Associate Professor Emeritus of Men's Studies, and has been an adjunct professor in the HWS Entrepreneurial Studies program, teaching entrepreneurial ethics. He holds a Ph.D. in history from Washington University in Saint Louis. Capraro was the founding director of HWS curricular and co-curricular programs in men's studies and has published frequently on college men. His Fisher Center Faculty Fellow Research Project is "Feminist Perspectives on the Self-Driving Car as a 'Moral Machine'." His research will feature readings in feminist and utilitarian ethics and studies of AI/ algorithms and robotics applied to self-driving cars, and includes interviews with Silicon Valley engineers who have helped to develop self-driving vehicles.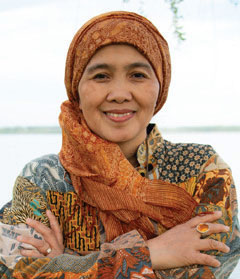 Etin Anwar is a Professor of Religious Studies at HWS and an artist by passion. She brings to her work an interdisciplinary background in Islamic feminism, comparative ethics, and material culture. As a fellow for the Fisher Center, she will explore the impact of using artificial intelligence processes in producing pictorial art and its ethical implications. In particular, she examines how the AI art platform produces "Islamic" pictorial images and identifies ethical dilemmas and contributions that emerge through such processes.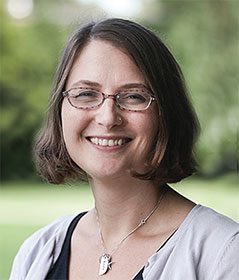 Elizabeth Belanger is an interdisciplinary scholar and Associate Professor of American Studies at HWS. Her archival scholarship explores the intersection of race, gender, and mobility using GIS technology to uncover everyday acts of resistance. While serving as a Fisher Center Fellow, Belanger will be undertaking a new project that lies at the intersection of family history, 19th-century tourism, and the transformational technology of the snapshot camera. Drawing from an archive of family photographs, the project traces how the camera became one of the primary mediums through which Americans explored questions of racial subjectivity, gender identity, and place. By placing snapshots and the machine that produced them in a broader social context, the project explores how the snapshot camera functioned as a cultural medium intricately tied to notions of self and others in the early 20th century.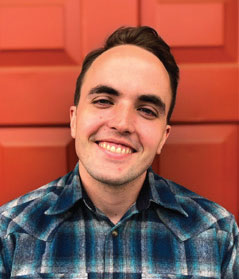 Daniel Schonning holds a bachelor's degree in English and comparative literature from HWS and his poems have appeared in POETRY Magazine, Poetry Daily, Orion Magazine, The Yale Review, and elsewhere. His most recent research and creative projects are concerned with inherited and innovated poetic forms. His work for the Fisher Center will consider the poem as William Carlos Williams' "small (or large) machine made of words," along with the consequences that this definition has in terms of gender, race, and power in poetry.
Discover the world as it is.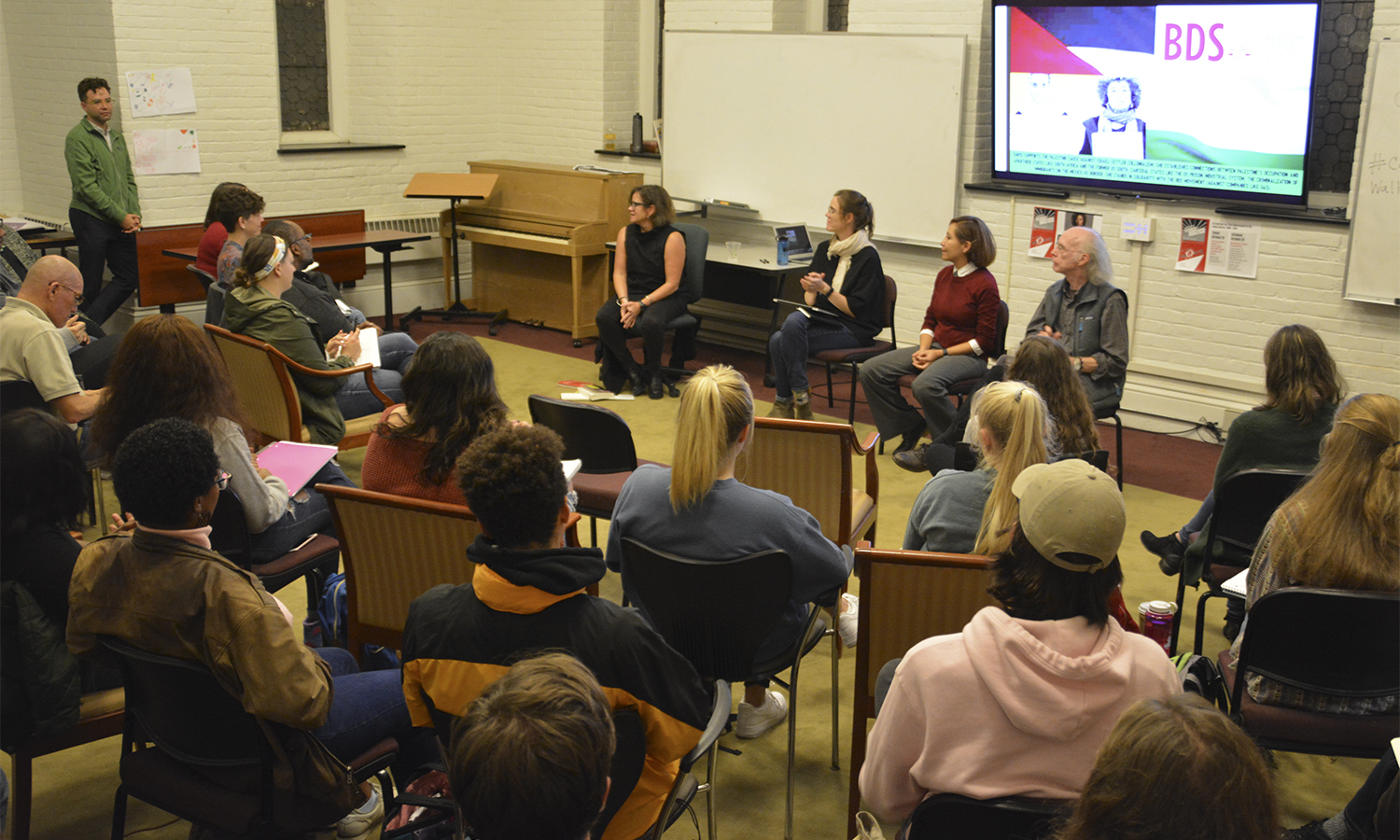 Imagine the world as it could be.
Fellowships

Get Involved
Stephen W. Woodworth '54 Fisher Center Student Summer Fellowship
Take your curiosity beyond the classroom and complete research around issues of race, gender and class through the Stephen W. Woodworth '54 Fisher Center Student Summer Fellowship. Over the course of a summer, students will conduct research under the guidance of a faculty adviser in fields such as English, dance, religious studies, history and more. Fellowships are competitive. Accepted students receive a stipend and campus housing.
Fisher Center PreDoctoral Fellowship
An opportunity to gain experience teaching in a private liberal arts college while completing thesis work. The fellowship carries a stipend in exchange for teaching one course per semester related to your research and the year's theme, attending Fisher Center lectures and meetings, making a public presentation and assisting with administration of Fisher Center programming. The pre-doctoral fellow participates in the Faculty Fellows Research Group which meet twice a month to discuss their research as related to the year's theme.
Faculty REsearch Fellows
Each year four or five Faculty Research Fellows are chosen to participate in the Fisher Center Research Group, meeting regularly to discuss research around the year's theme. Research Fellows present their work to the broader community during the spring semester.