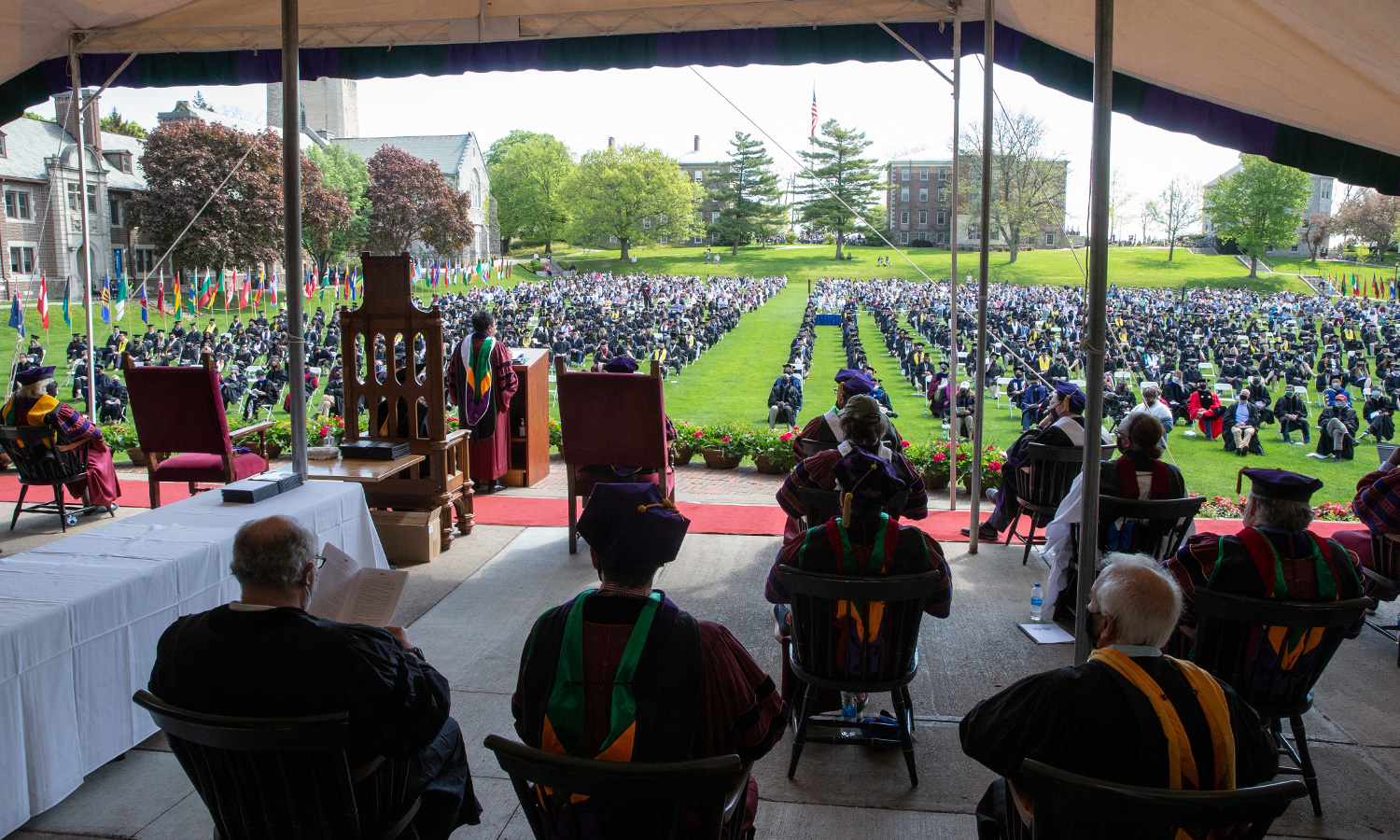 Information for Graduating Seniors
2023 DEGREE CANDIDATES
The Hobart College One Hundred and Ninety-Eighth Commencement and William Smith College One Hundred and Twelfth Commencement will be held on Sunday, May 21, 2023. We look forward to celebrating all students who are within two courses of completing the requirements of their degree on this festive day.
The Colleges take great pride in their students' accomplishments and the whole community looks forward to honoring you along with your families, friends and loved ones. I personally look forward to celebrating your achievement.
Please read the following checklist and retain for guidance and continued reference throughout the graduation process.
With Appreciation,
Jeffrey Kinnamon
Registrar
COMMENCEMENT EXERCISES
Commencement exercises are held annually at the end of spring semester. Students are recommended for a degree once they have completed requirements pertaining to their class. A student who has a minimum 2.000 GPA and is within two courses of completing all outstanding degree requirements is allowed to participate in Commencement exercises once voted "upon completion" by the faculty. By long-standing institutional policy, practice, and consensus, there are NO exceptions to this rule. If a student completes all remaining degree requirements prior to October 1 of the same calendar year, the student will receive his or her degree dated May of that year. Notification of outstanding requirements is sent via student senior letters, and to the students' HWS email accounts throughout the spring semester of their senior year. Degree candidates are recommended to the President and Board of Trustees for approval by faculty vote. Contact the Student Accounts Office at (315) 781-3343 to check on financial requirements.
Federal Stafford Loan and Federal Perkins Loan borrowers are required by the US Department of Education to complete Exit Counseling prior to graduation. All borrowers of Stafford and/or Perkins loans should receive an email with instructions for completing Exit Counseling online. Please contact the Financial Aid Office at (315) 781-3315 with any questions.
Should a student have questions concerning the Commencement Exercises or this correspondence, please do not hesitate to call the Registrar's Office at (315) 781-3651.
TIME AND PLACE
Commencement Exercises will be held on the Hobart Quadrangle, Sunday, May 21, 2023. The academic procession begins at 9 a.m. Students will need to arrive for robing no later than 8:00 a.m. Robing sites will be:
MAT, MSM, and Baccalaureate Students with a last name A through K: Bristol Gym
Baccalaureate Students with a last name starting L through Z: Winn Seeley Gym
REHEARSAL
Commencement Rehearsal is Friday, May 19, 2023 at 2:30 p.m. on the Hobart Quadrangle. More information on rehearsal coming soon.
BROADCAST ARRANGEMENTS
The Commencement exercise will be simulcast in a location to be announced. WHWS 105.7FM (webcast at www.whws.fm) plans to broadcast commencement, beginning at 9 a.m. In the case of dangerous weather, the event will be moved to Bristol Field House and begin at 10 a.m. This change will be broadcast on WHWS between 6 and 8 a.m.
VIDEO AND PHOTOGRAPHY SERVICES
A professional photographer will photograph each senior as he/she receives his/her diploma. You will receive a color proof and order form a few weeks after Commencement.
SPECIAL NOTE TO STUDENTS WHO ARE NOT PLANNING TO ATTEND: Those who are not planning to attend Commencement, please contact Amy Homhouane at homhouane@hws.edu ASAP.