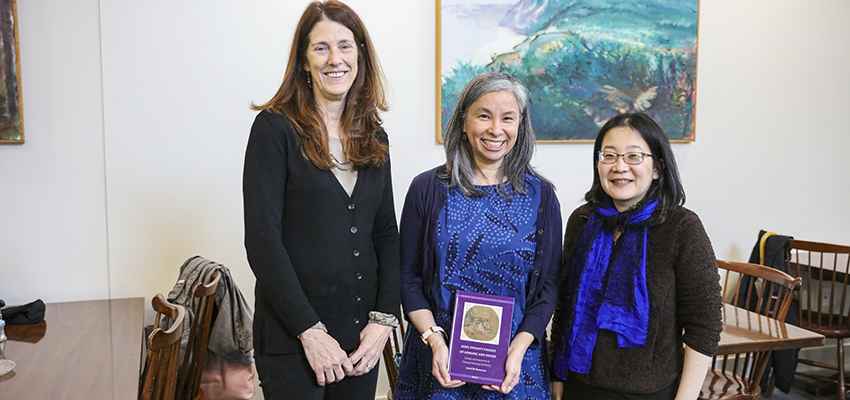 HWS News
11 December 2020 • Arts • Faculty Blanchard Honored with Joseph Levenson Book Prize
Described by the Association for Asian Studies as a "triumph of intertextual and intervisual methods in gender studies," Professor of Art and Architecture Lara Blanchard is the winner of the 2020 Joseph Levenson Pre-1900 Book Prize (China). Blanchard's book Song Dynasty Figures of Longing and Desire: Gender and Interiority in Chinese Painting and Poetry analyzes images of women in painting and poetry of China's middle imperial period.
The AAS Joseph Levenson Prize recognizes two major works, one with a focus on China before 1900 and another on post-1900 China. Winners are judged to have made "the greatest contribution to increasing understanding of history, culture, society, politics or economy of China." In keeping with the broad scholarly interests of the UC Berkeley intellectual historian of China Joseph Levenson (1920-1969), special consideration is given to books that, through comparative insights or groundbreaking research, "promote the relevance of scholarship on China to the wider world of intellectual discourse."
In Song Dynasty Figures of Longing and Desire (Brill, 2018), Blanchard analyzes images of women in painting and poetry from the Song dynasty (960-1279), focusing on works that represent female figures as preoccupied with romance. Her book discusses examples of visual and literary culture in regard to their gendered authorship and audience, examining the role of interiority in constructions of gender, exploring the rhetorical functions of romantic images, and considering the relationship between subjectivity and representation.
The prize citation extols Song Dynasty Figures of Longing and Desire as a standard for gender analyses: "…Blanchard arrives at her nuanced interpretations of the text-and-image tradition of the female figure as a site of interiority through detailed research into literature and history synthesized with close readings of famous ancient paintings. Her trenchant analyses of the possible audiences and functions of these works and themes serve as a model for how to write women back into the histories of art and literature in pre-modern times."
Professor Blanchard's book follows in the footsteps of field classics such as China Marches West (Perdue, Yale), The Inner Quarters (Ebrey, UWash), and Soulstealers (Kuhn, Harvard), which are routinely read by undergraduate students as well as by specialists.
The Song Dynasty Figures of Longing and Desire is a "substantial revision" of Blanchard's own doctoral dissertation, which she began writing in 1996 and revising at an AAS conference in 2003. In an interview with AAS's blog #AsiaNow, Blanchard discusses how her research on the topic evolved, how she embraced discursive methods in both art historical methodology, literary analysis and gender studies for the project. Read the full interview here.
Blanchard is the Luce Professor of East Asian Art and the Lloyd Wright Professor in Conservative Studies. She is the coeditor of Gender, Continuity, and the Shaping of Modernity in the Arts of East Asia, 16th – 20th Centuries, and coauthor of the textbook Asian Art, which illuminates the diversity of Asian artistic traditions from the prehistoric period through the 21st century. Read a 2018 profile of Blanchard's endowed scholarship here.
She has been a member of the Association for Asian Studies since her time as a graduate student at the University of Michigan, where she received her M.A. and then Ph.D. in art history.
In the photograph above, Provost and Dean of Faculty Mary Coffey, Blanchard and Associate Professor of History Lisa Yoshikawa gather for a photo. The Provost's Office held a reception in March to celebrate Blanchard's accomplishment.