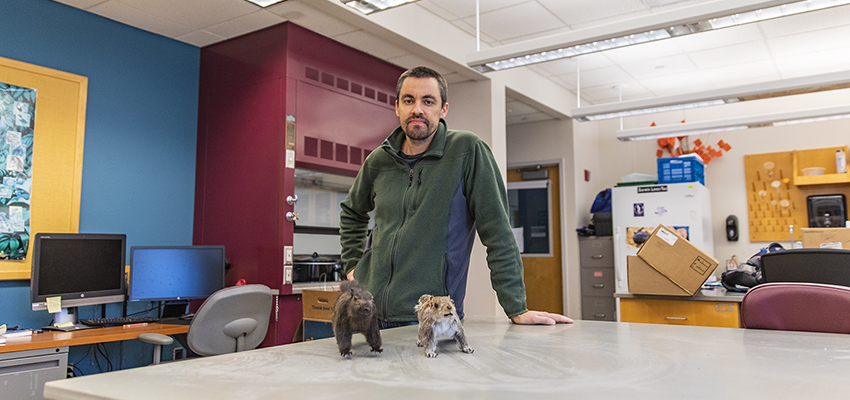 HWS News
9 October 2020 • Faculty • Research • STEM HWS Awarded NSF Grant on Evolution in Cities
A new grant from the National Science Foundation will support a collaborative research project that, through a study on eastern gray squirrels, will explore the ways cities shape animal evolution.
Hobart and William Smith, the lead institution, will receive $426,452 of the total $1.5 million grant. The remainder will be split between collaborating researchers from Yale University and the State University of New York's College of Environmental Science and Forestry. The project is funded from January 2021 to December 2024.
The project's principal researcher, HWS Associate Professor of Biology Brad Cosentino, says, "We typically think of cities as places where nature and wildlife are absent, but some species do well in urban areas — and there's evidence that life in cities evolves very rapidly in response to dramatic environmental change."
Eastern gray squirrels, as the project abstract explains, "provide an ideal model system for exploring the different ways urbanization affects evolution. Gray squirrels have two common coat colors — gray and melanic — that are determined by a single gene. The melanic form used to be common in much of the northeastern United States, but today it is abundant primarily in cities."
By addressing the question, "Why did melanic squirrels decline in rural forests but persist in cities?" the project "will shed light on fundamental questions about how urbanization affects the way organisms evolve, that is, the degree to which evolutionary change in cities and surrounding rural areas is due to natural selection, chance, or a combination of both."
Cosentino — with collaborators Adalgisa Caccone (Yale) and James Gibbs (SUNY-ESF) and their teams, as well as a postdoctoral assistant and HWS student researchers — will measure the degree to which melanism changes between cities and the surrounding forests using 10 cities in the U.S. and Canada. They will conduct visual surveys of coat color, perform live-trapping for genomic analyses and conduct some experimental work in Geneva and Syracuse to collect squirrel mortality data.
Additionally, utilizing the squirrel tracking and classification site SquirrelMapper.org, the NSF-funded project "will engage thousands of citizen scientists…in recording observations of squirrel coat colors and collectively measuring in their backyards how evolution is shaped by urbanization," according to the abstract. "The research will address longstanding questions about urban evolution specifically and evolutionary biology more generally and help guide efforts to enhance biodiversity and human well-being in cities."
"The scale of this project, and the fundamental questions it asks about environmental change, is an exciting development for our campus and yet another example of the serious work that our faculty are undertaking every day," says HWS Provost Mary L. Coffey. "I warmly congratulate Professor Cosentino, his colleagues and the students who will work on what is bound to be an illuminating and consequential study."
A member of the faculty since 2012, Cosentino has published more than two dozen articles in peer-reviewed journals, including Biological Conservation, Molecular Ecology and Animal Behavior. Exploring the ecological and evolutionary responses of wildlife to environmental change, his research has a particular interest in understanding how human land use affects population dynamics and trait evolution. Cosentino is the recipient of previous grants from the U.S. Fish and Wildlife Service and U.S. Department of Agriculture. He holds a B.A. from Augustana College and a Ph.D. from the University of Illinois.