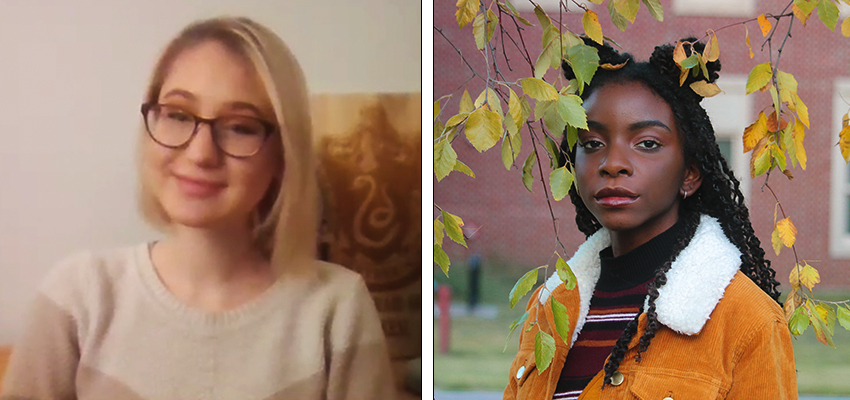 HWS News
21 January 2021

HWS Students Debate on Jamaican Radio

HWS Debate team members Eden LaRonde '24 and July Winters '24 participated in a parliamentary style debate on NewsTalk 93 FM, a Jamaican radio program, on Jan. 13. On Jan. 6, the pair won the Tertiary Division of the Jamaican Debate Academy and Open.

On NewsTalk 93 FM, a radio program broadcast in Kingston, Jamaica, HWS Debate team members Eden LaRonde '24 and July Winters '24 debated two students from the University of the West Indies, Mona, on whether government should require all eligible citizens to receive the COVID-19 vaccine. The pair earned their spot on the radio program after winning the 2021 Jamaican Debate Academy and Open (JDAO) on Jan. 6.

Since LaRonde and Winters won the JDAO, the pair earned the opportunity to debate as opening government on the radio – a parliamentary style debate term which means they presented the opening argument. LaRonde and Winters were also tasked with defending the government's position to vaccinate all eligible citizens.

"Debate is a wonderful way to get new ideas and information and to start dialogue and discourse between people," Winters says. "A structured debate creates space for people to debate a topic that not everyone agrees on. How can we, on opposing sides of an argument, advocate for what we believe in?"

Winters adds that another interesting dynamic of the debate was the international perspective, as Winters and LaRonde debated over Jamaican airwaves.

Typically at debate tournaments, debaters are not presented with the motion until moments before the actual event. To make the NewsTalk debate accessible to radio listeners, the debaters were briefed about the motion in advance.

LaRonde and Winters previously debated and beat the opposition, Damario Patterson and Rashaun Stewart from the University of West Indies, Mona, at the Jamaican Debate Academy and Open competition. The final motion in the Tertiary Division at the JDAO was whether the "house regrets the conflation of religion and spirituality."

Germaine Barrett, the founder and executive director of the Jamaican Association for Debating and Empowerment (JADE), praised LaRonde and Winters' performance. "The two representatives were superb in the way they participated, contributed and exhibited high caliber debate throughout, while proudly representing Hobart and William Smith Colleges."

The JDAO event included informational webinars led by expert debaters and coaches on topics including: debate format, strategy, motion analysis and case construction. Winters says, "I was able to learn a lot during the Academy webinars, and put that along with what I've been learning here at HWS into practice during the Open." Both LaRonde and Winters are first years at the Colleges and are looking forward to future debates.

Assistant Debate Coach Marlene Pierce and Reed Herter '22 served as trainers and adjudicators at the JDAO tournament. They also hosted a public speaking competition.