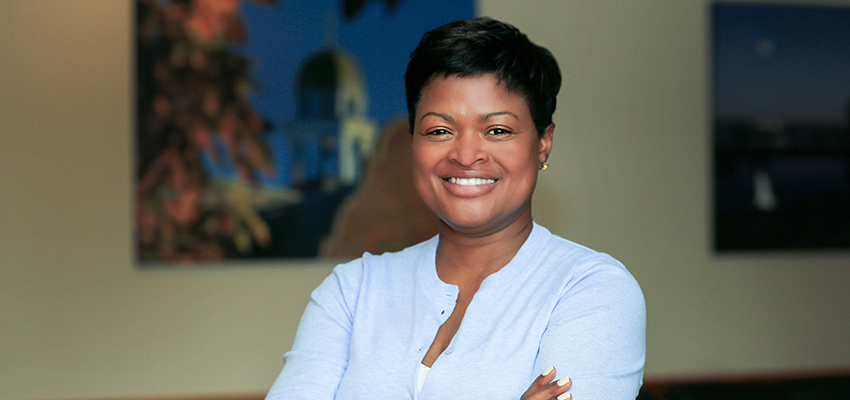 HWS News
29 January 2021 • Alums DeVaney '95 Named Posse 9 Mentor
Director of Alumni and Alumnae Relations Chevanne DeVaney '95, P'21, P'23 will serve as the mentor for Posse 9, a group of 10 students from Los Angeles, Calif., who will arrive on campus for the Fall 2021 semester.
One of the nation's most prestigious and successful college access programs, the Posse Foundation grew from the idea that sending a group — or "posse" — of 10 students to college together to act as a support system for one another could bolster collegiate success and graduation rates. In the Fall 2021 semester, the ninth HWS Posse cohort will arrive on campus under the mentorship of Director of Alumni and Alumnae Relations Chevanne DeVaney '95, P'21, P'23.
Both DeVaney's personal and professional background give her a unique perspective as she steps into the role. Born and raised in Jamaica, she moved to the U.S. in her early teens. After graduating from William Smith, she spent a decade working at HWS, half those years as assistant director of intercultural affairs and adviser to international students. She spent another nine years as director of multicultural affairs at Keuka College. She returned to HWS in 2016 as associate director of annual giving and transitioned to her current role working with alums in 2019.
DeVaney is looking forward to working closely with students again, and in particular the diverse group that makes up Posse 9. "It's a population I connect with — not just as a person of color myself, but also because I understand their dreams and wants, as well as that of their parents and families," she explains. "I hope that I can support my Posse scholars in the way they need to be supported over the next four years and also help them find their sense of place at the Colleges."
Posse mentors offer critical support to students ­­— from academic guidance to home-cooked meals ­— as they transition to college life and develop into on-campus leaders. DeVaney will hold meetings with Posse members individually and as a group, will connect them with on-campus and community resources, and is looking forward to hosting dinners for them at her Geneva home.
She sees a direct line between her work with Posse 9 and her role in alumni and alumnae relations. "I'm hoping they will help me better understand what will keep them engaged after they graduate," she says. "Part of my role will be to show them the path from being students to graduates to engaged members of the HWS alum community."