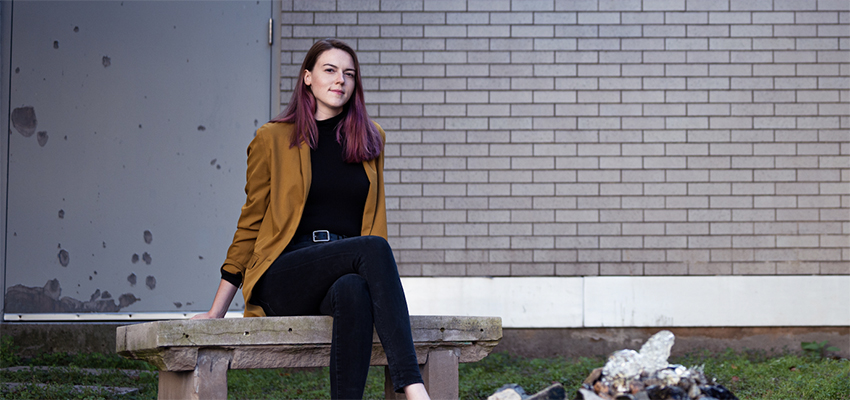 HWS News
25 January 2021

Poulin '15 Produces Stories of Women Olympians and Paralympians

Stories of women Olympians and Paralympians are the focus of the Flame Bearers podcast, produced by Michelle Poulin '15.

As producer of the Flame Bearers podcast, Michelle Poulin '15 is working to tell the stories of woman-identifying Olympians and Paralympians. A graduate student at Harvard Kennedy School, Poulin is in charge of scouting and virtually interviewing Olympians and Paralympians while fellow Harvard graduate student Jamie Mittelman serves as host of the podcast.

Mittelman was working on securing a communications internship at the 2020 Summer Olympics in Tokyo, but when the Games were postponed due to COVID-19, the idea for Flame Bearers was born.

"The goal of the podcast is to champion the stories of woman-identifying athletes, especially women Paralympians, because I think those stories are often not told," Poulin explains. "We hear a lot about male Olympians in the news but we tolerate a near-complete erasure of the Paralympics in the mass media and on social media. Competing at the highest level while disabled or queer or while demanding equal pay is a radical act. Those are the stories we strive to highlight on Flame Bearers."

The advocacy work of the podcast, with its focus on social issues such as disability and LGBTQ+ rights, complements Poulin's graduate studies — she is currently working toward a master's in public policy at Harvard. At Hobart and William Smith, she majored in Asian studies and anthropology with a double minor in international relations and studio art.
Poulin credits Associate Professor of Anthropology Jason Rodriguez with teaching her to "investigate the institutions and systems of belief within which we operate and to question the power structures they serve," she says. "Our concepts of gender and disability are just that — concepts — but they have real-world consequences. How is somebody who wears a running prosthetic different from somebody who wears eyeglasses? Why did a woman's hormone levels disqualify her from running in the Olympics? We use the podcast as a platform to ask these questions."
After working as a tour guide during her undergraduate years, Poulin took a position as the Senior Assistant Director of Admissions for International and Transfer Recruitment at the HWS Office of Admissions. She credits both of these jobs as valuable experiences that lent her a greater appreciation for storytelling and its ability to foster empathy, an idea she has been able to explore once again through Flame Bearers.
"At the time I was recruiting international students, so I had this amazing opportunity to travel around the world, meet students from more than a dozen different countries and interview them and learn about their experiences and share what it was like to be at HWS," Poulin says. "That's something I want to continue doing no matter what role I have in the future. I love to meet people from different walks of life and different nationalities and connect with them in that way."
The long-term future of the podcast is currently uncertain, as the 2021 Olympics may be postponed again. However, Poulin says that there are many potential paths the podcast may explore in future seasons. She and Mittelman chose the title Flame Bearers because of its clear allusion to the Olympics as well as its ability to apply to other spheres in which women are making strides to break cultural barriers.
"Flame Bearers is about being able to speak to these women and share their stories and hopefully provide a story that people can connect with around the world," says Poulin. "For me, the main takeaway of the podcast is that our differences are our strength. My hope is that, by sharing how they're getting through the pandemic, these powerful women can help others feel less alone. I think we can all draw strength from their experiences."
Flame Bearers is available on all podcasting platforms.
The photo of Michelle Poulin '15 above is courtesy of Ramzi Assir.