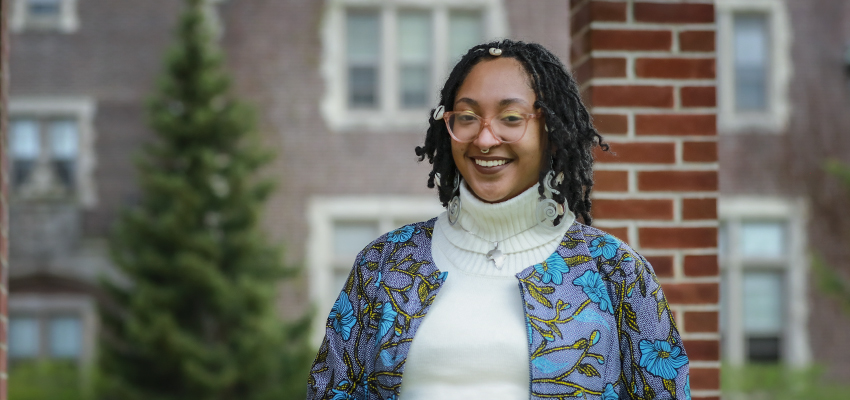 HWS News
5 May 2021

Taylor '19, MAT '21 Earns Fulbright (Again)

Brandi Taylor '19, MAT '21 is the recipient of a 2021 U.S. Student Fulbright Award to Kenya, following a 2020 award cut short due to COVID-19.

With the support of a Fulbright Award, Brandi Taylor '19, MAT '21 will serve as an English Teaching Assistant in Kenya beginning in January 2022. Taylor, who earned a Fulbright in 2019, had just begun her appointment in Kenya in January 2020 when the pandemic began. This year, Fulbright allowed individuals in situations like Taylor's to apply again, though they had to compete in the same open competition with new applicants.

Currently teaching English at Geneva High School, Taylor will earn her Master of Arts in Teaching from HWS in May. As an undergraduate, she studied in Kenya during a short-term HWS abroad program in 2018. She said that "being introduced to the culture and the diversity in the country inspired her to return there as a Fulbright Fellow to reflect on my positionality in the world and learn the role that Kenyas culture plays within Black communities in the United States."

Through the Teacher Education Program at HWS, Taylor took a wide range of classes that focus on different methods of teaching, alongside teaching practicums in a range of environments. With that background, "I have come to believe that it is extremely important to understand that each student is unique and will need different support and resources," she said.

In Kenya, she plans to implement an afterschool program focused on poetry, offering "students room to reflect and write about the comforts, struggles and worries they may have," providing time for students to meditate, increasing a sense of belonging and wellbeing and at the same time strengthening their English.

Taylor is a full-time teacher at Geneva High School and the assistant coach of the Varsity cheer team. In the spring 2021 semester, she was awarded the Francis Nolting Temple Prize for Teaching. An English and Africana studies major, she completed an independent study titled Education for Liberation: Anti-Colonial Curriculum. She is a former president of Sankofa: Black Students Union, co-founder of the M.O.C.A: Millennials of Color Assembly and worked in the HWS Office of Student Activities, staffing the LGBTQ+ Resource Center. She is the recipient of several honors and awards, including the Sill Family Endowed Fellowship, the Posse Foundation Scholarship and Richard Seth Abramson Intense Musical Study Award. In the community, Taylor has worked with Mosaic NY: Theater for Social Change, The Smith Center for the Arts, America Reads and the YMCA Summer Camp in Geneva.

Taylor is one of six HWS students who received a 2019 Fulbright Award.

The Fulbright Program is the U.S. Governments flagship international exchange program. Created in 1949, the program is designed to increase mutual understanding between the people of the U.S. and numerous nations around the world. Participants are chosen for their academic merit and leadership qualities, and are given the opportunity to study, live, teach and conduct research abroad for one year in order to exchange ideas and seek solutions to shared global concerns.