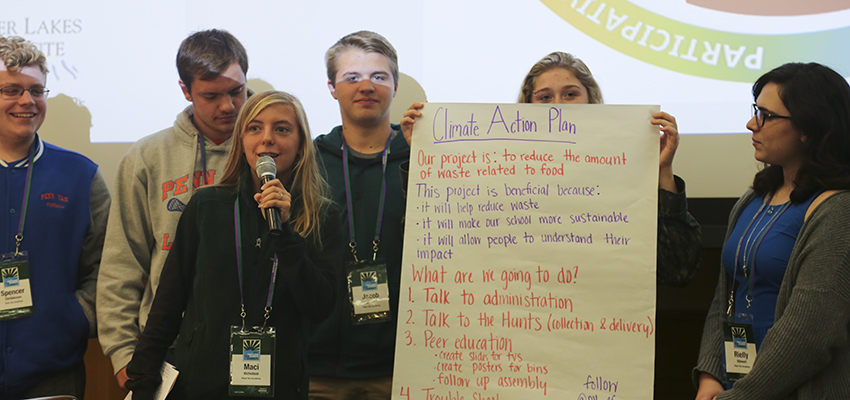 HWS News
7 October 2021 • Sustainability NOAA Grant Supports New York's Climate Resilience
An environmental literacy grant from NOAA enables HWS and regional partners to engage young people in rural areas on climate change solutions.
In the Finger Lakes region and throughout New York State, rural youth will have the opportunity to strengthen their communities' readiness for climate-related challenges thanks to a $449,278 grant from the National Oceanic and Atmospheric Administration (NOAA). One of only eight such projects funded across the nation, this Environmental Literacy Program grant was awarded to three partner organizations — the Wild Center in Tupper Lake, the Finger Lakes Institute at Hobart and William Smith Colleges (FLI), and the Alliance for Climate Education — in support of their project, "Empowering Rural Youth for Community Climate Resilience in New York State."
The three-year collaboration will support leadership opportunities for rural youth as they work with community partners and municipalities on climate resilience best practices and planning. The project also will increase awareness of the state's Climate Smart Communities program and ongoing NOAA climate research.
"Climate change is here and we are seeing this manifested in degradation to Finger Lakes water quality from warmer surface water temperatures, more extreme precipitation events and higher frequencies of harmful algal blooms," says FLI Director Lisa Cleckner.
But as Nadia Harvieux, FLI's Associate Director for Educational Programs, explains, "Young people are extremely motivated to be part of the solution to climate change. We are very excited about the NOAA-supported opportunities these new initiatives will provide youth in the Finger Lakes region, Adirondacks and beyond."
Project partners are building on the success of the youth climate summit movement, which started in 2010 at the Wild Center to empower students to take climate action. The positive impact of the Adirondack Youth Climate Summit inspired the inaugural Finger Lakes Youth Climate Summit in 2017. With support from sponsors Siemens and the Wyckoff Family Foundation, the Finger Lakes Youth Climate Summit has served more than 350 high school students from the region since its creation.
Initiatives supported through the new NOAA-funded project include:
• Opportunities for youth to partner with decision-makers in their home communities to work on climate action, engagement and resilience.
• Youth Climate Summits and intensive Youth Climate Leadership Retreats to increase climate literacy, education and action among high school students.
• Programming to increase educator comprehension and confidence to prioritize climate change education instruction and student mentoring.
• Creation of the New York State Youth Climate Summit Network, which will share best practices and actions that align with New York State climate change resilience planning.
Partners will rely on scientific information, resources and tools from the State Conservation Department's Office of Climate Change, the State Energy Research and Development Authority, Energy & the Environment, Inc. and NOAA's Climate Program Office, which will ensure the project conveys the latest knowledge, reflects statewide goals and models best practices for other states.