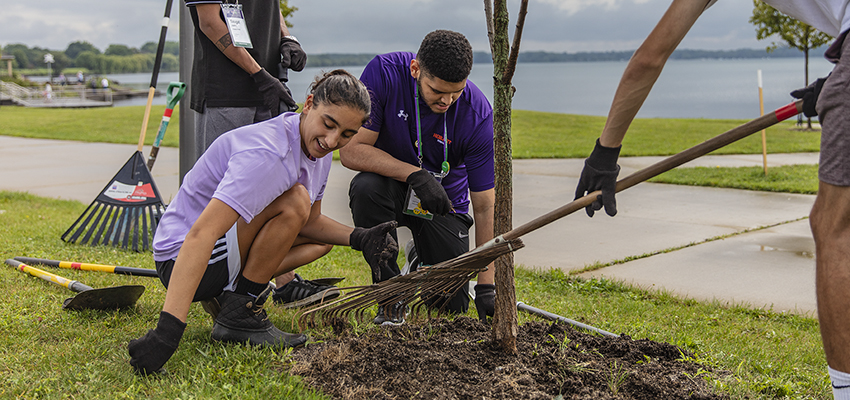 HWS News
21 September 2021 • Service HWS Ranked No. 3 in Nation for Service
For the fifth year in a row, Hobart and William Smith Colleges are among the top five U.S. liberal arts institutions for service, according to Washington Monthly.
Washington Monthly's 2021 College Guide and Rankings named HWS third in the nation among liberal arts colleges for service. The policy magazine's annual rankings also cite HWS for student voting initiatives.
"Service and civic engagement are a vital part of an HWS education, and I'm thrilled that HWS is once again recognized for the impact our students have here on campus, in Geneva, and in communities around the country and around the world," says Katie Flowers, director of the HWS Center for Community Engagement and Service Learning.
Since 2005, Washington Monthly has rated U.S. colleges and universities "based on their contribution to the public good in three broad categories: social mobility, research, and providing opportunities for public service." Among liberal arts colleges overall, Hobart and William Smith placed 44th nationally and third in service in the 2021 rankings. Service rankings are calculated according to HWS alum service in the Peace Corps; institutional participation in the AmeriCorps Matching Program; the allocation of Federal Work-Study grant funds toward community service programs; and voting engagement. Social mobility factors in graduation rates, financial data and student body diversity. Research includes the number of fulltime faculty, Ph.D. completion rates among graduates and institutional research spending.
Read the full rankings and methodology.