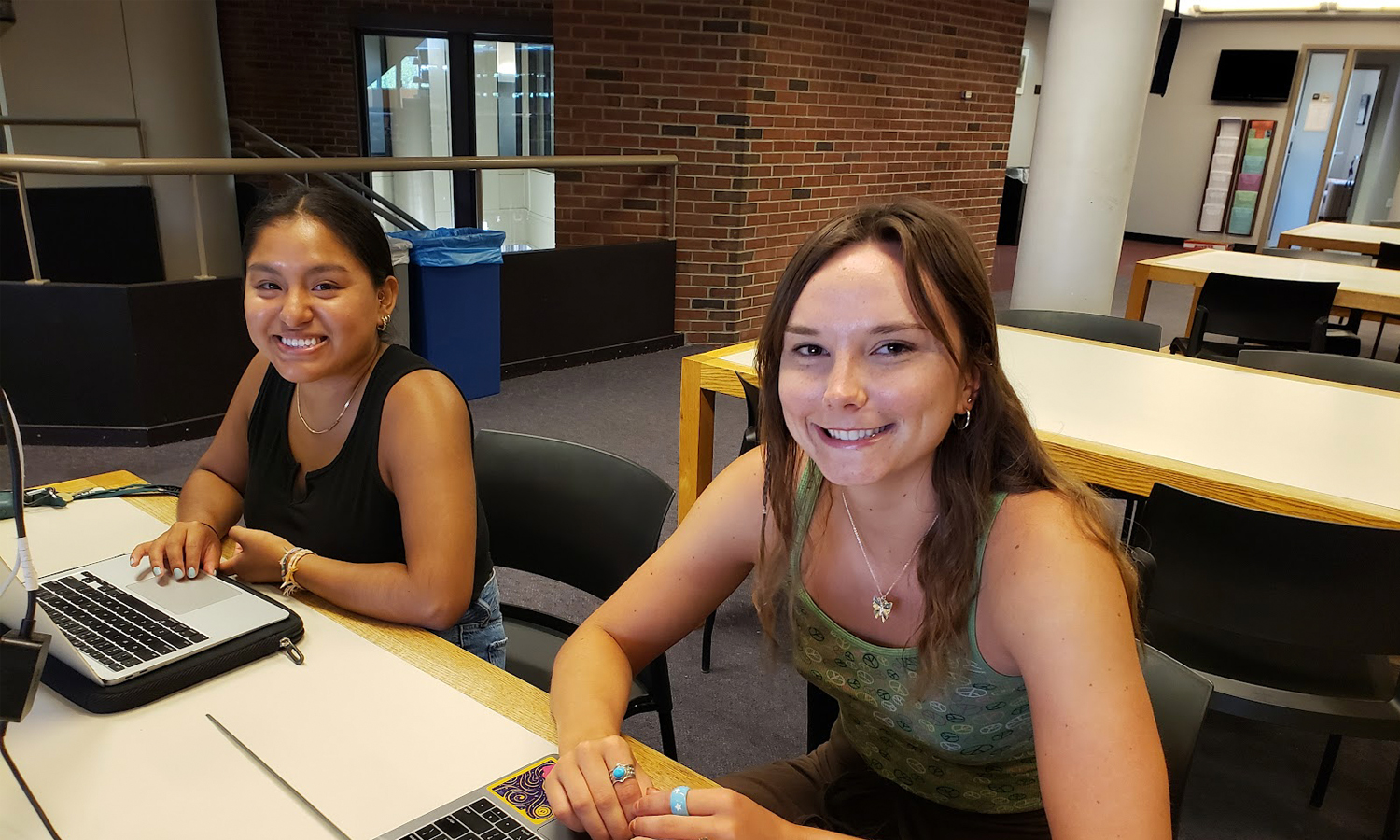 HWS News
15 December 2022 • Service Bilingual Community
Research project combines historic play translation and outreach with local Spanish-speakers.
Erin Griffis '23 and Camila Garcia '24 worked with Professor of Spanish and Hispanic Studies May Farnsworth on a series of translations of historic plays written by Latin American female playwrights in the 1900s. Through the research project titled "Translation, Latinx Empowerment and Bilingual Community Service," Griffis and Garcia translated, edited and practiced dramatic readings last summer. In the community, they also worked in bilingual classrooms and at the local library.
The plays translated include Darkness and Light, written by Teresa Farias de Isassi in 1912; Dying of Hunger, written by Elena Alvarez in 1926; and The Siren who Carried the Sea, written by Magdalena Mondragon in 1952. They can be viewed in the Spanish and Hispanic Studies Digital Gallery at HWS.
Griffis found translating plays to be more complex than she envisioned. "The translation process stretches beyond having a background in Spanish. You should expect that you will have to change a line several times until it is just right. You have to continuously read over the original plays and use your own Spanish skills to figure out what phrases mean and the tone of conversations," says the double major in Spanish and Environmental Studies.
García, a double major in Biochemistry and Spanish, agrees. "I learned that theatre translation is not as easy as putting sentences right into Google translate and copy and pasting. I learned that you must sit and think about the words and phrases you're using so that it makes the most sense in English but also stays as true to the original Spanish play as possible."
Classes they have taken such as "TEATRO" with Farnsworth where students read several historical plays in Spanish, as well as their fluency with the Spanish language allowed them to read and talk with elementary students and discuss lesson plans with teachers.
The project also had a service-learning component where they facilitated a weekly reading group with local teachers, advocates and parents of students in the Geneva elementary schools focused on Latinx advocacy. In kindergarten and first-grade classrooms, they assisted and observed students in the bilingual education program in the Geneva City Schools and taught in the Spanish 4 Kids program at the Geneva Public Library.
"At West Street School, it was amazing to see how much the kids learned and retained. In Mrs. Gomez's kindergarten class, I watched them as they recited the alphabet through a song. They sang the letter and then matched it with an object or animal that started with that same letter," says García.
They also connected with Bilingual Teacher Marilu Segura '07 who discussed teaching students how to communicate their emotions.