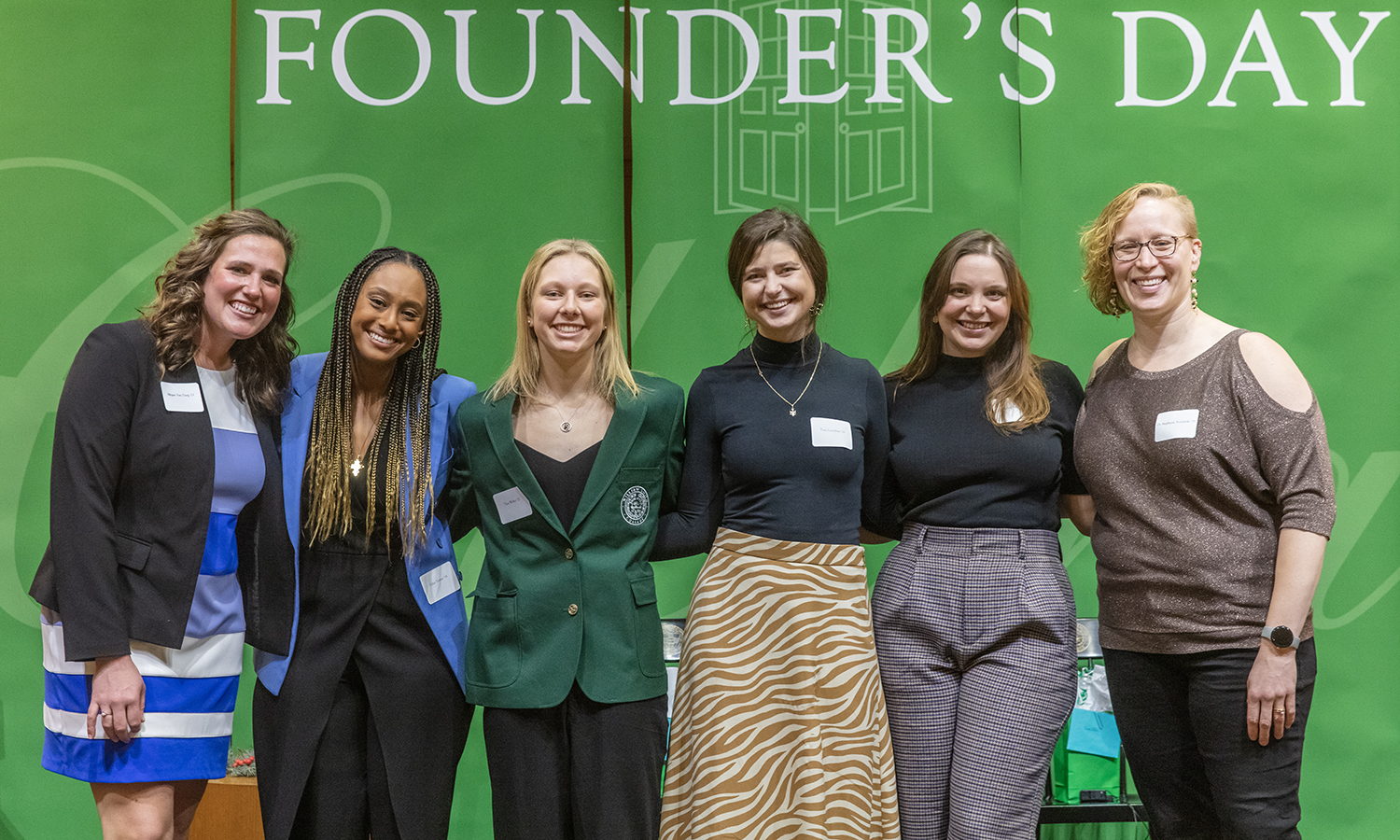 HWS News
Five William Smith alums discussed their career trajectories during the Founder's Day talk "Life Transitions after College" on Nov. 10.
Coming from careers spanning the fields of law, government, human services, education and health care, five William Smith alums returned to campus to share their stories with students, faculty and staff that filled the Vandervort Room on Thursday night.
During the Founder's Day annual dinner, the alums discussed the high and low points after graduating, transitioning back to re-engaging with people after the height of the COVID-19 pandemic and how life turned out differently than what the alums planned as students at HWS.
Moderated by Tess Weber '23, the speakers included Jackie Fisher '18, attorney at Fletcher, Heald & Hildreth, PLC; Eden Tesfaye '14, special assistant to the director of intergovernmental and external affairs, Office of the Secretary at the U.S. Department of Health and Human Services; Dr. Stephanie Nonawzki '08, pediatric resident in the University of Rochester Pediatric Residency Program; Teya Lucyshyn '19, special education teacher at The High School of Fashion Industries; and Megan Van Dorp '13, MS, RN, PCCN, adjunct professor of nursing at Finger Lakes Community College, Registered Nurse at Rochester Regional Health and a dairy farmer at Van Dorp Farms.
In his opening address, President Mark D. Gearan spoke of the importance of William Smith College's founding, how it all started with an idea. "It's a great privilege to think of honoring William Smith by exposing what he had hoped for, which was a more abundant life for women," Gearan said.
William Smith Assistant Dean Lisa Salter and William Smith Dean Lisa Kaenzig also provided opening remarks.
Each year, Founder's Day recognizes the establishment of William Smith College and the achievements of its students and graduates.
Inspired by the suffrage movement in nearby Seneca Falls, Geneva nurseryman and philanthropist William Smith made the gift to establish a women's college on Dec. 13, 1906. Two years later, William Smith College enrolled its first class of 18 students.
Top: From left to right: Megan Van Dorp '13 MS, RN, PCCN; Eden Tesfaye '14; moderator Tess Weber '23; Teya Lucyshyn '19; Jackie Fisher '18 and Dr. Stephanie Nonawzki '08 at the Founder's Day talk.