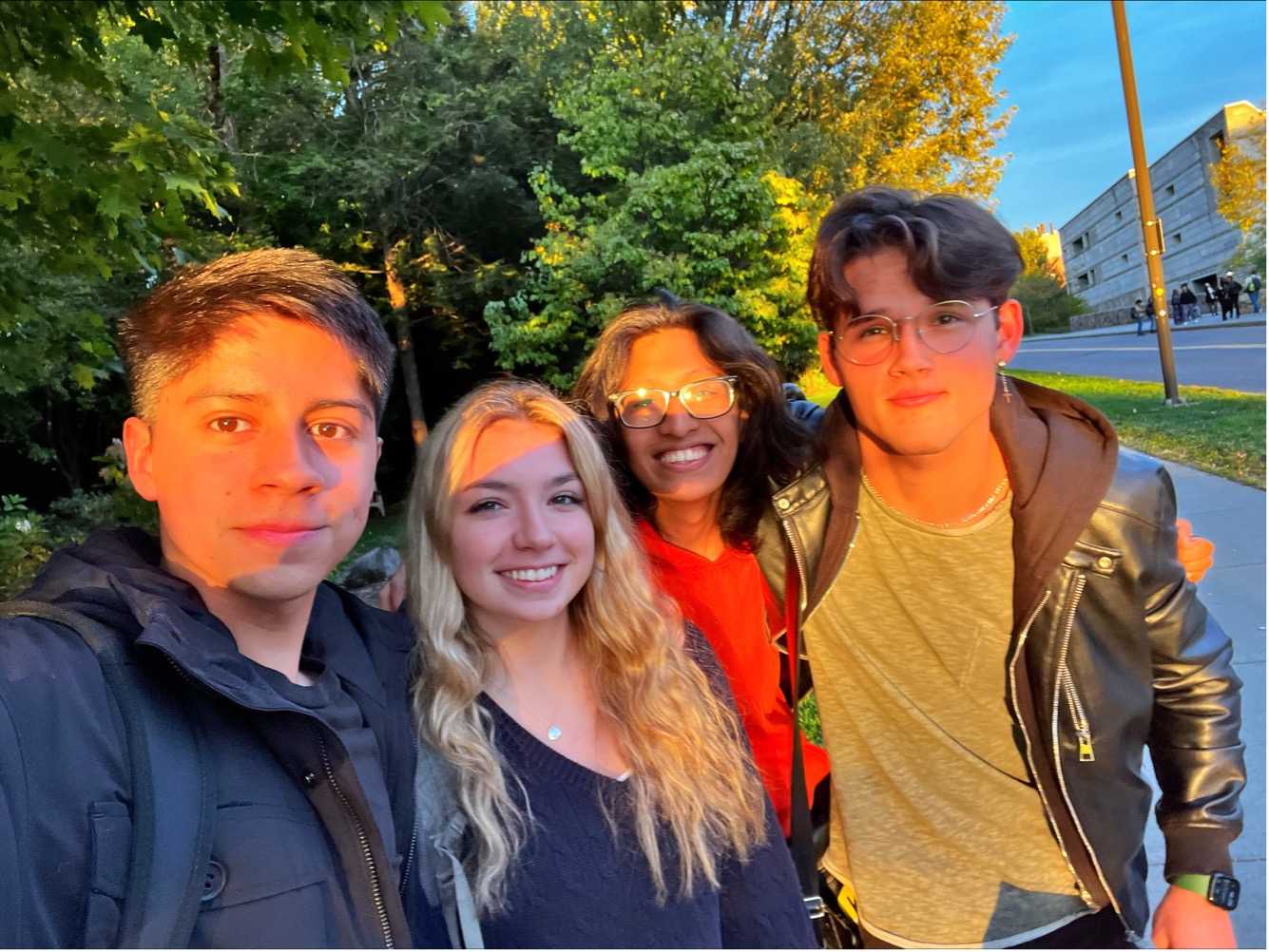 HWS News
15 December 2022

Describe Yourself in Three Words

At the end of their first semester at the Colleges, members of the Classes of 2026 reflect on who they are now and who they want to be.

To conclude their first semester on campus, we asked several first-year students to describe how they see themselves in three words. Reflecting on who they are now and who they want to be, they told us that they are "excited," "ambitious" and "optimistic" about the next four years and beyond. While dealing with transitions like moving away from home and collegiate academics, they share how they are finding themselves and exploring new passions, friendships and aspects of their identity at HWS.
Paced. Patient. Adventurous.
Leslie Peña Almonte
Bronx, New York
Gaitrie Singh '26, Zulenny Reyes '26 and Leslie Peña Almonte '26 enjoy ice cream from a food truck on campus.
"I've been trying to pace myself while still seeking out adventures and interests," says Peña Almonte, who is planning on majoring in biology on the pre-medical career path, with additional interests in Spanish and writing and rhetoric. "As cliché as it may sound, I'm looking forward to finding myself in college. Over the course of these four years, as I encounter various college-related experiences, I hope to be able to get to know myself better.
---
Determined. Nervous. Friendly.
Michael McGhee
Jamison, Pennsylvania
Mike McGhee '26 plays in a Hobart football game against Alfred.
"Every day I try to make at least one person smile. This is something that my mom taught me to do when I was really young that I still do today," says McGhee, who plays on the football team, which he says has been a source of belonging and community in his first semester. "I'm looking forward to meeting new people from all different types of backgrounds." While currently undecided on his major, McGhee knows he wants to do something hands-on and active for his career.
---
Ambitious. Determined. Optimistic.
Lacey Somerville
New Hartford, New York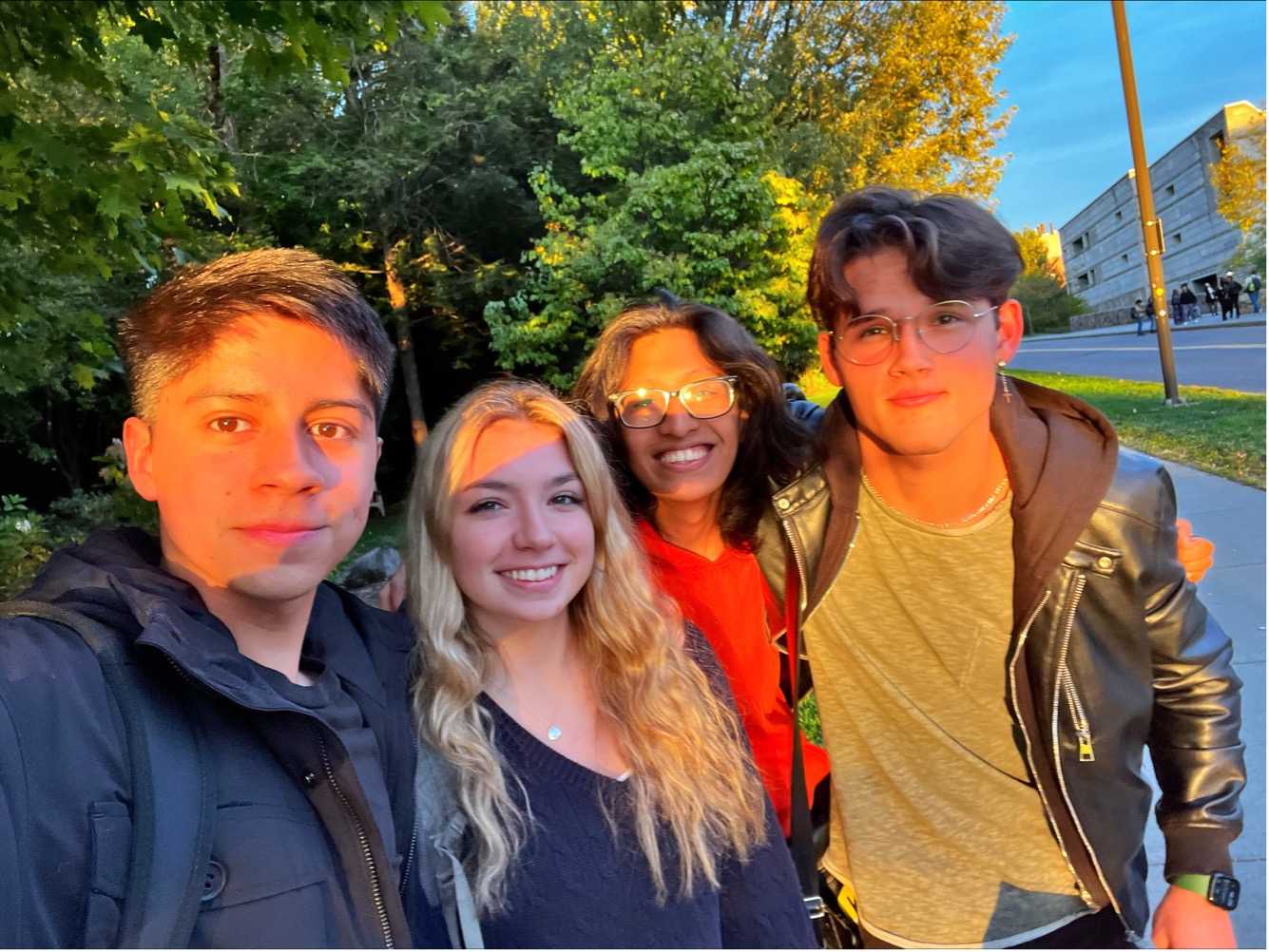 Lacey Sommerville '26 and friends spend Fall Break together.
"I have been enjoying trying out new things that I normally would not have thought about. I feel that by taking up these chances, I have found new interests," says Somerville. Among these new interests are debate, political science and economics. "Being in a collegiate environment has inspired me to work hard and expand my horizons to become as well-rounded of a student as I can. Not only am I determined to become a great student, but I am determined to make connections and grow as a person throughout the next four years."
---
Excited. Fun. Slightly Homesick.
Randall Dominguez
Harlem, New York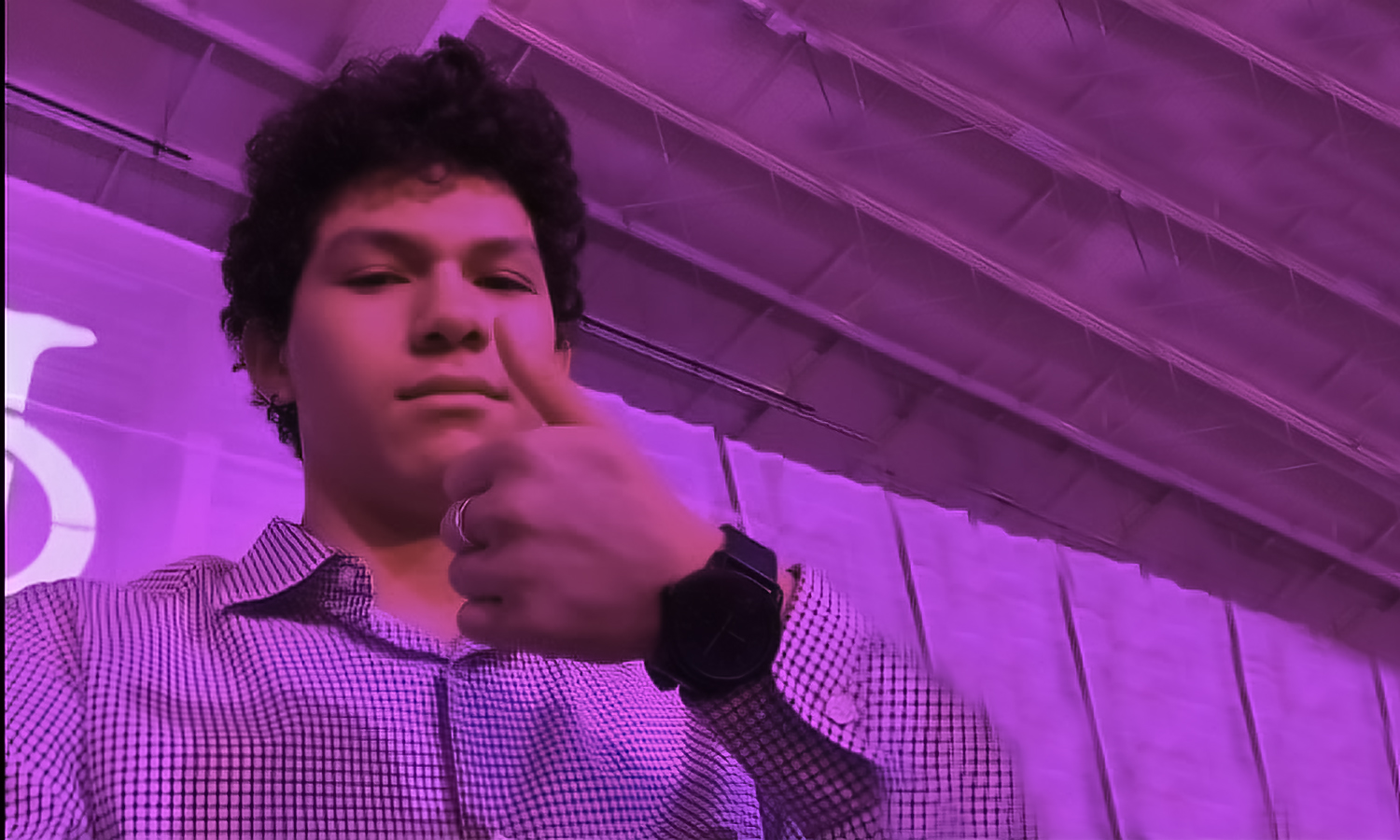 Randall Dominguez poses for a selfie at the Bicentennial Gala.
"I'm excited to be here. I love being on campus, meeting new people and learning new things, and since I've lived in the city my whole life, this is a huge change of pace. I'm looking forward to the social aspect of being in college. Being at a small school, having a solid friend group makes this a much more fun experience." Among Dominguez's interests are history, teaching and cooking. "I have a serious love of the kitchen," he says.
---
Busy. Excited. Stressed.
Lydia Rudnick
Skaneateles, New York
"I love having lots of freedom. I'm looking forward to meeting more people and figuring out what I'll be doing after college," says Rudnick, who plans on studying education and also plays on the intramural volleyball team, which she says has been one of her favorite things on campus so far. "It's not too serious, so I can just have fun. I look forward to it every week."
---
Exploring. Excited. Surprised.
Tymofi (Tim) Trakhachov
Kyiv, Ukraine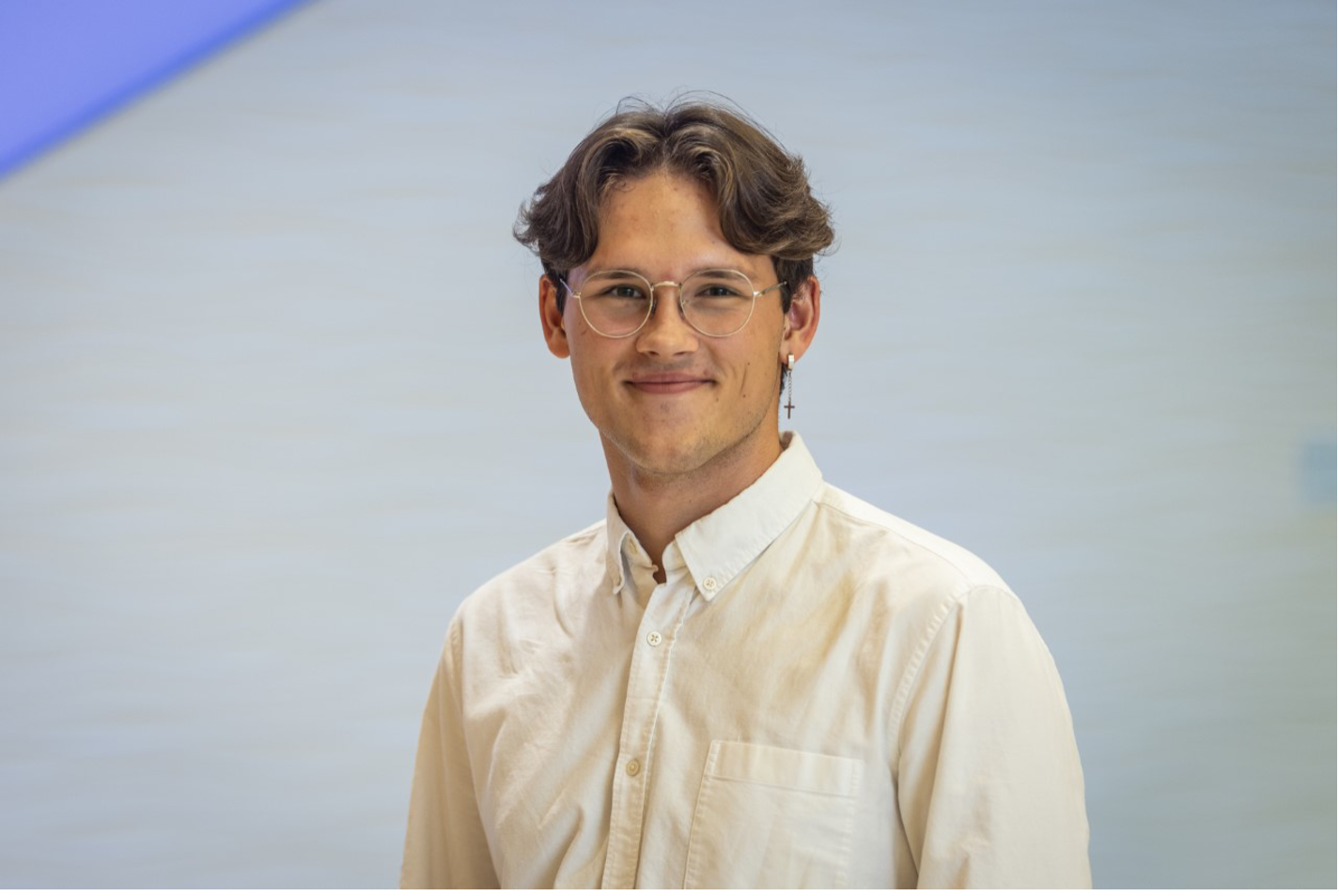 Tim Trakhachov '26 smiles for his class president photo in the Gearan Center.
"I think that what is definitely important about me is that I am Ukrainian, which means a lot of things nowadays. However, I don't want people to see me just as a refugee. I would prefer to appear as a smart, nice, motivated, hard-working and talented person who additionally has a quite unique chapter of his biography—war," says Trakhachov. He intends to double major in architecture and economics and has interests in literature, especially poetry.
---
Thoughtful. Ambitious. Free.
Grace Kongoy
Brooklyn, New York
"I'm constantly contemplating my environment and looking for opportunities I can take advantage of to expand my creativity and act on it. I want to continue to dig myself into what I love and what makes me feel like myself. I'm excited to be inspired by the classes I take so I can create art and experiment with new mediums that I haven't tried before," says Kongoy, who plans to major in Africana Studies or writing and rhetoric, with a possible minor in dance. In their first semester, freedom, artistic expression, and finding like-minded peers has been a source of excitement for them. "I like the arts campus and having the autonomy to just hop on any job or activity that I'm remotely interested in. I'm excited to meet passionate people."
---
Reflective. Compassionate. Optimistic.
Randy Hong
Los Angeles, California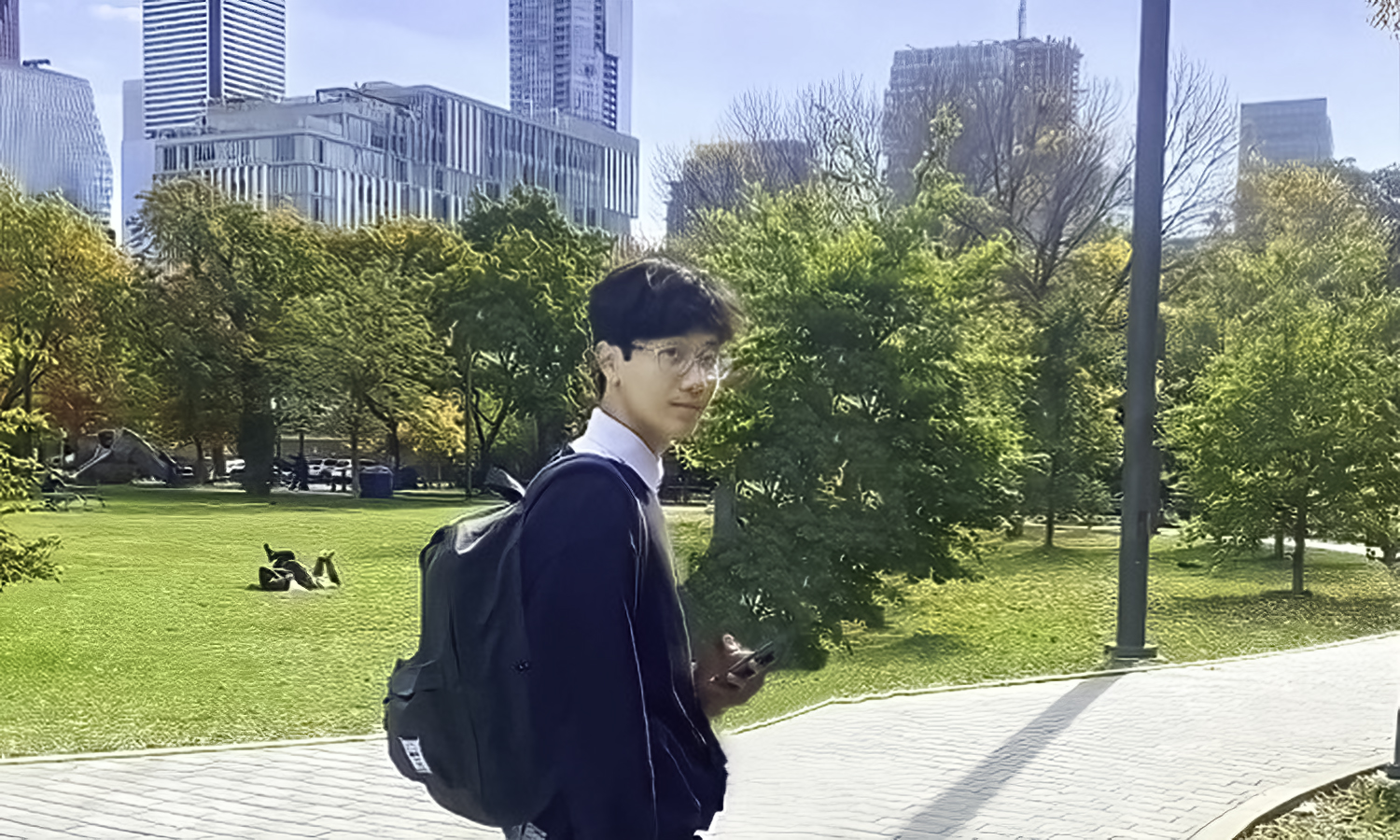 Randy Hong '26 goes for a walk during a break in the Hart House IV Debate Tournament in Toronto, Canada.
"I frequently find myself reflecting on my own identity. Even now, I find it difficult to define myself due to the sudden changes of being in a new environment. However, it is because of this that I would first describe myself as reflective. Being able to reflect on my actions and my identity is a core value of mine, as it allows me to grow into a more considerate and thoughtful individual." Before HWS, Hong lived in California all his life. He says that the Posse Foundation has helped in his transition to college so far away from home. "My Posse friends have been a blessing to my college experience. They have shown me nothing but care and respect, and I hope that every student here has an opportunity to feel as welcomed and loved as I currently do." Hong anticipates pursuing a psychology major and a philosophy minor. "My hope is that I can become knowledgeable in these fields to eventually work in mental health and empower those who are struggling," he says.
---
Determined. Resilient. Adjusting.
Eliza Chace
Falmouth, Maine
"This semester has been a challenge on many levels, but I am proud and feel I have overcome a lot of those struggles," says Chace, who plans on studying biology and environmental studies. "College is a lot of work, but I get it done, no matter what. I'm excited to meet new friends and learn and engage in cool courses in the future. My favorite things about the semester so far have been the hot air balloon at Orientation and the great professors I've met in my classes so far."