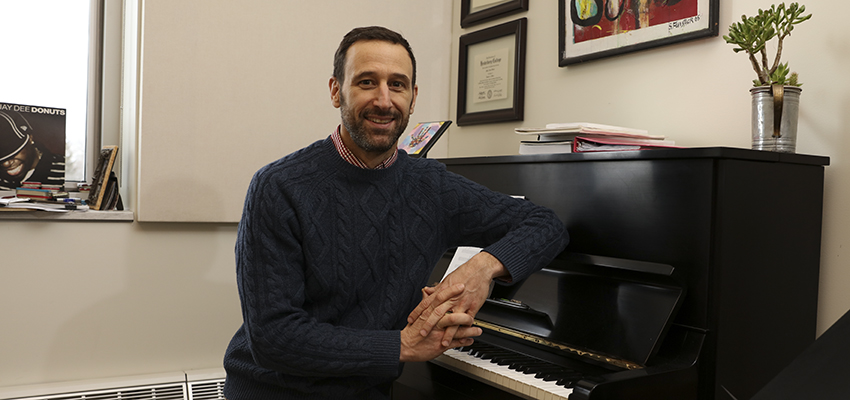 HWS News
31 March 2022 • Arts • Faculty Music for a New Apocalypse
Associate Professor of Music Mark Olivieri's five-part composition reflects the darkness and strife of the pandemic, but the improvisational process of writing it became an exercise in solace.
Music for a New Apocalypse,composed by Associate Professor of Music Mark Olivieri, premiered this month with a performance by pianist Andres Gomez-Bravo.
The five movements of the composition "reflect the dark and cynical times of their writing — the apparent inability of human beings to negotiate common ground in service of a greater good," says Olivieri, who joined the Colleges' faculty in 2010.
"In April of 2020, feeling numb as the reality of a seemingly endless global pandemic set in, exhausted by nonstop media coverage and the politicization of a public health crisis, I sat down to improvise at the piano," he explains. "I was not feeling particularly motivated to write music, but improvisation has often brought solace and inspiration in my life and has helped me think through difficulty to a place of greater clarity. I had my pencils and staff paper on hand, and at some point, the improvisation turned to writing."
Olivieri's music is performed throughout the U.S. and abroad at venues including the Kennedy Center, Carnegie Hall, Sibelius Academy in Finland, Royal Academy of Music in Stockholm, Glinka Concert Hall in St. Petersburg, Russia, and Harpa Concert Hall in Reykjavik, Iceland. Critically acclaimed by the New York Times, Olivieri's work has been described as "glittering" and "pop-infused," inspired as much by Black Sabbath and Thelonius Monk as by traditional concert music.
Concert pianist Nicholas Phillips writes that Olivieri's music "satiates performers and listeners like a breath of fresh air. His ability to combine different styles — jazz, tango, funk, minimalism, etc., with his personal voice leads to extremely engaging and effective works."
"His compositions frequently make use of vernacular and jazz elements as source material, and what springs forth is an infectious joy, a spontaneity, and above all, a truly authentic voice," says composer and concert pianist Robert Auler.
Olivieri recently finished his opera, Here This Day, about the life and music of Elizabeth Cotten, who grew up in the segregated South and worked as a domestic at age nine to earn money to buy her own guitar.