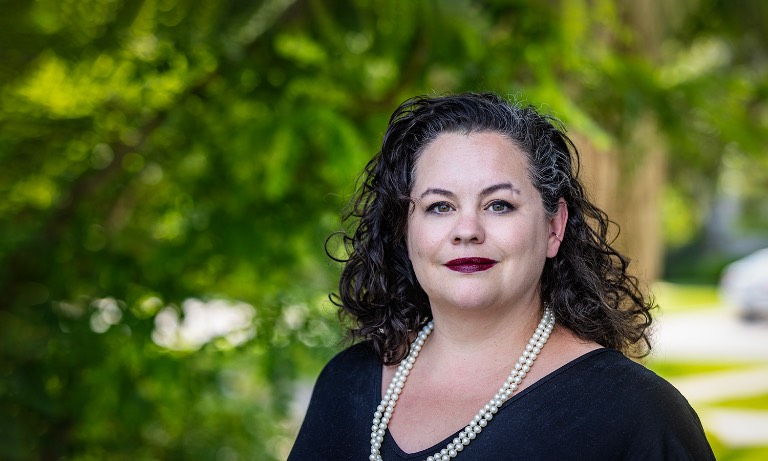 HWS News
26 June 2023 • Alums Jantzi '06 Welcomed as New Title IX Coordinator
Hobart and William Smith graduate Amanda Jantzi, who holds a juris doctor from Cornell University Law School, returns to serve as Title IX coordinator.
With June 23 marking the 51st anniversary of the enactment of the federal civil rights law commonly referred to as Title IX, Amanda Jantzi '06, the new Title IX Coordinator at Hobart and William Smith, wants to make sure students are aware of the office and its services.
"I want to be a presence on campus to support students, faculty and staff," says Jantzi, who started in the position earlier this month. She graduated magna cum laude with a bachelor of arts in political science from Hobart and William Smith and holds a juris doctor from Cornell University Law School and a master of education in higher education and student affairs from the State University of New York at Buffalo. Jantzi returns to HWS after serving as the director of student services and advising for the Cornell University Law School.
At HWS, Jantzi will organize and run sexual misconduct training and prevention activities, work with HWS administrative offices to ensure Title IX compliance and advise students on incident reporting.
Title IX prohibits educational institutions that receive federal funding from discriminating against students or employees based on sex.
In celebrating the enactment of Title IX, Jantzi says she plans to work with Associate Athletic Director Liz Dennison to host an event in the fall to recognize how the law has contributed to the growth of female athletics, making women's sports more accessible and robust.
Additionally, Jantzi wants to have tabling events throughout the year to broaden student awareness of the Title IX office and the services it offers on campus.
At Cornell University Law School, she was responsible for managing student organization and club budgets, planning and managing orientation and convocation, and planning and managing with student leaders for annual career days for women and underrepresented communities. She also served in advising roles for law students and served as a primary crisis care manager.
Previously, Jantzi served as a capital markets attorney for Freshfields Bruckhaus Deringer, law school career counselor for the State University of New York at Buffalo Law School, a hearing representative for the State University of New York at Buffalo, a career counselor for the University of Arizona James E. Rogers College of Law and the assistant director for career services at Washington and Lee University School of Law.
Vice President of Campus Life Becca Barile recognizes how Jantzi's background, especially in crisis care and in law, will help her in this position. "During the interview process, Amanda stood out as someone with a deep care for Hobart and William Smith Colleges, with an understanding of the needs of a residential community like ours, and a dedication to relationship building and proactive programming," says Barile. "I know she is committed to getting to know our students, assessing and developing our policies and programs, and being an active contributor to the campus community."
During her time at HWS, she was inducted to Phi Beta Kappa as a junior. Jantzi is a member of the National Association of Law Student Affairs Professions and a retired member of the New York Bar. She has published in the National Association for Law Placement on two-year law degrees for international lawyers. She takes over the role previously held by Bill Boerner.