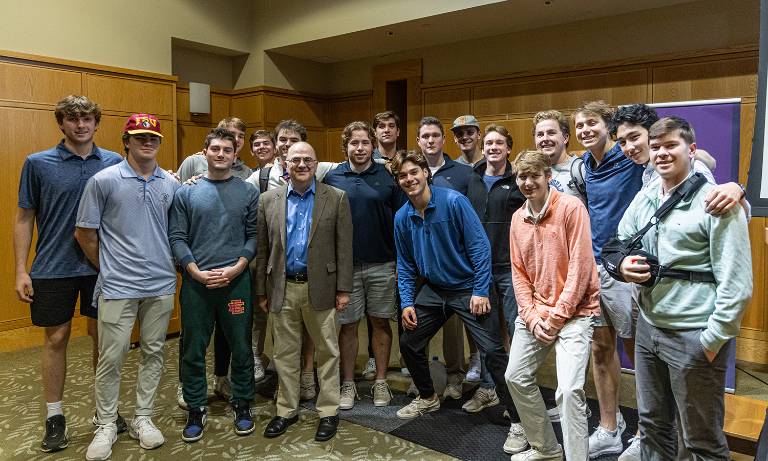 HWS News
17 November 2023

Anderton Economic Symposium Welcomes Kocherlakota By Andy Wickenden '09

Former Minneapolis Fed President Narayana Kocherlakota addressed HWS during the inaugural Anderton Economic Policy Symposium.

This fall, Hobart and William Smith hosted the first event of the Anderton Economic Policy Symposium with economic policy expert and former head of the Federal Reserve Bank of Minneapolis, Professor Narayana Kocherlakota, the Lionel W. McKenzie Professor of Economics at the University of Rochester.

Watch a recording of the event. The talk was held on Wednesday, Oct. 25 in the Vandervort Room of the Scandling Campus Center.

One of two series established in 2022 by former Trustee James F. Anderton IV '65, the Anderton Economic Policy Symposium brings a new range of expertise and insight to campus and the broader HWS community.

Professor Kocherlakota's talk, "A Tale of Two Macroeconomic Recoveries," compared and contrasted the arc of the U.S. economy following the Great Recession and following the Covid Recession. He also shared insights from his research and its implications for the broader economy.

Since earning a Ph.D. in economics from the University of Chicago in 1987, Kocherlakota has held academic appointments at Stanford University, Northwestern University, the University of Iowa and the University of Minnesota. He served as President and CEO of the Federal Reserve Bank of Minneapolis from 2009 to 2015. As part of his responsibilities in that position, he served on the Federal Open Market Committee (FOMC), the monetary policymaking arm of the Federal Reserve System. As a member of the FOMC, he spoke and wrote about a number of aspects of economic policy. Kocherlakota's past research includes theoretical and empirical contributions to many fields in economics, including the economics of money and payments, business cycles, financial economics, public finance, and dynamic games/contracts; his current research focuses on monetary policy.

Alongside the Anderton Forum for Global Engagement, the economic symposium offers students, faculty and the entire campus community an opportunity to engage with international experts on timely subjects. Each series is administered by Provost and Dean of Faculty Sarah Kirk with committees comprised of faculty members with relevant expertise and student representatives.

Anderton, who served on the Board of Trustees from 1994 to 2000, is the founder and executive chairman of property management and real estate investment and development company Krimson. He holds a Ph.D. from Michigan State University and an M.B.A. from Cornell University, as well as his B.A. in economics from Hobart. A longtime supporter of HWS, Anderton was awarded the Hobart Medal of Excellence, the Hobart Alumni Association's highest honor, in 1997. In 2015, he received the Lifetime Service Award, presented to alumni who have made exceptional contributions to Hobart College throughout their lives.