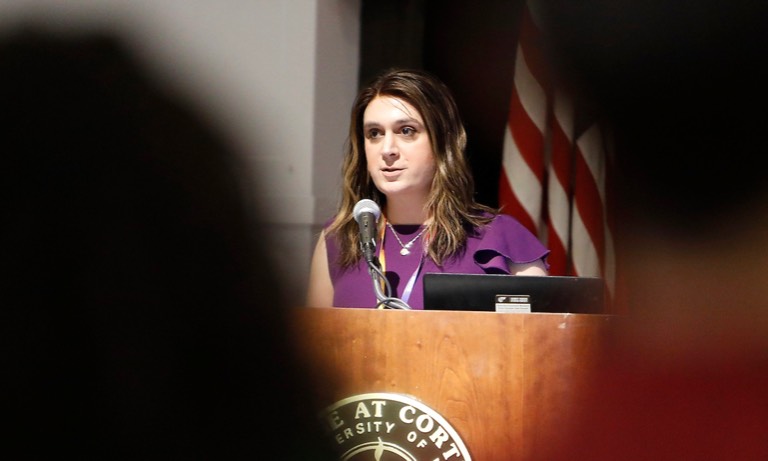 HWS News
14 March 2023 • Faculty Barile Presents at TransAction Conference By Colin Spencer '19
VP delivers keynote address on gender diversity and the challenges facing those who are transgender and gender diverse.
Vice President for Campus Life and Dean of Students Becca Barile recently delivered the keynote address at the 5th annual TransAction conference. Her talk covered the growing number of political and personal attacks on transgender and gender diverse people, and the history of gender diversity.
The conference, held at SUNY Cortland, explored the needs and experiences of transgender and gender diverse students in higher education. Barile presented on her own gender journey experience, as well as research findings on the impact of misgendering on college campuses. The research, to be published later this year, was conducted with Meg Quint '21 and Jacob Purdy of Keuka College.
The address was followed by a question-and-answer session with students of diverse gender backgrounds.
"The talk was an opportunity for me to share my perspective with faculty, staff and students about my lived experience—positive and negative experiences— because so many experiences can go undisclosed and undiscussed," says Barile. "I encouraged administrators to use my experiences to inform their policies or pedagogical decisions, because so many gender-diverse students may not be willing or able to speak up."
"The talk allowed for those of us who work in the inclusion space, as well as those who are new to this topic, to learn new things and to challenge our assumptions," says conference organizer Erin Morris, an assistant professor of sport management at SUNY Cortland. "Becca created a space that allowed students to feel comfortable asking deep and meaningful questions, and Becca answered all of them with well thought out and kind answers."
Barile will share similar stories and research during an art display for Transgender Day of Visibility at HWS on Friday, March 31 at the Provenzano Gallery inside the Scandling Campus Center. The display will be available from 11 a.m. to 5 p.m. For more information, click here.
Transgender Day of Visibility celebrates and uplifts voices of the transgender community while also raising awareness about the needs of the transgender community.