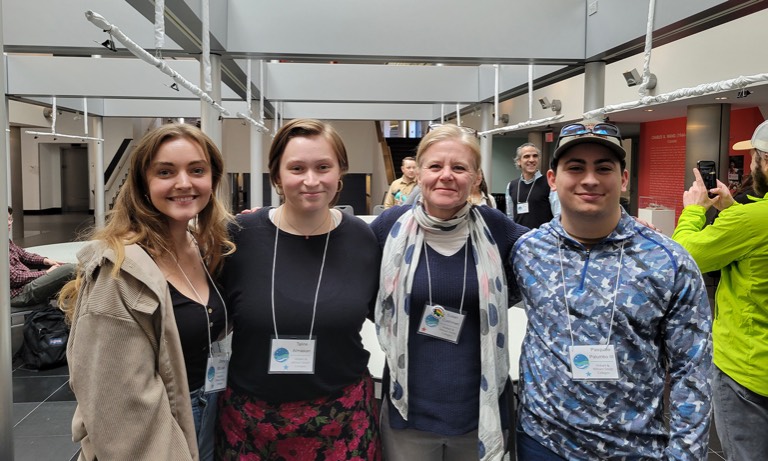 HWS News
17 March 2023 • Faculty • Research Brook Trout and Lake Trout Research Showcased
Seniors present research at the New York Chapter of the American Fisheries Society conference.
Director of Introductory Biology Laboratories Susan Cushman took three students to the New York Chapter of American Fisheries Society research conference at Stony Brook University in February. Taline Almasian '23, Emma McLean '23 and Pasquale Palumbo '23 presented their work on brook and lake trout during the conference titled "Then and Now: Dynamic Fisheries in Changing New York Waters."
"I love bringing my research students to professional society conferences because it is a culminating opportunity to present their research directly to fisheries professionals and learn about cutting edge fisheries research and techniques beyond the scope of their work," says Cushman. "It is a great way to provide students with some insight to what it is like being a member of a research community, where casual conversations and post-presentation discussions turn into friendships, new collaborations, and exciting opportunities."
Palumbo presented a poster on research that examined re-introducing brook trout to the region while Almasian and McLean presented their work on the diet of lake trout. Both were studies conducted under the direction of Cushman.
The three seniors say they walked away learning about a broader array of lake research.
"Attending the conference was an amazing experience. It was so interesting getting to hear about the impactful research and methodology that is going on and being used throughout New York and the surrounding areas," says Palumbo, a geoscience major, from West Islip, N.Y. "It was captivating learning about Long Island fisheries in some of the talks, as these are the waters that I grew up fishing and exploring."
Palumbo presented a poster titled "Assessing Finger Lake Streams for Brook Trout Reintroduction Eligibility." In partnership with HWS' Finger Lakes Institute and New York State Office of Parks, Recreation and Historic Preservation Department, he and Almasian assessed five streams (one that currently has a brook trout population) in the Finger Lakes to see if any of the streams were eligible for reintroduction. Brook trout are the native trout to the East Coast but have seen a shrinking range due to competition with other trout and changing stream conditions.
"As a poster presenter, it was exciting to get peer reviewed on our research. I now know how to improve for the future as an ecologist as I continue into a career of wildlife management," Palumbo says.
At their poster presentation titled "Assessing the Diet of the Lake Trout Population in Seneca Lake, N.Y.," Almasian and McLean shared research on the diet of lake trout in Seneca Lake. Through their study, they collected fish from the annual Lake Trout Derby and dissected their stomachs to identify and measure each prey item. Their analysis aimed to identify any patterns in both the types and amounts of prey that lake trout typically consume. They found that the diet of adult lake trout within Seneca Lake consists mostly of alewife, which is an invasive species that persists in many of the Finger Lakes. In terms of the body condition of the adult lake trout, many appeared healthy for their size and length, but more studies would have to be conducted on the younger individuals to get a more accurate understanding of the population's status as a whole.
Almasian, an environmental studies major from Massena, N.Y., found the most impressive aspect of attending the conference was hearing from fellow researchers. "I had the privilege to listen to and learn from so many individuals at different stages in their career. This was impactful for me because I not only had the opportunity to see the different types of projects that are currently being researched in the field, but I was also able to learn about different kinds of data collecting methods and tools that I was not familiar with."
"As someone who does not have much experience with fisheries, it was really interesting to learn about the issues that have impacted this field and the past, and continue to do so today," says McLean, a biology major from Honeoye Falls, N.Y., who agreed that one of the most impactful aspects of the experience was meeting other students. "I met so many awesome students, both undergraduate and graduate, and I was introduced to a lot of professionals who have done some incredible work. Everyone was so passionate and friendly."
The students conducted the research through the Colleges' Undergraduate Summer Research Program. Through the program, students get to work side-by-side with faculty mentors, allowing students to experience the rigors and triumphs of research from start to finish.