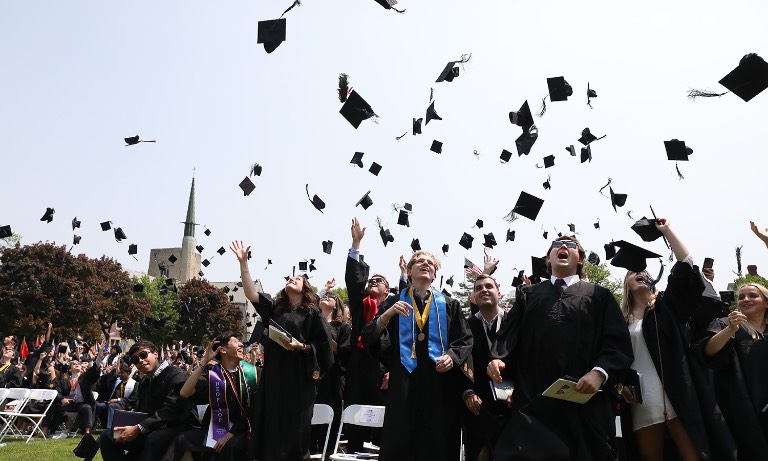 HWS News
22 May 2023 • Alums Building a Better World
City Year Cofounder Alan Khazei offered Commencement Address at Hobart and William Smith Colleges on Sunday.
During his Commencement address, social entrepreneur Alan Khazei praised the passion of the Hobart and William Smith graduates – members of the "world's first global generation and most socially and politically active since the 1960s" – and shared several life lessons he learned from his experiences at City Year and other social change efforts, about living a life of consequence.
"I started City Year because I deeply believe in the power of young people like you, to change the world," the City Year Cofounder told members of the Classes of 2023 who were gathered on the Hobart Quadrangle on Sunday morning. "Your passion and leadership can bring us to a fairer, equitable, inclusive and just America and world. We need you to do that …I believe that Hobart and William Smith has prepared you well and I cannot wait until your generation is in charge."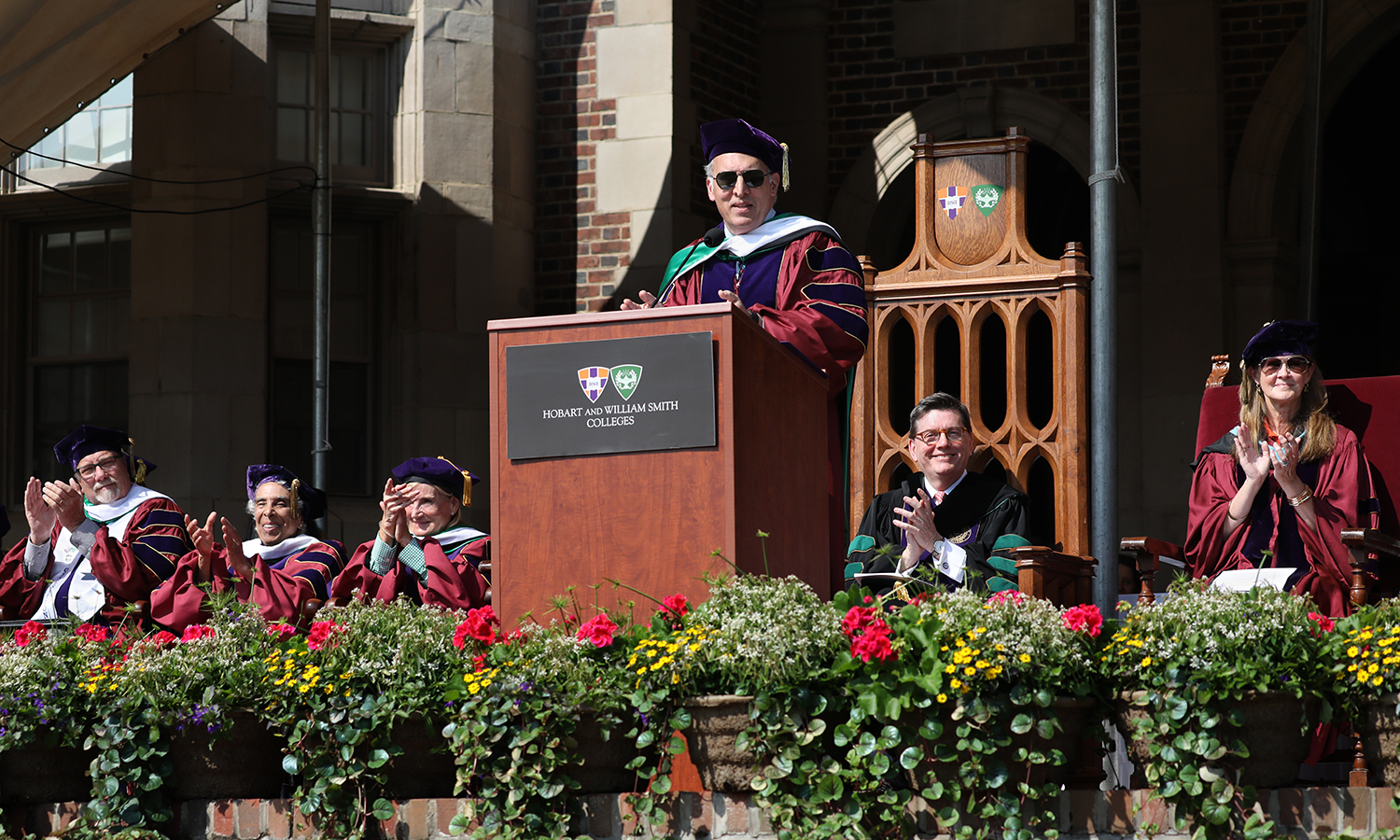 Khazei has spent his career working to engage young people in public service and to create opportunities to empower citizens to make a difference. He also called on the graduates to "listen to your heart and follow your dreams" and stressed the importance of lifelong friendships and learning "from adversity and rejection as much as from victory and success."
During Commencement, HWS also awarded honorary degrees to four individuals who represent the values and ideals of Hobart and William Smith including: Patricia Adams, a successful corporate professional, musician, journalist, steadfast friend of the Colleges and daughter of Hobart's first Black graduate, the Rev. Dr. Alger L. Adams '32, D.D. '83; Dr. Gilberto Arbelaez '06, the only emergency physician on staff at Uvalde Memorial Hospital who treated victims in the immediate aftermath of the 2022 school shooting in Uvalde, Texas; Cynthia Gelsthorpe Fish '82, a longtime member of the Board of Trustees who advanced the Colleges efforts in governance and leadership and has been active in causes related to health, wellbeing and education; and Kevin Colton, Hobart and William Smith's longtime lead photographer who has brought our campus to life with his unique perspective.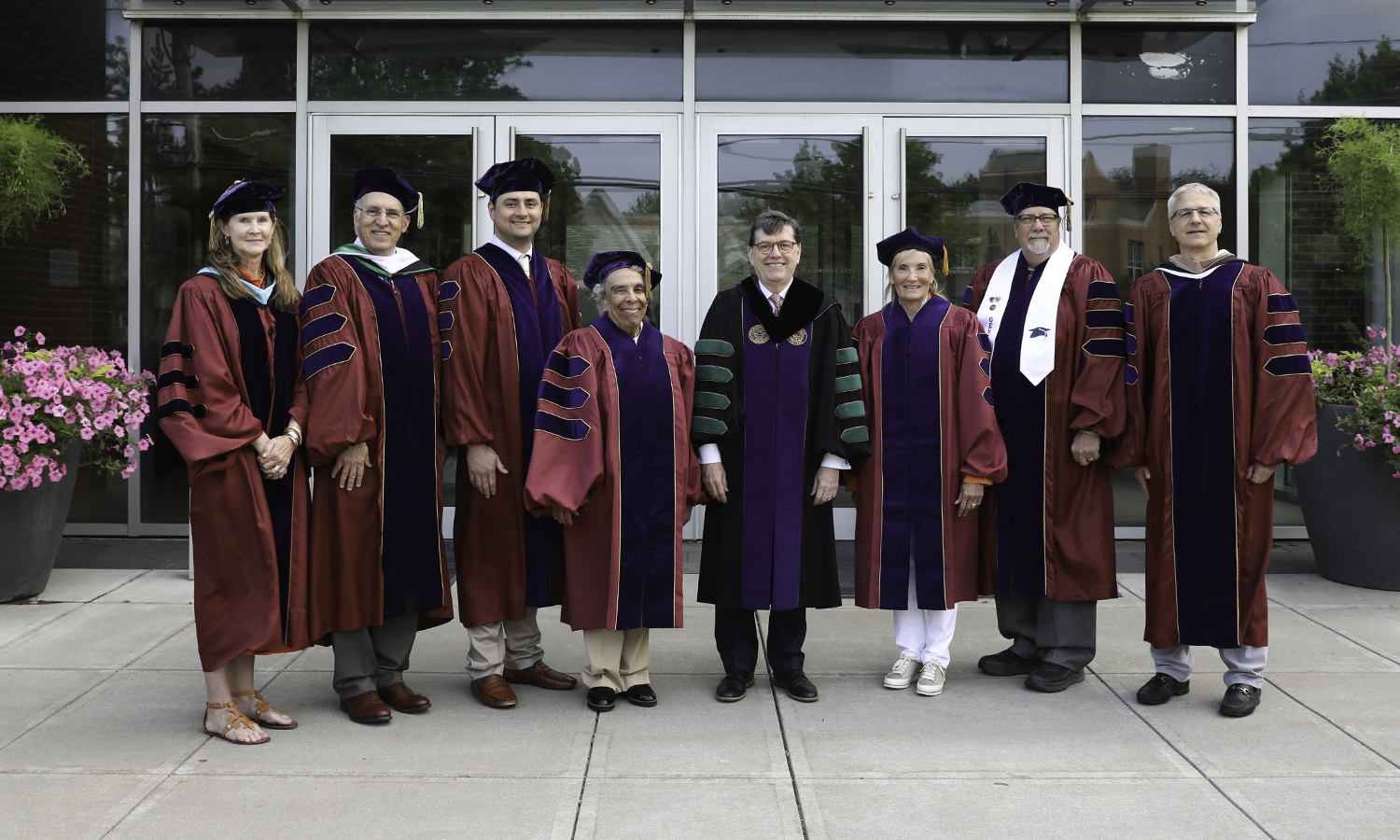 In his valedictory address, President Mark D. Gearan called upon the observation of Danish Philosopher Soren Kierkegaard: "Life can only be understood backwards; but it must be lived forwards" to ask graduates to consider the challenge of life. "We must live our lives going forward, but to truly understand it and to assist in living a meaningful life, it is understood looking backwards to those lessons, triumphs, disappointments," said Gearan, who shared reflections of his Harvard classmates written in conjunction of their upcoming reunion, discussing friendships, family and careers.
Gearan noted his classmates' observations corroborate the world's longest study on happiness conducted by Harvard College since 1938. "The researchers found that close relationships are far more important to happiness and health – both brain and body – than money and fame. The ties of relationships protect people from life's challenges– and are better predictors of long and happy lives than social class, IQ or even genes."
During the ceremony, Chair of the HWS Board of Trustees Craig R. Stine '81, P'17 presented the annual Touching the Future awards, which honor educators from elementary, middle and high school who have had an impact on current HWS graduates. This year, the Colleges recognized Allessandra Mitchell, guidance counselor at University Heights High School, Bronx, N.Y., who was nominated by Fatou Diokhane '23 and George Michael Schaertl, former chemistry and physics teacher and track coach at Red Jacket High School, Shortsville, N.Y., who was nominated by Michael D. Thomas '23 and Mark R. Thomas '23.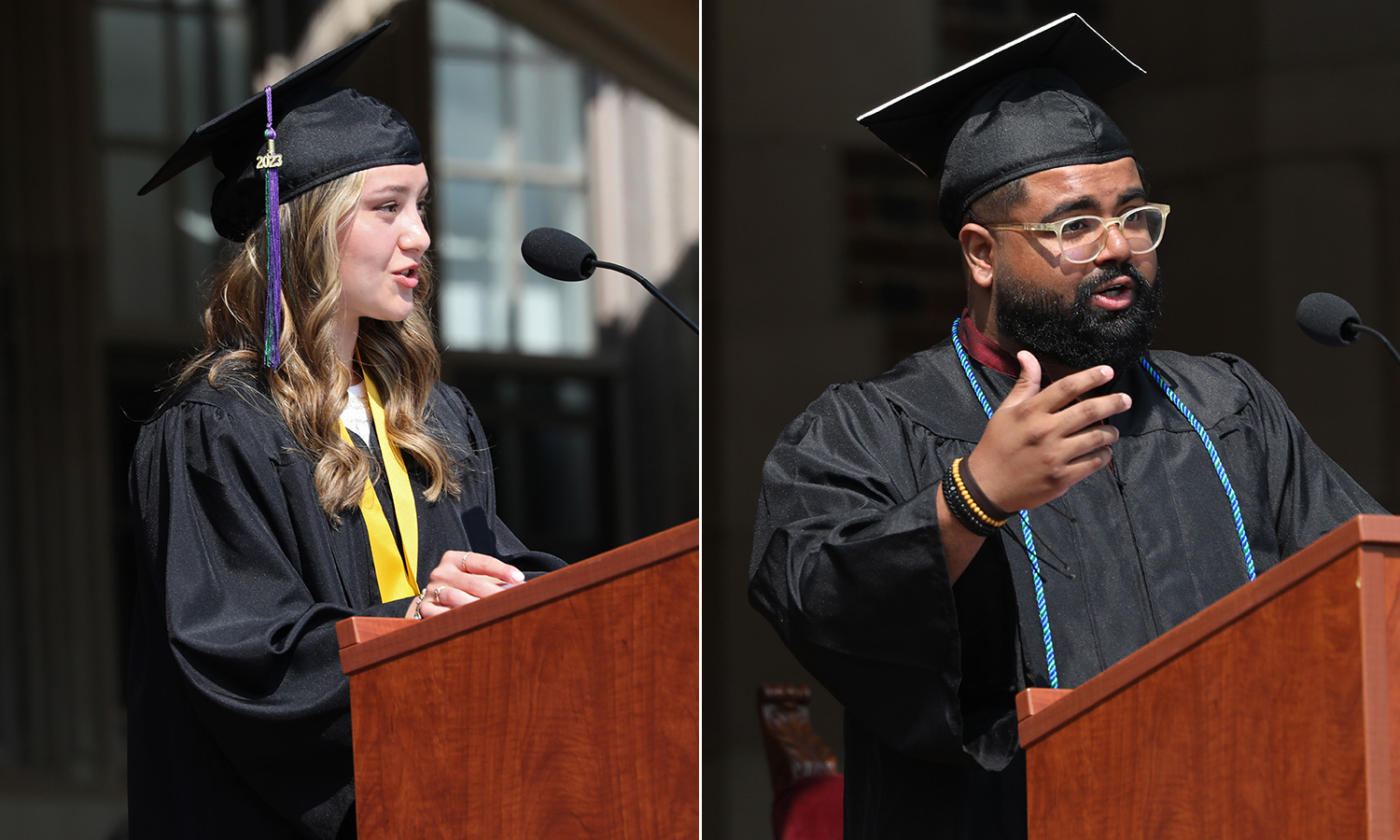 Student speakers included Irini Konstantinou '23 of Williamson, N.Y., and Sreyan Kanungo '23 of Dhaka City, Bangladesh. In her address, Konstantinou praised the resilience of her classmates who as first-year students faced Covid-19, followed by Zoom classes and back to in-person classes. "I realize now that finding your way through college is less about the direction one goes in and more about the connections they make. The people I have met at HWS have been my maps, my guides. When I was unsure of myself, it was the people around me who rooted me, who took my hand and made sure I didn't move alone."
In his address, Kanungo discussed taking risks, including his own decision to attend HWS, coming from Bangladesh. "What that risk allowed me to do was find people, worlds and support that I never thought I would have access to." He said the risk allowed him to be a member of the HWS Debate Team and compete in World Debate Championships in Madrid. He also discussed "having gratitude toward failure. I've always found my failures to be dearer to me than my successes. Not just because it grounds me, but because it reminds me that I have a long path ahead of me. And I've always found that comforting: it's not over, and life has more in store for me."
Sunday's ceremony marked the 198th graduating class of Hobart College and the 112th graduating class of William Smith College. The Colleges celebrated 361 undergraduates, 31 Master of Science in Management candidates, 10 Master of Arts in Teaching candidates and one Advanced Certificate in Management candidate.