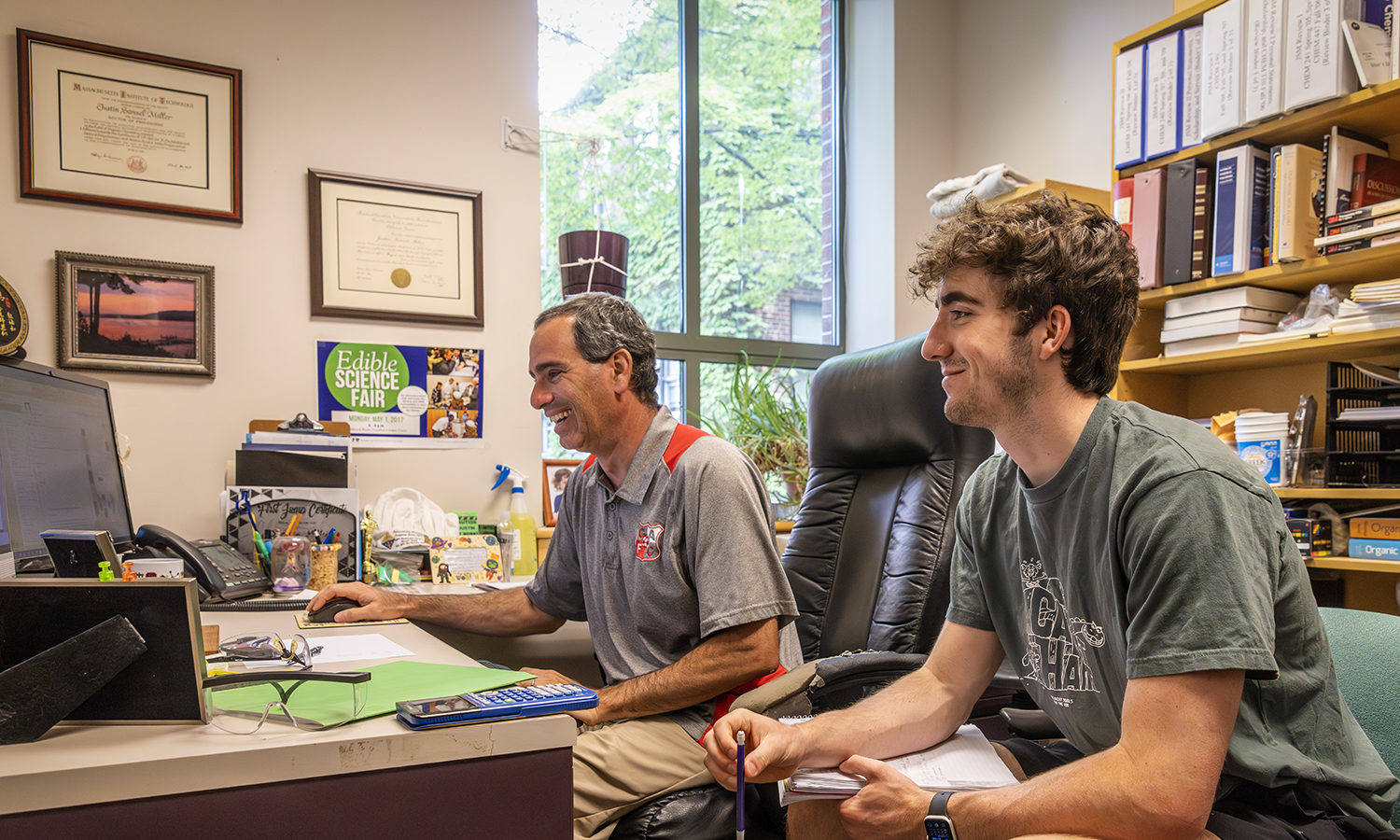 HWS News
20 July 2023 • STEM Dietsche '25 Studies Molecular Networks at MIT
After developing lab skills on campus, chemistry major Brogan Dietsche '25 is interning this summer at MIT, designing and synthesizing agents to strengthen industrial polymers.
Brogan Dietsche '25 has been busy this summer. After the semester ended in May, he remained on campus, working alongside Professor of Chemistry Justin Miller to synthesize two drug-related, bio-functional molecules. One masks drug molecules to allow them to passively diffuse into cells, while the other is a potential anti-cancer compound that may have therapeutic applications.
A chemistry major, Dietsche is now putting his research skills to the test at the Massachusetts Institute of Technology, developing molecules for very different applications. Funded by the National Science Foundation Center for the Chemistry of Molecularly Optimized Networks, his research internship has placed him in the lab of Professor Jeremiah Johnson, designing and synthesizing mechanophore vulcanizing agents to strengthen polymer networks.
"These polymer networks are what make up industrial materials such as plastics," Dietsche explains, "so our hope is that these mechanophores can be incorporated into currently used industrial polymers to strengthen them."
While polymer chemistry and material synthesis are new to Dietsche, he says that the organic synthesis methodology and techniques he learned working with Miller have carried over.
"Since I plan on pursuing a Ph.D. in organic chemistry, the experience I'm gaining in the graduate lab at MIT is giving me a strong foundation for when I'm eventually doing research on my own after undergrad," Dietsche says.
A member of the Hobart rowing team, Dietsche was named an IRCA Scholar-Athlete and an Arnold Memorial Scholar-Athlete and was selected for the NIRC All-Academic at the end of the 2022-23 season.
Learn more about chemistry and research at HWS.
In the photo above, Professor of Chemistry Justin Miller and Brogan Dietsche '25 discuss nuclear magnetic resonance data from their research in Miller's office.