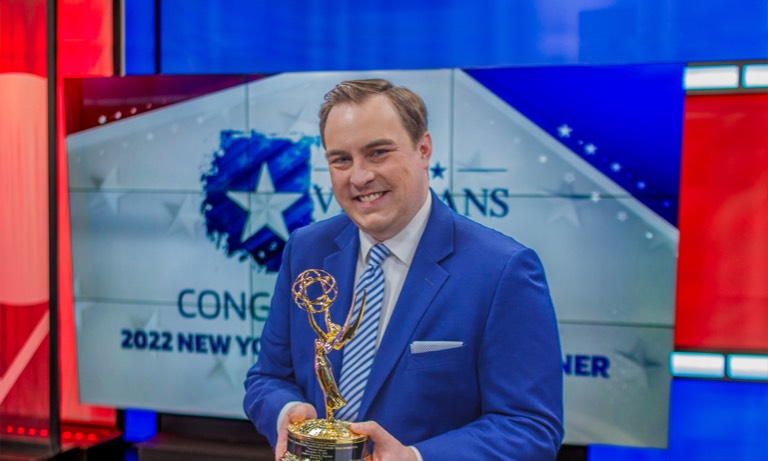 HWS News
22 March 2023 • Alums Emmy for Donovan '12
Coverage of local Veterans earns Hobart alum an Emmy from the New York Chapter of the National Academy of Television Arts & Sciences.
Longstanding WSYR-TV news reporter Andrew Donovan '12, who now serves as host of the station's public affairs show "Newsmakers," was part of a team that won a New York Emmy for the NewsChannel 9 special program on New York veterans.
"Veterans Voices" aired on Nov. 11, 2021 and won the Military-Long Term Content category at the 64th Annual New York Emmy awards in October.
The WSYR-TV hour-long special tells the stories of Central New York's veterans from World War II, the Korean War and Vietnam War. The 2021 special included a trip to Washington, D.C. with Syracuse's Honor Flight.
The statuettes were presented to the team in a recognition ceremony held at the station's studio last month.
Donovan graduated from HWS in 2012 with degrees in history and political science.
He joined the ABC affiliate NewsChannel 9 in 2013. Donovan was honored by The Syracuse Press Club, winning the Covering Covid Award for his reporting throughout the first year of the Covid-19 pandemic.
Prior to that, Donovan worked ​​as a digital media producer and reporter for WKTV in Utica. In 2022, Donovan became host of NewsChannel 9's "Newsmakers," a show on local public affairs.
The New York Emmy is presented by the New York Chapter of the National Academy of Television Arts & Sciences. Emmys are awarded based on talent and ability in composition, creation and performance of works that strive to improve the quality of television.