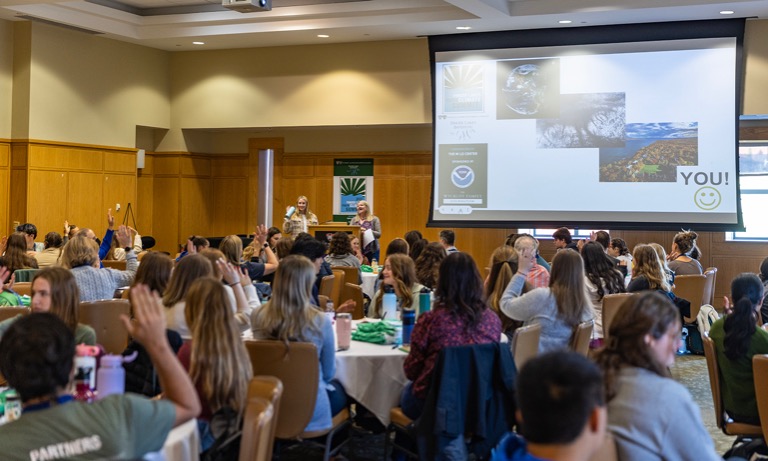 HWS News
27 September 2023 • Sustainability Finger Lakes Youth Climate Summit - Open for Registration By Ella Weiss '24
High school students are invited to participate in the 2023 Finger Lakes Youth Climate Summit, a conference focused on climate solutions. The event is hosted by HWS' Finger Lakes Institute.
The annual Finger Lakes Youth Climate Summit is back with a theme of "Local Solutions, Global Impacts: Climate Justice Starts Here!" The one-day conference organized by HWS' Finger Lakes Institute focuses on educating and empowering high school students to create environmentally positive change in their schools and communities.
The summit will be held on Wednesday, Nov. 1 from 8:30 a.m. - 1:30 p.m. in the Scandling Campus Center. Registration is limited to five students per school group, in order to allow more districts to participate. There will be a waitlist for any group that would like to bring additional students. Deadline: Wednesday, Oct. 4. Register your team here.
This year's keynote speaker is recognized leader in environmental and climate justice education Hannah Barg, who serves as the climate network manager at The Wild Center and the 2023 Civics and Environmental Fellow with North American Association for Environmental Education.
The FLI's Finger Lakes Youth Climate Summit is a partnership with The Wild Center's Youth Climate Program and the National Oceanic and Atmospheric Administration (NOAA)'s Environmental Literacy Program, supported by the Wyckoff Family Foundation.
Finger Lakes Institute interns Katrine Berg '23 and Anjalee Wanduragala '26 helped plan this year's summit. The pair also worked with a committee of local high school students to make sure conference speakers and workshops resonated with a teen audience.
"We recruited a group of high school students from schools in the area that we teamed with to help plan the summit. We meet with them every other week," Berg says. "We hope to exceed last year's turnout."
Last year's summit had 126 participants and 14 schools represented from across the Finger Lakes region.
For more information, contact katrine.berg@hws.edu katrine.berg@hws.edu