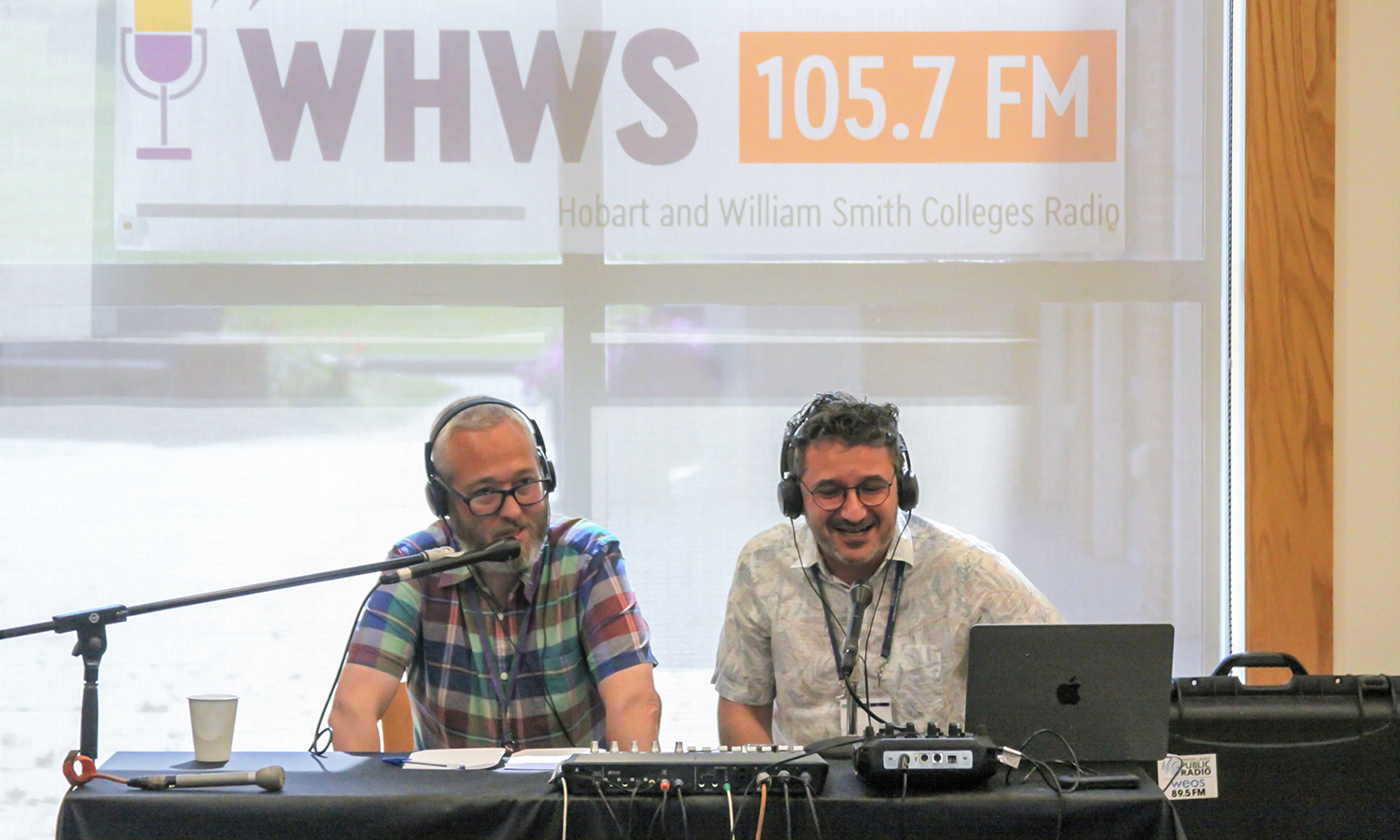 HWS News
27 June 2023 • Alums From Radio to Podcast Hosts
During Reunion 2023, Joe LaSala '98 and Chay Tower-Hughes '98 taped an episode of their podcast "Underground Reunion" with a live audience in the Scandling Campus Center. The episode was broadcast on WHWS.
In 1995, Joe LaSala '98 and Chay Tower-Hughes '98 hosted the radio show "Joe and the Guy with the Hat" on WEOS, sharing their love of music on local airwaves. Twenty-five years later, in February 2023, the pair got back together to start a podcast titled "Underground Reunion."
The podcast jumps right back in to where LaSala and Tower-Hughes left off in the '90s, bantering between indie and alternative anthems and sharing their favorite songs and artists of the moment.
This June, LaSala and Tower returned to Geneva to celebrate their 25th reunion and recorded a new episode of the podcast. Alums who returned to campus for Reunion Weekend joined the taping in the Scandling Campus Center as a live audience. The episode was also broadcast on WHWS 105.7 radio.
"Chay and I have such fond memories of doing our WEOS show from '95 to '98 that we even recorded a lot of the episodes on cassette that I recently digitized. Listening to them made us want to do the show again," LaSala says.
During the Reunion Weekend episode, LaSala and Tower-Hughes celebrated their favorite artists from their college days, including bands such as the Velvet Underground, Barenaked Ladies, The Clash and Talking Heads.
Highlights from the episode include revealing their most played song during the "Joe and the Guy with the Hat" era, titled, "Honeyed Out" by Kris Delmhorst, which they had the Colleges' Chorale record in 1995 to use as their theme song. They also shared memories of seeing Rusted Root live at the Smith Opera House.
Listen and subscribe to the show on Spotify and follow @underground.reunion on Instagram.