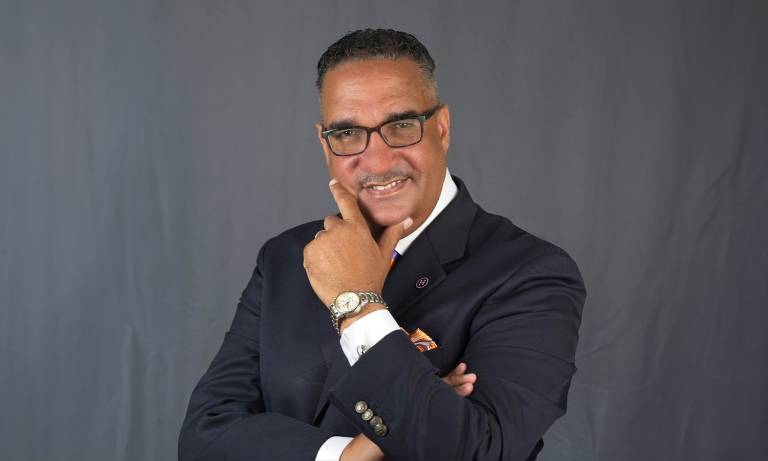 HWS News
12 July 2023 • Alums Gaines '88 Named VP at Talladega College
Ludwig Gaines '88 recently joined the historically Black institution as Vice President for Strategic Initiatives and Partnerships.
HWS Trustee Ludwig Gaines '88 began serving as Talladega College's Vice President of Strategic Initiatives and Partnerships on July 1. As a strategic and financial planning consultant for nonprofit and for-profit organizations, former adjunct law professor at Howard University, and executive director of several Washington, D.C. based nonprofits, Gaines brings a wealth of experience to Talladega's executive leadership team.
"An important part of my job will be working with stakeholders to ensure that our strategic plan is aligned with the mission of the school, and that we're realizing the goals and objectives that have been set forth by our Board of Trustees," Gaines says. "Dr. Vincent has assembled a great team. I'm very excited to work with my new colleagues on the senior team as well as faculty, staff, alumni, supporters, and past, present and future partners."
President of Talladega College and former HWS president Gregory J. Vincent '83 says: "Mr. Gaines is fulfilling a unique role at the College as we enter a period of growth at every level. Not only is he an advocate for HBCUs and robust educational experiences for all students, but he brings many valuable contacts and relationships to the table. With his extensive experience in legal affairs and politics and a notable presence on numerous boards of liberal arts colleges, Mr. Gaines' experiences are ideal for his work as Vice President for Strategic Initiatives and Partnerships."
Much of Gaines' time initially will be spent establishing strategic partnerships that will help meet the ambitious goals set out in Talladega's new strategic plan. For example, Gaines wants to bring the college to Capitol Hill and Wall Street in the form of new student experiences, internships, employment opportunities and funding. Part of his role is to create a funding pipeline for those programs and more, and to share the important legacy of Talladega College in those impactful arenas.
Gaines believes the rich mission and history of Talladega College is more important than ever given the recent Supreme Court ruling curtailing affirmative action at institutions of higher education. "That decision creates a more pressing need for educational opportunities for all students, particularly students of color. I am passionate and excited to assist Talladega in continuing to create a sustainable and robust educational experience for its students—one that's true to its mission and able to evolve and thrive in the current and future higher educational landscapes," he says.
Gaines grew up in Queens, N.Y. He earned his bachelor's degree from Hobart and William Smith Colleges and his J.D. at Howard University. He's completed leadership training at Harvard's Kennedy School. For the past several years he has served as Principal and Owner of The Gaines Group Consulting. Previously he was the Executive Director of three nonprofit organizations and Vice President for Legal Affairs for a successful 8(a) minority owned company. He served as a city council member for the City of Alexandria, Va., for six years, and worked on numerous local, state, and national boards, commissions and political campaigns. He also served as NAACP Political Action Chair. Gaines is past President of Hobart College's Alumni Association and currently is a member of the Hobart and William Smith Board of Trustees. Gaines, a member of Kappa Alpha Psi Fraternity, Inc. and former All-State sprinter and long jumper, is the recipient of numerous public and community service awards.