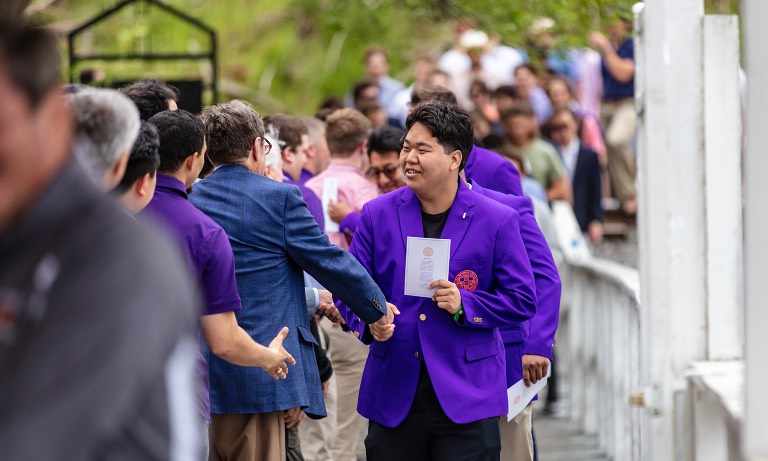 HWS News
1 June 2023 • Alums Hobart Seniors Welcomed into Alumni Association By Colin Spencer '19
Graduating seniors were recognized and welcomed into the Hobart College Alumni Association during the Hobart Senior Launch on May 19.
President of the Hobart Alumni Association Paul Wasmund '07 opened the Hobart Launch at the Bozzuto Boathouse, welcoming members of the Hobart Class of 2023 into the alum association and introducing Hobart Dean Scott Brophy '78, P'12.
"Your four years here were a time unlike anything any of us had ever experienced," said Brophy, referencing the Covid-19 pandemic that began in their first-year on campus. "You came through what was a trying and difficult time for all of us. You did it as an incredible community, and I just wanted to give you all a hand. This is a class we're going to remember, '23."
Keynote speaker Rabi Rajkarnikar '89, P'23, the managing director of Sun International, urged the seniors to cherish the relationships they built during their time at HWS, to remain connected to each other and go on to make a better world.
"Remember the lessons you have learned and what you have built here," Rajkarnikar said. "In a world that is so much in need of compassionate individuals, it is now your moment to contribute with kindness, understanding, wisdom and acceptance, no matter which corner of the world you are in. Therefore, farewell my fellow graduates, soon to be alums, generate ideals, as Hobart's legacy goes. Transform lives in peace. Live lives of consequence. And make all of us proud."
Each student of the Class of 2023 was given a wooden paddle, which they dipped in Seneca Lake. The paddle is to remind them of their connection to the lake and their alma mater and the promise of a reciprocal lifelong bond.
Professor of Sociology Jack Harris P'02, P'06 was named the honorary class member for the Class of 2023. William Koepp '23 was named as the class correspondent for the Pulteney Street Survey by Ret. Lt. Col. John E. Norvell '66,P'99, P02, the new Chief Class Correspondent for the Alumni Association, a position previously held by Eric Hall Anderson '59. Koepp received the correspondent's pen as a gift for his new role.
Director of the Abbe Center for Jewish Life and Hillel Advisor Rabbi Dr. Ann Landowne led the closing prayer, blessing the students.
At the reception, cigars were provided courtesy of Sherman and refreshments courtesy of Alfred Fred Matt '81, owner of F.X. Matt Brewing Company.