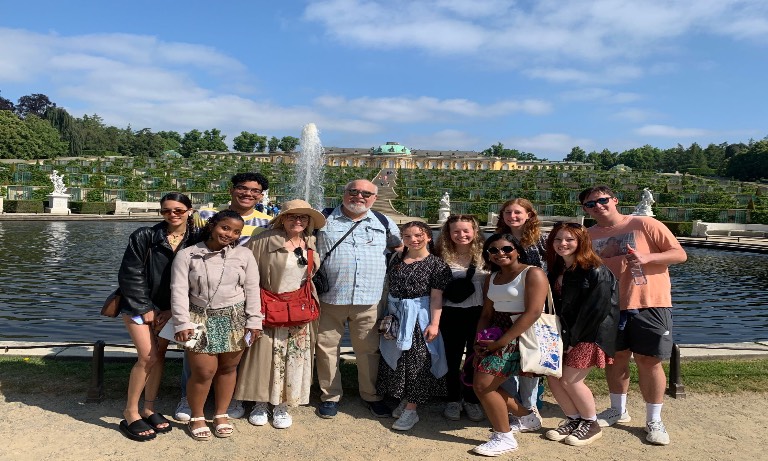 HWS News
26 July 2023

HWS Abroad in Berlin, Germany

A HWS Abroad program explores the history and social relations of Berlin, and East Germany, before and after the fall of the Wall.

For three weeks, students in "From Socialism to the Market Economy: The Case of East Berlin and East Germany," immersed themselves in the history, architecture and culture of Berlin, Germany.

Led by Professor of Sociology Jack Harris, students visited more than 15 cultural sites in the city and the surrounding region, from Potsdam to Leipzig. They also engaged in conversations with local people who directly experienced East Germany's rapid transition from socialism to capitalism and social democracy.

"With all the current talk of 'socialism,' I wanted the students to understand and assess East Germany's successes and failures, and that Berlin was at the forefront of the Cold War," Harris explains.



Harris says he was impressed by how HWS students immersed themselves in the city. "The students were wonderful in their receptivity to critical ideas and new experiences. They thoroughly and energetically engaged in the program and the city. We were very impressed with how the group came together and made Berlin their own."

For their final assignment, students completed a research paper based on a course topic that captured their interest. Anjalee Wanduragala '25, who is pursuing a double major in economics and environmental studies, wrote on "Post war: Remembrance and Reconciliation Through the Lens of Berlin, Germany."

For her final project, sociology major Caroline Ruffner '25 focused on the role of education in East Berlin "and how students were used to carry out the political agenda," she says.

"I would say that my favorite part of the trip was learning so much about a city that has changed tremendously. By going to numerous museums and talking to Berliners it was very clear that remembrance and education are valued when talking about their history," Ruffner says.