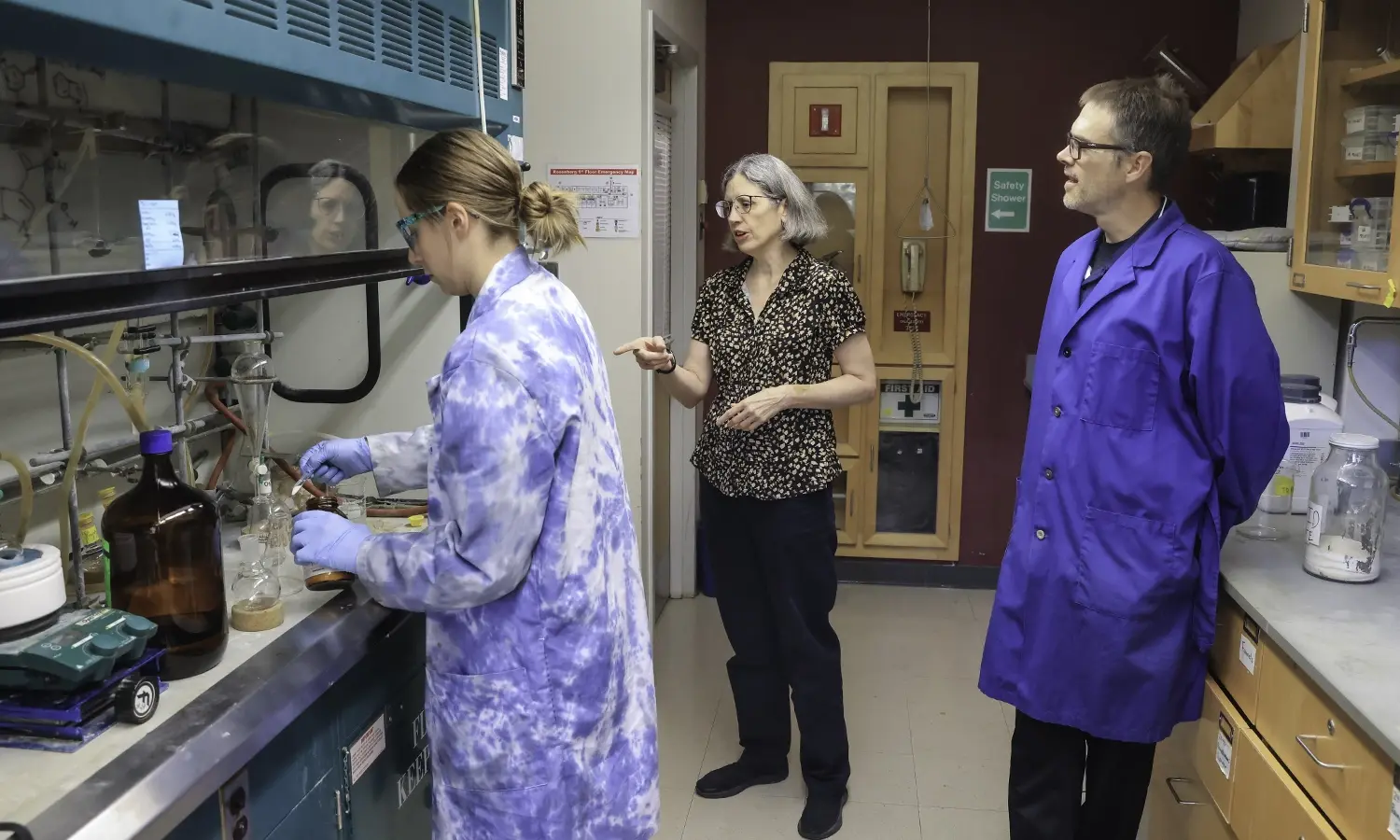 HWS News
29 September 2023 • Research HWS Awarded NIH Anticancer Research Grant
A $386K grant from the National Institutes of Health drives interdisciplinary research to develop molecules with anticancer properties.
Since 2014, Professor of Biology Patricia Mowery, Professor of Chemistry Erin Pelkey and their research students have been investigating new avenues for anticancer therapeutics. This fall, Mowery and Pelkey were awarded a $386,781 grant from the National Institutes of Health to develop drugs that target tubulin, a critical cellular protein and a common target for cancer treatments.
"Tubulin inhibitors are used in cancer treatments; however, the current inhibitors tend to be complex molecules, and suffer from toxicity issues, multi-drug resistance, low solubility, and/or the lack of multi-cancer efficacy," as Mowery and Pelkey explain in their proposal.
"Professor Mowery and Professor Pelkey's innovative work reflects the best of our campus' academics, connecting students with opportunities to practice robust research with profound implications for our world. I congratulate them on this exciting new grant and look forward to the outcomes of their work," says Provost and Dean of Faculty Sarah Kirk.
Through their interdisciplinary mentoring research program, Mowery, Pelkey and undergraduate researchers previously developed a molecule that prevented tubulin polymerization and had toxic effects on cancer cells. Thus far, the results of this research have been published in three articles in the journal Bioorganic & Medicinal Chemistry Letters, with 27 HWS student co-authors.
With this new grant, they will continue their collaborative work with students, using "hypothesis-driven rational drug design to develop novel heterocyclic tubulin polymerization inhibitors." The goal is to combat the problems common to other inhibitors and thus provide more potent and effective therapeutics.
In other words, they note, "we will perform basic research to improve anticancer agents while training the next generation of scientists."
Learn more about Mowery and Pelkey's collaborations and other anticancer research at HWS.
In the photo above, Taylor Coburn '23 works on a cancer research project under the direction of Professor of Biology Patricia Mowery and Professor of Chemistry Erin Pelkey.