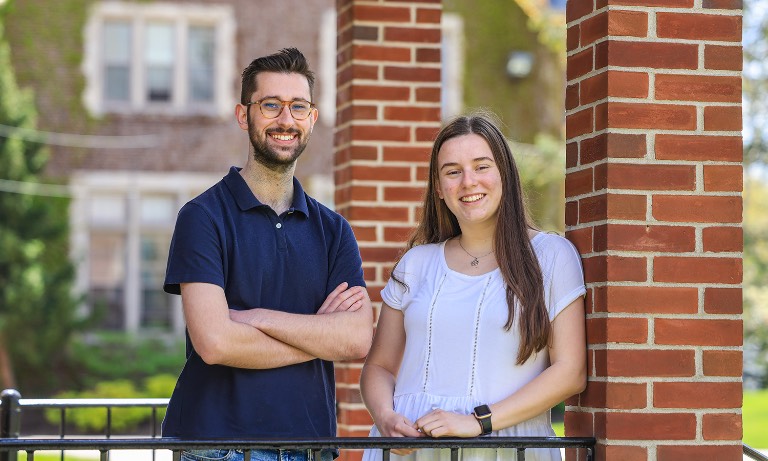 HWS News
6 June 2023

Meet the 2023 Orientation Coordinators By Colin Spencer '19

Two students are spending the summer to craft a comfortable and engaging welcome to HWS.

Building on their own experiences as students, Orientation Coordinators Alex Cottrell '20, MHEL'24 and Katie Pratt '23, MAT'24 will spend the summer planning and creating a meaningful Orientation experience that will help new students build a sense of community both on and off campus.

Cottrell, who is studying for his degree in the Master of Arts in Higher Education Leadership program, and Pratt, working on her Master of Arts in Teaching degree, will be reaching out to incoming students and their families, working with the Office of Student Engagement to match up incoming students to Orientation Mentors, running social media campaigns about what to expect during Orientation, and helping to plan activities, among other roles.

Cottrell, an Ancient Greek and economics double major, says the experience students have during Orientation is an important one as it provides a glimpse into life at HWS.

"I still remember my Orientation Mentors from when I was a first-year student. The experience of Orientation paints the initial picture of college life," he says. "Katie and I just want to make sure that everyone feels welcome and has a sense of community after they go through Orientation."

Outside of his course work as an undergraduate, Cottrell was the publicity officer for the Kinetic Dance Collective, a study mentor for the Center for Teaching and Learning, and a Senior Civic Leader.

As part of Orientation, incoming students will participate in Spark!, where they will complete projects designed to help them get acquainted with campus and the greater Finger Lakes Region. Topics range from the history of the LGBTQ+ movement in the Finger Lakes, golf course architecture, and outdoor exploration and entrepreneurship. Spark! projects will also allow students to meet faculty and students outside of their First Year Seminar groups.

In previous summers, Pratt served as an Orientation Mentor and Orientation Leader. Like Cottrell, Pratt says Orientation is a time to foster a sense of community for new students by engaging with them in multiple ways.

"I hope to help provide new students with the opportunity to get to know the community they are joining for the next four years," she says. "There are so many people to meet and many opportunities and places to explore both on campus and in the Geneva community that can really broaden and enhance their college experience."

Pratt double majored in dance and educational studies and was part of the Teacher Education Program. Outside of her classes, she served as the publicity officer for Kinetic Dance Collective, served as co-president of the Best Buddies Club, a Community Assistant, and was the recruitment chair for Theta Phi Alpha sorority.

Information on Orientation, Spark! and the First Year Experience can be found here.