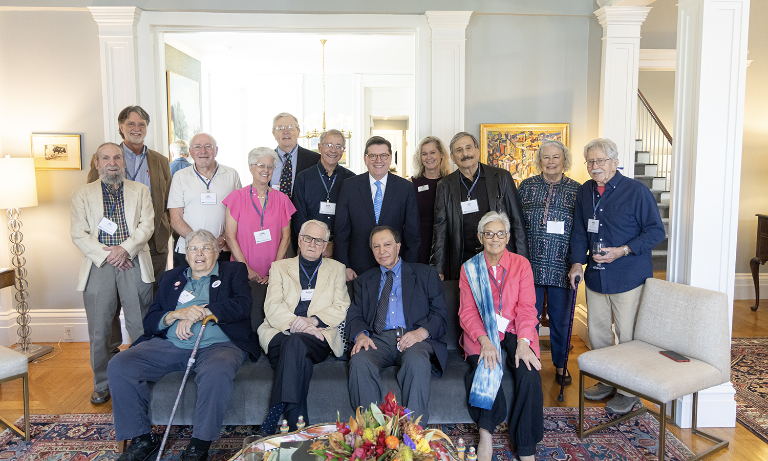 HWS News
3 November 2023 • Faculty Moodie and Singal Honored with Distinguished Faculty Award
Sociology and History Professors Emeritus honored for their academic impact.
The Hobart Alumni Association and William Smith Alumnae Association recently honored Professor Emeritus of Sociology T. Dunbar Moodie and Professor Emeritus of History Daniel J. Singal with Distinguished Faculty Awards.
Established in 1990, the Distinguished Faculty Award recognizes the importance that graduates of the Colleges place on the contributions of outstanding faculty members of the past for their impact as teachers, mentors and scholars.
The award ceremony was held on Friday, Oct. 27 in the Rosensweig Learning Commons of the Warren Hunting Smith Library.
Alumni nominations were a testament to the significant impact of the teaching and mentorship of Professors Moodie and Singal.
"Dunbar Moodie provided decades of experience as a professor, academic and family man to students seeking wisdom," said Thomas Baptiste '07, an IT and digital consultant in Washington, D.C.
"Professor Singal took the time to get to know me personally, and gave me the confidence to speak up in class or do a presentation in front of the class," said Melissa Hipolit '04, an investigative reporter with WTVR in Richmond, Va.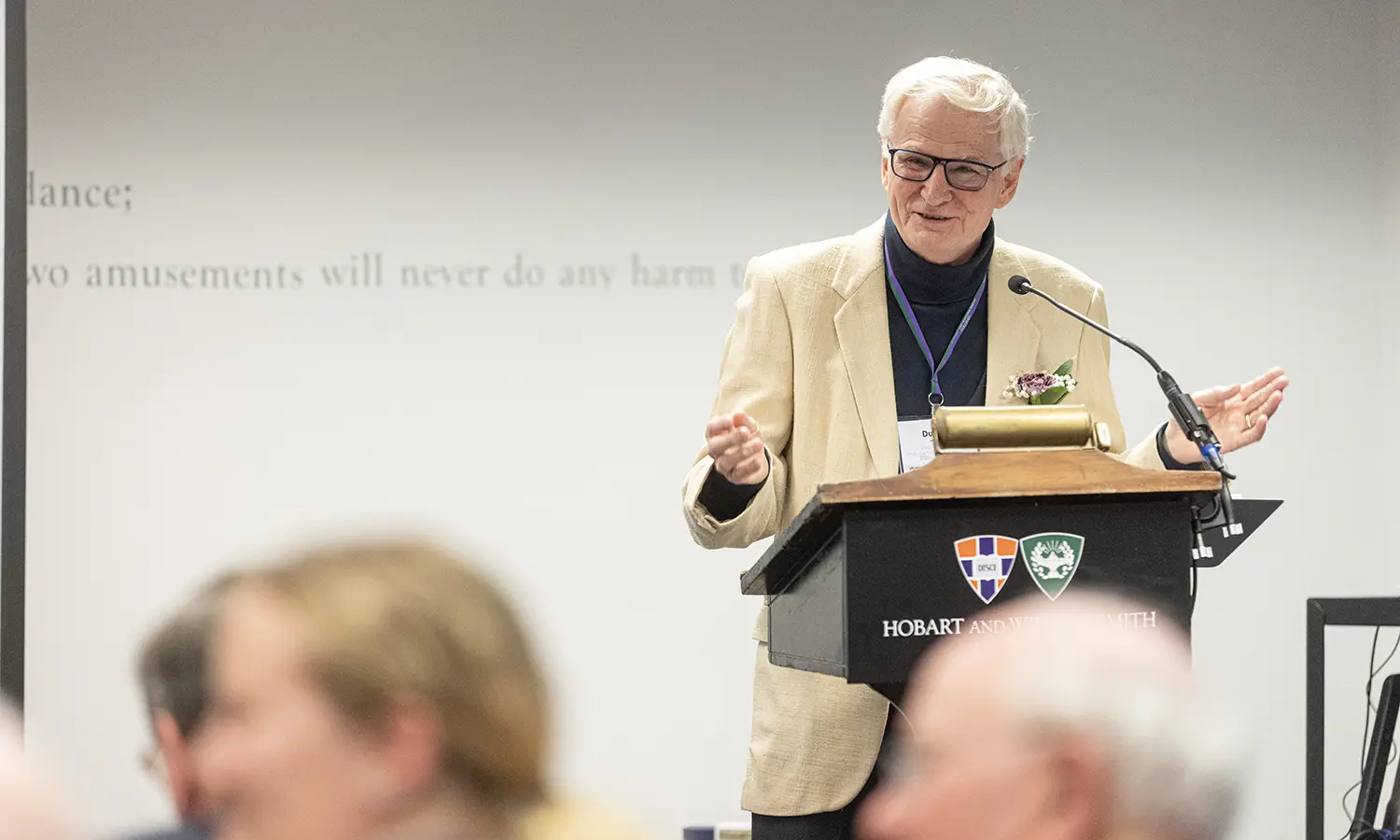 At HWS from 1976-2014, Moodie, a specialist on South Africa, taught courses such as "Classical Sociological Theory," "The Sociology of Everyday Life," "Power and Powerlessness," and "Sociological Theories of Religion." He served as Chair of the Anthropology and Sociology Department from 1976-1979 and in the fall of 1995 and 1997.
Between 1990 and 1992, he took two years of leave from HWS because he had a grant from the Ford Foundation to run a program at Andover Newton Theological School for selected South African community activists who were also committed church people. While at Andover Newton, he also taught courses on religion and society to graduate students at Harvard Divinity School.
In addition to faculty research grants from HWS, Moodie also received many academic fellowships, including grants from the U.S. Institute of Peace, the National Endowment for the Humanities, the Rockefeller Foundation, the Annenberg Foundation, and the John D. and Catherine T. MacArthur Foundation (for Research in Peace and Security).
He is the author of Going for Gold (1994) and The Rise of Afrikanerdom: Power, Apartheid and the Afrikaner Civil Religion (1980) and numerous journal articles.
Moodie holds a Ph.D. in Religion and Society from Harvard University, an M.A. in Theology from Oxford University, a B.A. from Oxford University as a Scholar of St. Edmund Hall and a B.Scs. in Sociology and Social Anthropology from Rhodes University.
"Dunbar Moodie opened his home countless times to students," said Baptiste. "There are few men as unselfish and full of knowledge to give guidance to students."
"I loved every Moodie class I took," said Hilary Frost '03, a project manager at HNTB in Brooklyn, N.Y. "I even minored in sociology when I realized I had taken so many of his classes. Professor Moodie was always approachable and supportive, regarding his own classes or any other subject. He cultivated an environment of collegial curiosity which made learning a genuine pleasure."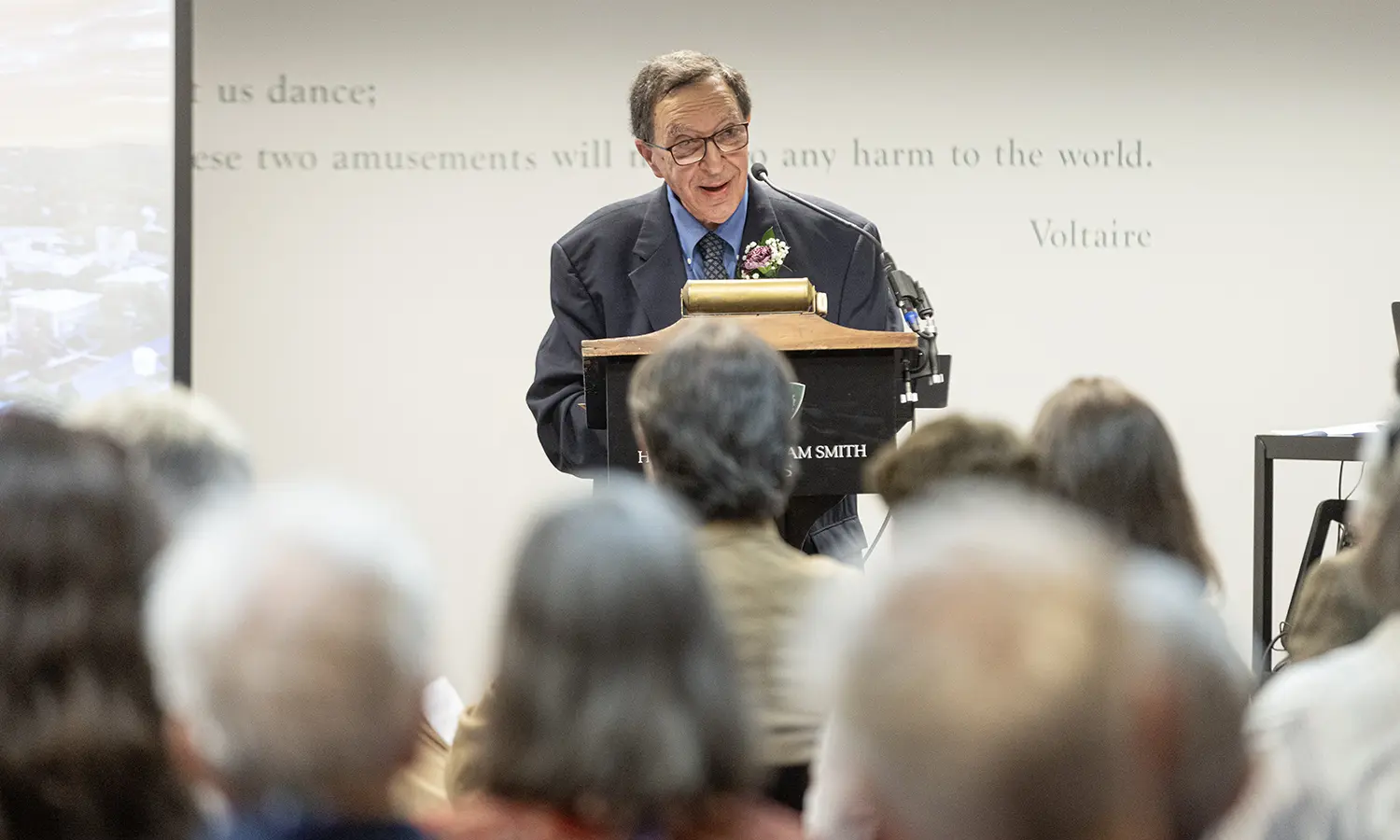 Singal taught history at Hobart and William Smith from 1980-2014, focusing on American history. He taught such courses as "Introduction to the American Experience," "The United States Since 1939," "William Faulkner and the Southern Historical Consciousness," "Aquarian Age: The United States in the 1960s," "History of American Thought to 1865" and "History of American Thought Since 1865."
Prior to his time at HWS, Singal taught at George Washington University and was a Mellon fellow at Tulane University from 1977-1979 and an assistant professor there from 1979-1980. He has been listed as a noteworthy historian by Marquis Who's Who.
Singal received the Ralph Waldo Emerson award from national Phi Beta Kappa, an honor given to the author of the best book in the Humanities published in the United States that year. He has been a Guggenheim fellow, a Howard Foundation Fellow, and has held a fellowship from the National Endowment for the Humanities. Singal served on the Board of Trustees at The Harley School in Rochester, N.Y. He has been a member of the American Historical Association, the Organization of American Historians, the Modernist Studies Association and Southern History Association, winning the Francis B. Simkins Prize in 1983.
Singal holds a Ph.D. with distinction from Columbia University, an M.A. from Columbia University and a B.A. magna cum laude from Harvard College.
Singal is the author of books including William Faulkner: The Making of a Modernist (1997) and The War Within: From Victorian to Modernist Thought in the South, 1919-1945 (1982). He edited the books Modernist Culture in America and The Making of a Quagmire: America and Vietnam During the Kennedy Era. His work has been published in Journal of American History, American Historical Review, the Journal of Southern History, Reviews in American History and The Atlantic.
"Professor Singal is one of two professors I had during my time as an undergraduate who truly inspired me to enter the field of education," said Richard Roche '87, former high school teacher in Flemington, N.J. "Professor Singal's 'U.S. Since 1945' course was the best course I ever took. It wasn't just his knowledge but his passion and love of the material that was inspirational. While teaching high school history, I frequently referenced the book The Rise to Globalism that we read for Professor Singal's class. I learned to love teaching young men and women from the great teachers I had growing up."
"It may seem strange to hear as I am now an investigative reporter on television, but back in my HWS days, I was absolutely terrified of public speaking," said Hipolit. "Professor Singal gave me the encouragement and confidence I needed to find my voice. I always remember how kind and nurturing he was as a professor, almost a fatherly figure to his students."
Learn more about the Distinguished Faculty Awards.
Top: Prior to receiving the Distinguished Faculty Award, Professor Emeritus of Sociology T. Dunbar Moodie and Professor Emeritus of History Daniel J. Singal join with President Mark D. Gearan and colleagues.