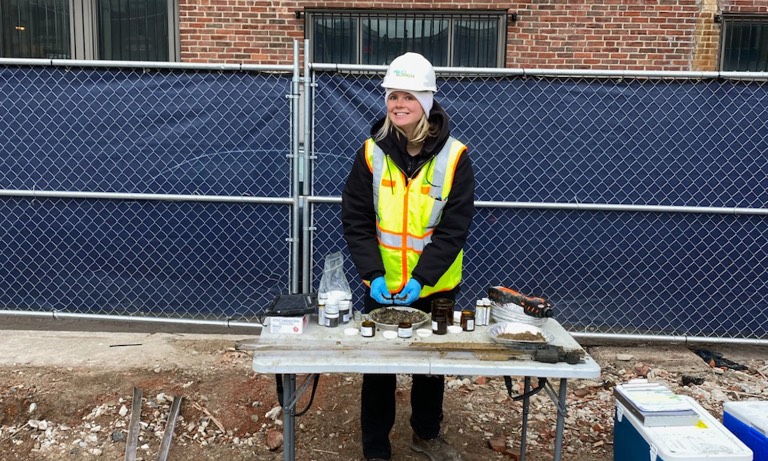 HWS News
20 September 2023 • Alums Research Published in Scientific Journal Helps Shaw '22
As a student, JoAnna Shaw '22 researched harmful algal blooms, work that has since been published in the science journal Water.
Research work JoAnna Shaw '22 conducted with faculty on harmful algal blooms while a student at Hobart and William Smith has been published in the science journal Water. She says the experience helped her land a position as a geologist at Haley & Adrich in Boston and aids her day-to-day work with the environmental and engineering consultant business.
The study, conducted with Professor of Environmental Studies John Halfman, Associate Professor of Physics Ileana Dumitriu and Director of the Finger Lakes Institute Lisa Cleckner, explored water quality in both Owasco and Seneca Lakes over a four-year period to assess for harmful algal blooms. The study found that nutrient availability was essential to trigger blooms in both lakes, with nutrients coming from nearshore organic matter decomposition and runoff from large precipitation events.
Shaw began working on the research with Halfman in her sophomore year after taking his "Environmental Hydrogeology" class. Following a few more courses with Halfman, the two conducted a year-long research project in the fall of her senior year. Work included collecting data while on The William Scandling research vessel and writing the report.
"Having hands-on statistical work was fascinating," says Shaw. "I was also able to use the knowledge from my 'Environmental Statistics' course and apply it in a real-life research project. It is very exciting to say I was able to be a part of that research."
She has taken the experience to her current position with Haley & Adrich where her responsibilities range from taking soil and groundwater samples to creating health and safety blueprints and completing project status reports. On job sites, Shaw collects soil samples and classifies the soil, scanning for molecules of volatile organic compounds in parts per million with a photo ionization detector.
"I have absolutely loved working in the field as a geologist," says Shaw.
Top: JoAnna Shaw '22 works at a site in Boston for Haley & Aldrich.