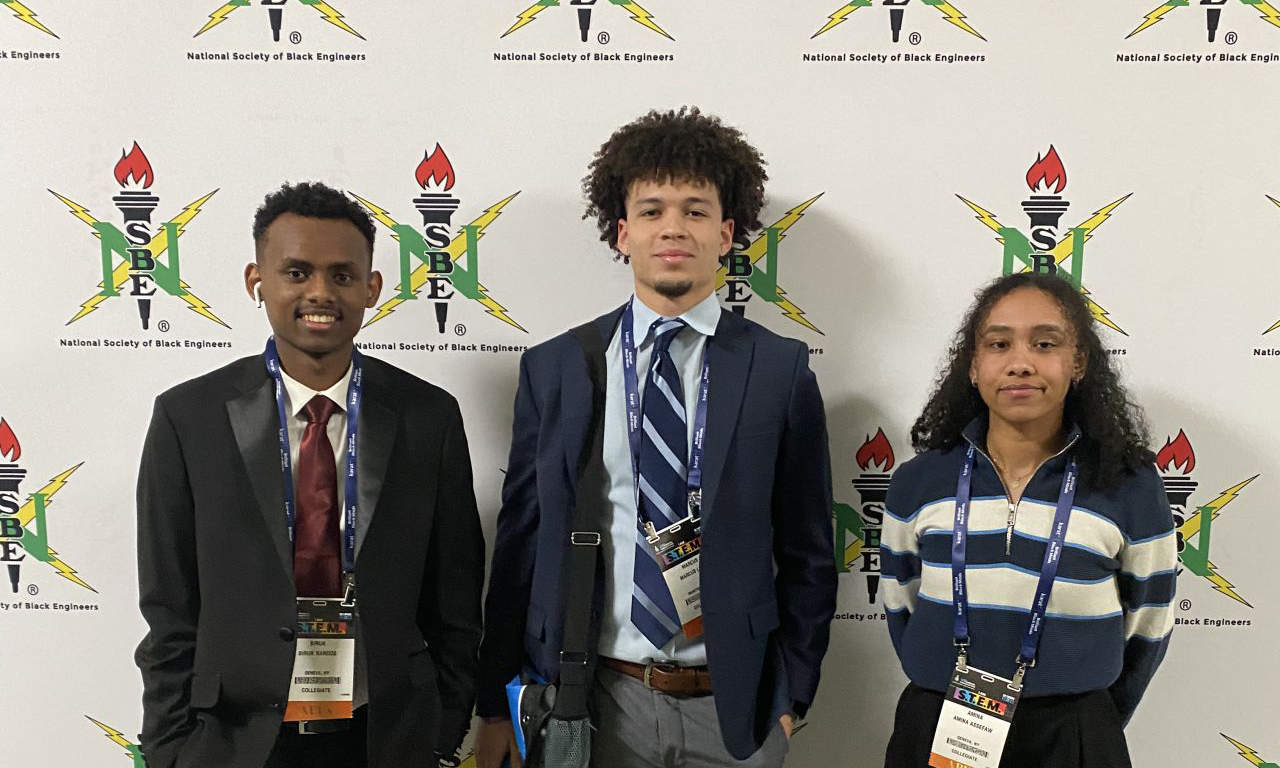 HWS News
7 June 2023 • STEM STEM Scholars Attend NSBE Convention
Three HWS STEM Scholars attended the 49th Annual Convention of the National Society of Black Engineers in Kansas City, Missouri.
Amina Asseffaw '26, Marcus Lenz '24 and Biruk Nardos '25 attended the 49th Annual Convention of the National Society of Black Engineers (NSBE). Held in Kansas City, Missouri, the four-day event brought more than 13,000 STEM professionals together to network and attend workshops.
Nardos, a physics and computer science double major, helped organize the trip for his peers. He says that after he learned about the NSBE opportunity, he received support from the Physics Department and Associate Professor of Physics Leslie Hebb to make the experience a reality. "I wanted to make sure we took advantage of the opportunity," Nardos says, sharing that Hebb was "excited to assist and support us."
More than 300 companies participated in the convention including SpaceX, NASA, Google, Apple, Boeing and IBM, all unified by their common objective of promoting and cultivating diverse talents within the STEM fields.
A non-profit organization, NSBE's goal is to increase the number of Black engineers who excel academically, succeed professionally and positively impact the community.
Nardos says that students received support from the Office of Diversity, Equity and Belonging, including Assistant to the Vice President of Diversity, Equity, and Inclusion Nancy Cheri-Arif and Director of the Adams Center for Intercultural Affairs Alejandra Molina.
"It was encouraging to meet other Black students and professionals from throughout the country who were enthusiastic about STEM and striving to make a positive effect in their communities; it was nice to connect with like-minded folks," Nardos says.
Lenz, a physics major on the pre-engineering track, had the opportunity to connect with recruiters from Honeywell, a technology and engineering company engaged in energy, security, safety, productivity and global development solutions. He has landed an internship with the firm this summer.
"The ability to market my education and past work experience was something I had learned quickly at the convention, as the majority of students were engineering majors from large, well-known schools," Marcus says. "To receive this opportunity as a physics and engineering student coming from a small school was an amazing outcome."
Asseffaw says she was grateful for the opportunity to engage as a first-year at the Colleges. "I think it was a great experience to be able to travel as a group and learn what it means to represent the POC community at HWS," she says.

The STEM Scholars program at HWS is designed to elevate and recognize the importance and value of historically underrepresented scholars in STEM fields. Announced in 2020 as a joint initiative between the Office of Diversity, Equity and Inclusion and the Office of Academic and Faculty Affairs, the STEM Scholars Program offers opportunities for academic support and financial aid to ensure all students have the resources to succeed in their chosen fields.
"As a Black STEM scholar, being part of this community is an incredible advantage that provides support and encouragement on the journey toward achieving one's goals," Nardos says.
This summer, Nardos has accepted a position as an Astronomy Research Assistant at the University of Maryland, Astronomy Department, where his research will focus on the internal structures of sub-Neptune exoplanets.