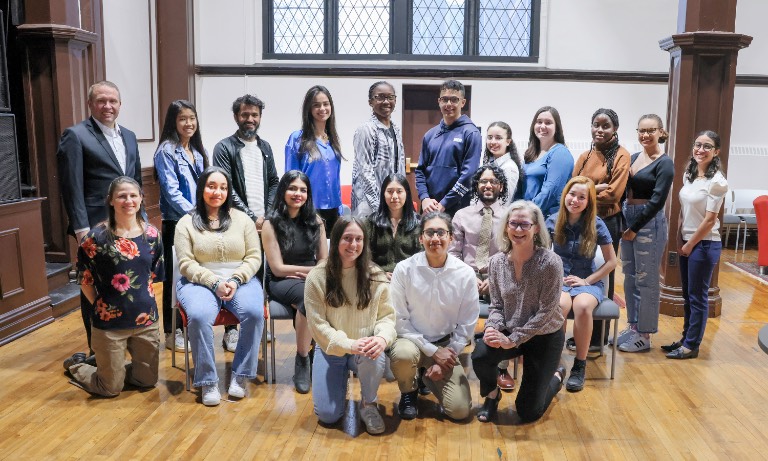 HWS News
HWS welcomed the third cohort of STEM scholars during an induction ceremony with guest speaker Microbiologist Fatima Saravia '16.
During a ceremony led by Provost and Dean of Faculty Sarah Kirk, Associate Provost for Affairs and Development and Associate Professor of Geoscience Nick Metz and Associate Professor of Chemistry Kristin Slade, the Colleges inducted its newest cohort of 22 STEM scholars at a celebration in Bartlett Theatre this spring. The HWS STEM Scholar program recognizes and supports racially and ethnically underrepresented students in science, technology, engineering and mathematics. This year's event featured a keynote address from Fatima Saravia '16, a research scientist at Colgate-Palmolive, who holds a Ph.D. in microbiology and immunology from Medical College of Wisconsin.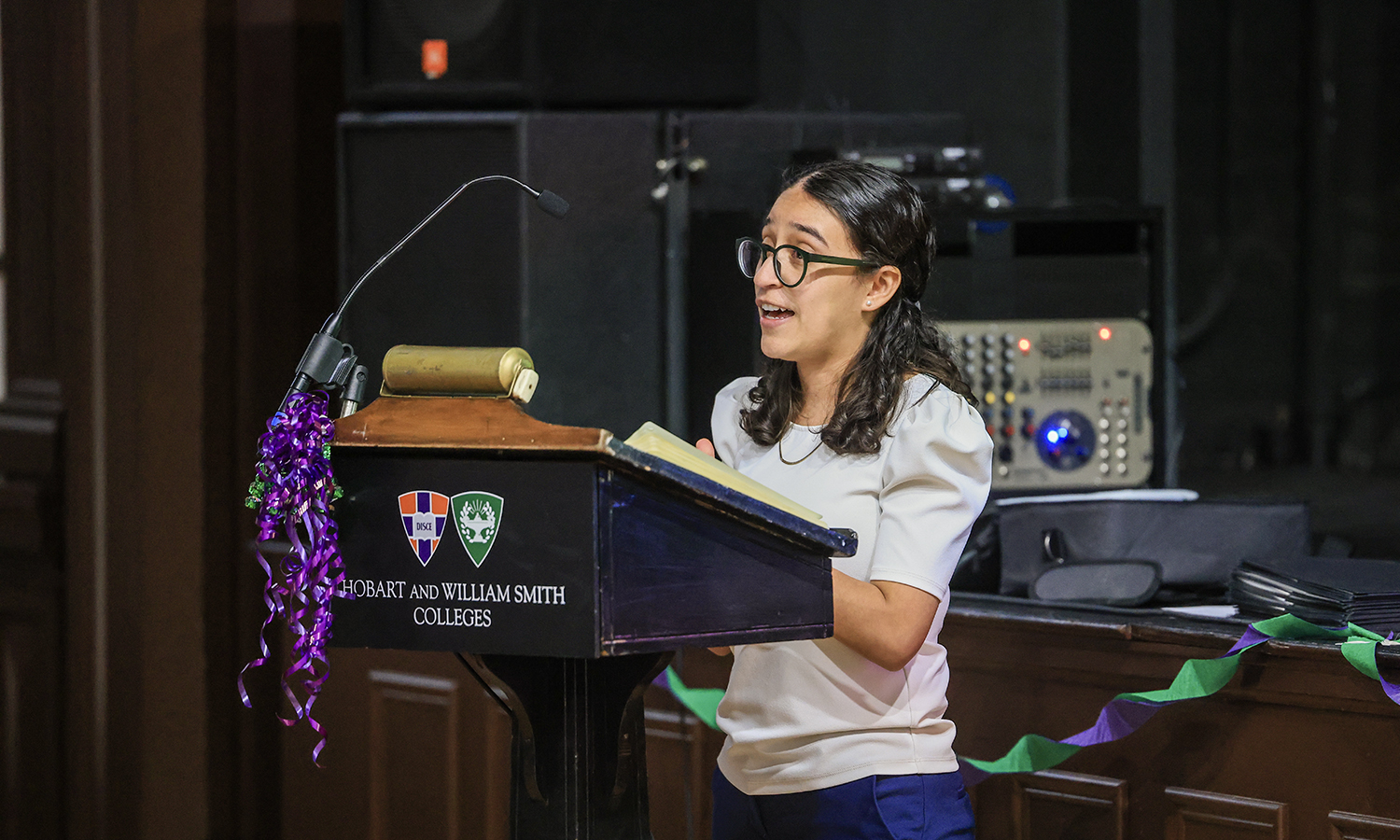 Saravia is a microbiologist with expertise analyzing next generation sequencing data to study the role of the microbiome in mediating host health and disease including oral conditions, hypertension and obesity. Saravia was born to Salvadoran migrants and was the first person in her family to graduate from high school, college and graduate school.
During her address, Saravia told the inductees that there were few students from underrepresented groups throughout her academic journey. "I knew I represented more than just myself in the classroom," she said, sharing advice on how to forge a path in the STEM fields. "Find good mentors and make lasting relationships."
She concluded her address urging the students to "own your seat at the table… your perspective matters."
This year's STEM Scholar inductees included: Sydney Campbell '26, Jayden Dasher '26, Anya Davis '24, Marlayna DiFante '24, Arshi Fawad '26, Cydney Fernandez '26, Maria Galarza Pedraza '26, Anis Hassini '26, Lina Hassini '26, Kenyce Johnson '26, Hussein Labib '24, Marcus Lenz '24, Daniella Lorenzana '26, Marissa Mastracco '25, Julie Medina '25, Ariel Messenger '26, Thu (Jessica) Nguyen '26, Chidalu Nwokolo '26, Faith Okoli '26, Javier Pacheco '26, Will Satheeskumar '26 and Nataly Vargas '24.
In addition to providing academic support, the HWS STEM Scholars program supports a public event each semester with a speaker to specifically deliver an address on the state of diversity, equity and inclusion in different fields of STEM. To be eligible as a STEM Scholar, students must be at least in their second semester of their first year, self-identify as a student from an underrepresented racial or ethnic background in the U.S. STEM community or a first-generation student, and have a demonstrated interest in pursuing a major or minor in either biochemistry, biology, chemistry, computer science, geoscience, mathematics or physics.
The HWS STEM Scholars Program is a joint initiative between the Office of Diversity, Equity and Inclusion and the Office of Academic and Faculty Affairs. The idea of a tightly knit community of students is also central to the program, said Kirk, who urged the inductees to "spend a moment to look around this room. These are your peers and mentors. This is a community, and this is about raising each other up."