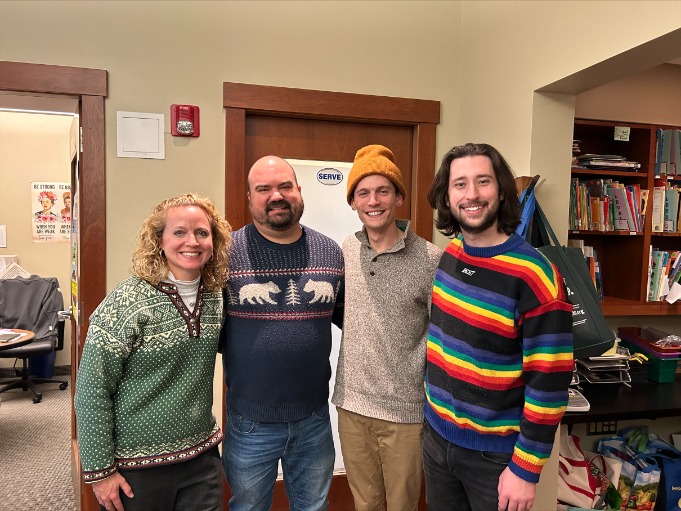 HWS News
16 February 2023 • Alums • Faculty The Value of Virtual Tutoring
A new book chapter, coauthored by HWS students, faculty and staff, examines the pandemic-prompted pivot to online tutoring and the gradual return to the in-person instruction.
In the wake of COVID-19, the Center for Community Engagement and Service Learning (CCESL) shifted to virtual programming and learned important lessons about what works when it comes to tutoring. Now, students, faculty and staff involved with HWS Tutor Corps are sharing their insights in a new book, Community Engagement in the Online Space.
Informed by their work with CCESL, a group of six students, faculty and staff have coauthored the chapter, "Undergraduate Perspectives on Community Engaged Service During COVID-19: Exploring Differences between In-Person versus Remote Tutoring Experiences." The chapter presents and analyzes HWS tutors' reflections on the shifts to and from remote tutoring.
Authors include Assistant Professor of Entrepreneurial Studies Craig Talmage who serves as the CCESL faculty adviser and liaison; CCESL staff including Director Katie Flowers, Assistant Director Peter Budmen '15, MAT'16 and Graduate Program Assistant Alexander Cottrell '20, MHEL'24; and Jonathan Garcia '23 and Jasmine Webb-Pellegrin '23, who served as tutors in the HWS Tutor Corps.
The chapter focuses on two key observations: the new dynamics between parents and tutors in light of virtual tutoring and the importance of technological training and professional development for tutors. The authors note appreciation for the opportunity to collaborate on the development of a publication and resource which highlights numerous accounts of creative and proactive ways communities navigated the pandemic to uphold the best of community engagement.
Ultimately, the authors note, the lessons "learned from the Tutor Corps program are shared via reflections from both staff and tutors in hopes that others will share their experiences in rapidly innovating their community engagement work during COVID-19."
The chapter is the latest scholarship from Talmage, Flowers and HWS collaborators analyzing the community's response to the global pandemic. In October 2020, 12 HWS students, faculty and staff published their interdisciplinary scholarship in the International Journal of Community Well-Being, describing acts of resiliency and creativity by members of the HWS community from March through June of that year.