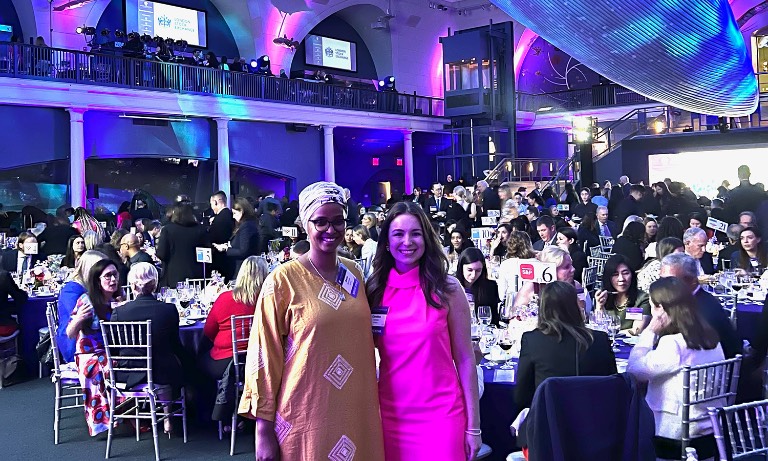 HWS News
31 July 2023 • Alums Two Alums at S&P Global Named "Rising Stars" in Finance
Amira Abdulkadir '14 and Caroline Demeter '15 were selected by the Women's Bond Club as 2023 Rising Stars in finance.
Each year, the Women's Bond Club selects its Rising Stars, recognizing the achievements and potential of emerging leaders in the world of finance. Amira Abdulkadir '14 and Caroline Demeter '15, who both work at S&P Global, were selected for the 2023 honor "based on their demonstrated leadership qualities and commitment to fostering a diverse and inclusive work environment," as the announcement from S&P noted.
"I am honored to have been named a 2023 Rising Star," says Demeter, who also was overjoyed to learn that fellow HWS alum Abdulkadir was also among the five women at S&P selected for the award.
"During my time at HWS I took advantage of the events and leadership opportunities held for William Smith students, which helped me feel empowered and inspired to lead a life of consequence. The fact that two William Smith women were selected as Rising Stars for S&P Global, a global company with over 40,000 employees, says so much about our leadership values developed at HWS. The Women's Bond Club, like William Smith, places a strong emphasis on 'women lifting other women up' and I'm so happy to be able to continue doing so in my career and as an HWS alumnae," Demeter says.
Demeter has worked at S&P for nearly eight years, currently serving as the analytical management lead at S&P Global Ratings. At HWS, Demeter earned a B.A. in environmental studies and served as a Student Trustee. She holds a project management certification from NYU School of Professional Studies and is now pursuing an M.B.A. from the Gabelli School of Business at Fordham University.
Abdulkadir serves as the U.S. head of dividend forecasting, data, valuation and analytics at S&P Global Market Intelligence. She previously worked at IHS Market as U.S. head of dividend forecasting. At HWS, she earned a B.A. in economics and international relations and was a member of HWS Debate and the Laurel Society.
"I knew Caroline and Amira well when they were student leaders on campus, and they reflect the strength of an HWS education through their leadership and professional achievements," says President Mark D. Gearan. "The personal connections they built on campus have served them well, and the Colleges are proud of the impact they are having."
Founded in 1921, the Women's Bond Club is one of the oldest professional organizations for women in finance and provides education, networking and mentoring opportunities for women in finance or related fields.