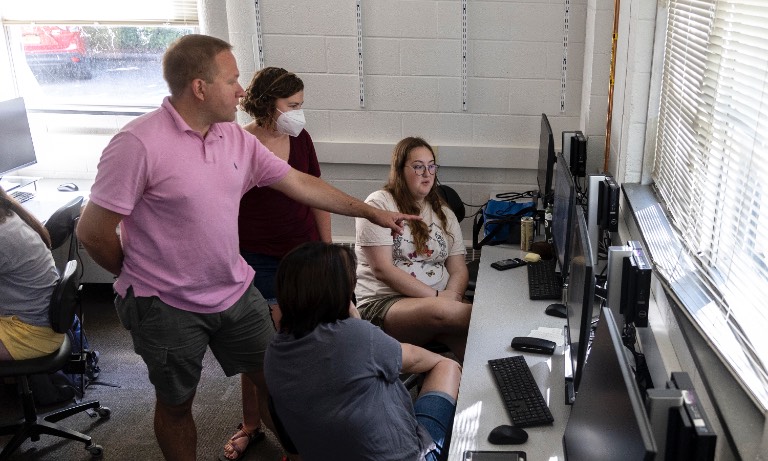 HWS News
14 April 2023 • Faculty • STEM Understanding the Atmospheric Rivers in the Northeastern U.S. By COLIN SPENCER '19
Geoscience Professor Nick Metz co-authors first paper to study phenomenon in northeast U.S. with assistance from students.
Associate Professor of Geoscience and Associate Provost for Faculty Affairs and Development Nicholas Metz is one of the authors of a recent research paper on atmospheric rivers in the northeastern United States.
Conducted with the help of six Hobart and William Smith students who compiled data through the Northeast Partnership for Atmospheric and Related Sciences Research Experiences for Undergraduates, Metz was one of the researchers to author "A 30-Year Climatology of Northeastern U.S. Atmospheric Rivers." The work examines the phenomenon from 1988-2017.
An atmospheric river is a corridor in the sky that transports water vapor outside of the tropics ahead of a cold front. While atmospheric rivers have been researched around the rest of the country, Metz notes that this is the first research which has delved into the northeast.
"This study improves our understanding of the frequency and intensity of atmospheric rivers over the northeastern United States and highlights key aspects of the climatology that influence seasonal distributions," including the tendency for multiple concurrent atmospheric rivers during the summer where, due to directional travel of water vapor, precipitation is not as likely to occur compared to atmospheric rivers in West Coast, the paper concludes.
The Northeast Partnership for Atmospheric and Related Sciences Research Experiences for Undergraduates is a joint program between HWS and Plymouth State University that provides undergraduate students the opportunity to conduct research, present at research conferences, publish in scientific journals and, ultimately, prepare for careers in STEM fields.
Metz, who joined the HWS faculty in 2011, teaches courses focused on specialized areas in meteorology, including hydrometeorology and weather analysis. His research examines high-impact weather, including large-scale weather systems and severe weather affecting the Finger Lakes and Great Lakes regions such as lake-effect snow and thunderstorms. As Associate Provost, he is responsible for coordinating a wide range of faculty-focused programs and initiatives, including professional development, financial planning and personnel management.
During his tenure, Metz has overseen dozens of student research projects both during the academic year and over the summer, led the HWS weather forecasting team in the national Weather Challenge competition, and taken students to Hawaii and the Midwest to learn about various weather phenomena. With his collaborators, including HWS faculty and students, he has obtained numerous grants from the National Science Foundation to study various aspects of lake-effect snow, among other projects. He currently runs a National Science Foundation supported Research Experience for Undergraduates program that supports 12 undergraduate students each summer. His research has been published widely in scientific journals. Metz holds a B.S. from Valparaiso University and an M.S. and Ph.D. from the University at Albany.