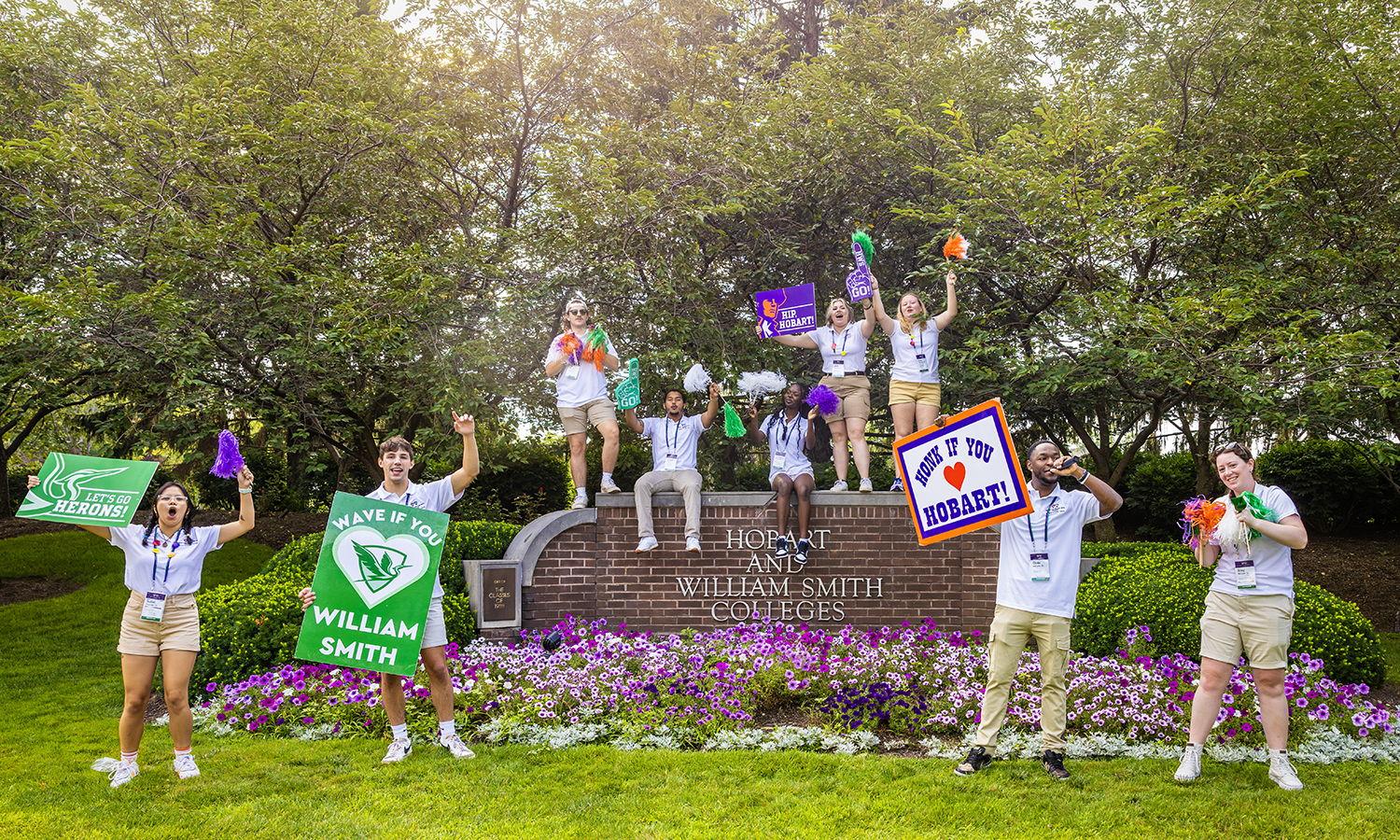 HWS News
21 August 2023

Welcoming the Newest HWS Students to Campus

HWS 2027 arrived this Sunday for a weeklong Orientation.

Hailing from 27 states, 16 countries and five continents, members of the Hobart and William Smith Class of 2027 arrived on campus for Orientation on Sunday, Aug. 20. An impressive cohort, the group is made up of 503 incoming first-year and transfer students.

"HWS 2027 is a distinguished group of students who are academically gifted, motivated to succeed and very enthusiastic about joining Hobart and William Smith," says Vice President for Admissions and Financial Aid Michael J. Quinn. "We are eager to welcome them to campus and to help them engage and flourish during their time here."


Collectively, the group has an average high school GPA of 3.62, with a wide range of academic and cocurricular interests. International students make up four percent of the new student body, students of color 25 percent and first-generation students 21 percent. Nearly two-thirds of incoming students attended public high schools, and more than 40 percent are student-athletes.

For the first time, HWS has extended Orientation into a weeklong program, designed to create meaningful opportunities for students to get to know one another, campus, and their new Finger Lakes home.
Orientation Coordinators Alex Cottrell '20, MHEL'24 and Katie Pratt '23, MAT'24 and their O-Team will be spirited guides for students' first days on campus, leading icebreaker activities and helping first-year and transfer students navigate campus. Additionally, Orientation Mentors will continue to be a touchpoint for students during the Fall semester, making themselves available through texting or coffee dates.
"With only a handful of days to learn what can feel like a new language, from HWS specific acronyms (like JPR or CCESL) to the best routes around campus, Orientation can be a whirlwind," says Pratt. "That's where the O-Team comes in! We can be a great resource for asking questions. Most importantly, we hope these new members of the HWS community take a moment to breathe and just enjoy the moment. We're so excited!"
An HWS tradition, students' first stop at Orientation was the Quad, where they shook hands with President Mark D. Gearan and Mary Herlihy Gearan, connect with deans, the HWS Alum Associations, and received their room keys.
Additional highlights during the week include hot air balloon rides, a kickball tournament, and a Variety Show at the Smith Opera House, a showcase of campus talent from the acapella group Three Miles Lost to step, and dance teams HQ and the Kinetic Dance Collective.
A cornerstone of the extended Orientation program are Spark! Projects, designed to introduce students to HWS' intellectual community. With a small peer cohort and led by faculty and staff, students will complete a two-day immersion into a topic of local interest, ranging from public art and community development, to fly-fishing and ecology, or outdoor education and adventures. On Friday evening, students will share what they learned at a mini-symposium in the Gearan Center for the Performing Arts.
Learn more about Spark! here.