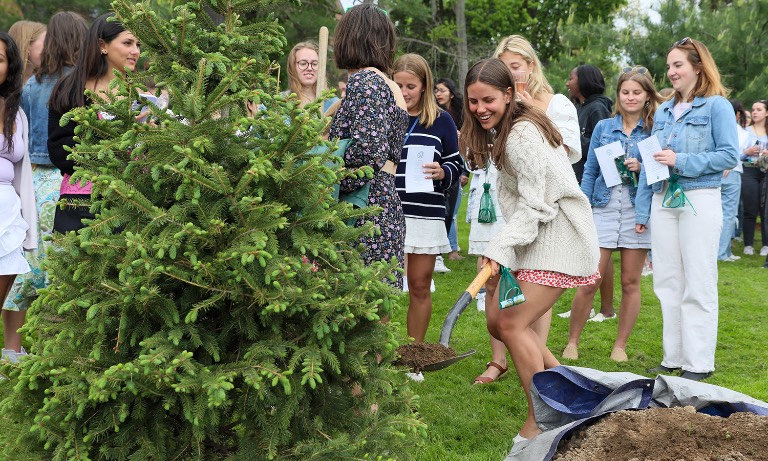 HWS News
1 June 2023 • Alums William Smith Class of 2023 Celebrated During Senior Toast By Colin Spencer '19
New graduates are welcomed into the Alumnae Association.
Members of the William Smith Class of 2023 were honored and welcomed into the William Smith Alumnae Association during the William Smith Senior Toast on the Hill on May 19.
Executive Director of Alumni and Alumnae Relations Chevanne DeVaney '95, P'21, P'23 opened the event, welcoming the graduates into the Alumnae Association and introduced William Smith Dean Lisa Kaenzig P'22.
"I know some of you may feel there has been some seriously bad luck in the world since that hope filled orientation weekend four years ago," said Kaenzig, noting the Covid-19 pandemic hit in their first-year. "But I want you to know that I don't see it that way. I see the many ways you have persevered, absolutely determined to make the most of your time in college, even when it was marked by challenges."
During her keynote address, Senior Associate Director of Admissions Melanie Sage '95, P'25, P'27 reminded the seniors that HWS would always be their home. "You will always, always have a place here at HWS. All you need to do is let the herons fly you home," Sage said. "HWS was my physical home from my time here, but it was also my intellectual, emotional and spiritual home. I will always be grateful to the Colleges and the universe for forming me into the person I am today, just as it has surely shaped all of you into the remarkable humans standing before us."
During the awards' presentation, Litzy Bautista '23 and Lauren DeVaney '23 received the Judith Haslam Cross '52 Award, given to students who represented the college well during their time attending. Irini Konstantinou '23 received the Elizabeth Herendeen Odell 1922 Book Award, given to the student believed to keep in contact with the college after graduation. Bautista was also announced as the class correspondent for the Pulteney Street Survey and received the correspondent's pen for her new role. Postmaster and Print Services Manager Pam Slentz was named the honorary member of the Class of 2023.
Members of William Smith Class of 2023 celebrated with a champagne toast, proceeded down the William Smith Hill for the traditional tree planting ceremony in honor of the College's founder, nurseryman William Smith, and received their class charm, a pinecone. The planting of the tree commemorates the class's bond, and students touch the "Good Luck Tree" located on the bend of the hill, a tradition revived by the late Alta Essom Boyer 1936.
"So, William Smith College Class of 2023, go out into the world, take the power you have earned and that you most certainly deserve," said Kaenzig, referencing Beyoncé's "power is not given, but has to be taken."
Chaplain The Rev. Nita C. Johnson Byrd offered the closing prayer.