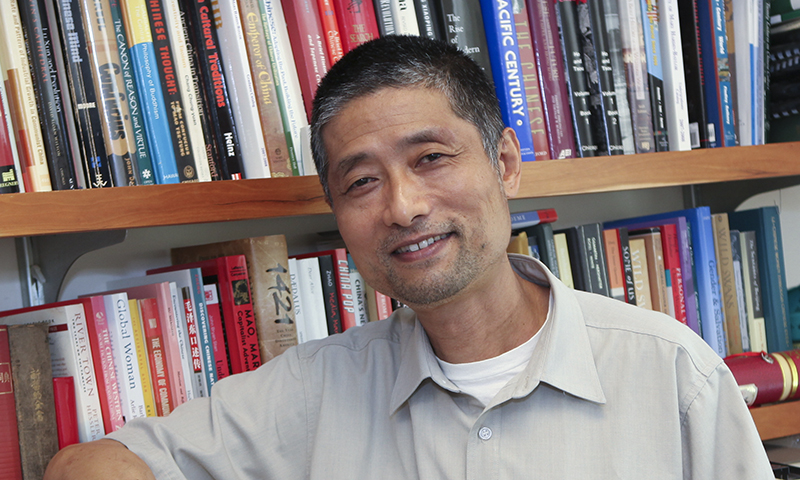 HWS News
31 March 2023 • Faculty Zhou's Book Examines Power Dynamics Between China and U.S. By Katelyn Oswalt '24
In his new book, Associate Professor of Asian Studies Jinghao Zhou explores the competition between China and the United States and says "great power competition is intensifying," but "war is not imminent during the great power competition if the U.S. can persistently implement competitive approach toward China while working with its allies."
In "Great Power Competition as the New Normal of China-U.S. Relations," Associate Professor of Asian Studies Jinghao Zhou examines the relationship between China and the U.S. and points out that the relationship between China and the U.S. "has nosedived to the lowest point since President Richard Nixon started the engagement process with China in 1972." The book addresses some critical questions, such as: Will China-U.S. relations come back to the normal track? Will Taiwan be the next Ukraine? Will the great power competition lead to war between China and the United States? What is the best strategy for the U.S. to adopt in response to China's challenge?
Zhou argues that it is an unrealistic hope to bring China-U.S. relations back to "the so-called normal track because the great power competition will be a new normal of China-U.S. relations and the USA will gain more from strategic competition than cooperation in the long run." The book goes on to show that the strategy of "great power cooperation through competition" is more positive and constructive than the approaches of "peacefully coexist" and "maximum pressure."
The book explains why the great power competition is inevitable, but war is not imminent. The book emphasizes the importance of understanding the nature of the Chinese Communist Party and the challenges of the Party's global ambition to modern democracy. Additionally, it calls on both the U.S. and China to revisit their foreign policy practice and come up with a better strategy for handling relations in order to avoid a potential war over the Taiwan Strait and the South China Sea.
Zhou earned his Ph.D. from Baylor University, M.Div. from Union Theological Seminary, M.A. from Wuhan University and B.A. from Nanjing University. He has taught nine courses in Asian Studies including China-the U.S., Chinese Women, Contemporary China and Chinese Cinema.
His teaching interests align with his research, focusing on Chinese ideology, politics, religion and U.S.-China Relations. He has previously authored five books, "Why Is the China Model Losing Its Power," "Chinese vs. Western Perspectives: Understanding Contemporary China," "China's Peaceful Rise in a Global Context," "Remaking China's Public Philosophy and Chinese Women's Liberation," and "Remaking China's Public Philosophy for the Twenty-first Century." Additionally, he has had articles published in various journals.