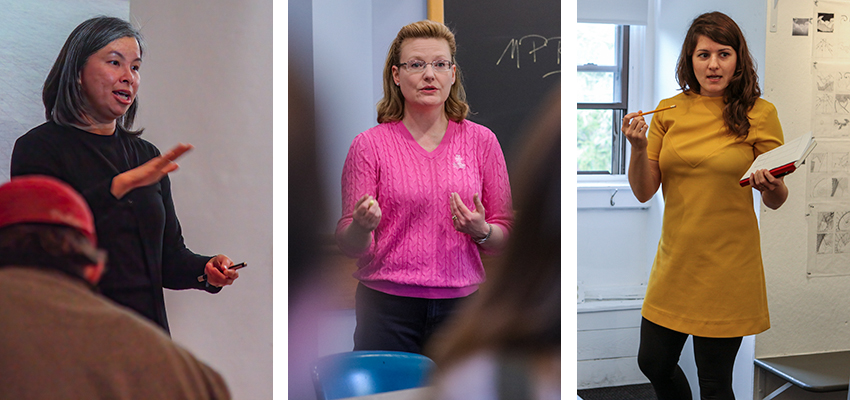 HWS News
1 April 2021 • Faculty Blanchard, D'Angelo, Tessendorf Recognized with Faculty Prizes
HWS faculty members honor three of their colleagues for their work as educators, scholars and community leaders.
Last year, the celebration of faculty awards was disrupted due to the pandemic, but this spring, alongside the 2020 Commencement exercises, Professor of Art and Architecture Lara Blanchard, Associate Professor of Art and Architecture Gabriella D'Angelo and Instructor of Economics Jennifer Tessendorf will be honored for their respective scholarship, service and teaching.
Based on the recommendations of fellow HWS faculty members, the Committee on Faculty Research and Honors selected Blanchard, D'Angelo and Tessendorf in for the 2020 prizes, which will be celebrated in June.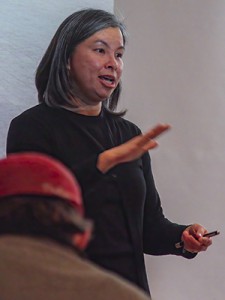 Blanchard, the Luce Professor of East Asian Art and the Lloyd Wright Professor in Conservative Studies, is an award-winning art historian whose scholarship explores the intersections of gender, culture and creativity in a range of eras and media. She is the author most recently of Song Dynasty Figures of Longing and Desire: Gender and Interiority in Chinese Painting and Poetry, which won the prestigious 2020 Joseph Levenson Pre-1900 Book Prize from the Association for Asian Studies (AAS). She is also the coauthor of the textbook Asian Art, which won the AAS' 2016 Franklin R. Buchanan Prize for Asia Curriculum Materials, and coeditor of Gender, Continuity, and the Shaping of Modernity in the Arts of East Asia, 16th – 20th Centuries. Her articles — examining Chinese pictorial arts, the construction of gender in art, text-image relationships and Chinese theories of representation — have appeared in the journals Artibus Asiae, ​Ars Orientalis and Nan Nü: Men, Women and Gender in China.
In her faculty prize citation, Blanchard's colleagues note the "extraordinary persistence in her exhaustive research into the subject matter: every painting is viewed from numerous perspectives…[and] various interpretations put forth…leading to a full accounting of the [gendered] sensibilities of the painters, viewers, and subjects."
A former chair of the HWS Art and Architecture Department, Blanchard teaches a range of interdisciplinary courses, from Chinese and Japanese art history to women's studies. She joined the HWS faculty in 2001 and has been a member of the Association for Asian Studies since her time as a graduate student at the University of Michigan, where she received her M.A. and Ph.D. in art history.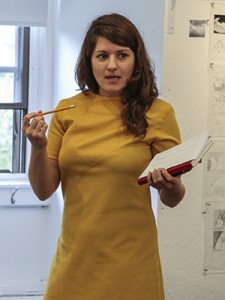 D'Angelo uses design to revitalize, educate and build her community while taking on contemporary social challenges. Incorporating civic engagement into her classes, she has guided students in planning and executing revitalization projects for under-utilized public spaces in Geneva community. These projects — including Winter Funscapes, Natural Playscape, Little Free Farm Stands and Little Free Libraries — have not only connected students directly with the community but built relationships with Geneva institutions, from The Boys and Girls Club to the Geneva Neighborhood Resource Center to Geneva High School.
From her contributions to the Youth Corps, to her work fabricating face shields for Geneva General Hospital, D'Angelo "provides an impassioned example of how design can be responsive and responsible through her mentorship to her colleagues and to her students, demonstrating how to be a community steward," as the prize citation states. "Her service-oriented community outreach is a model of service for her students, as is her infectious joy in solving problems. This enthusiasm — which can seem boundless — makes Professor Gabriella D'Angelo, and her work, a space of resiliency, creativity, and thoughtfulness."
D'Angelo, who joined the faculty in 2010, teaches introductory, intermediate and advanced architecture courses and 3D design. She holds a B.S.Arch and M.Arch from the University at Buffalo, SUNY and an M.Arch II from The Cooper Union at the Irwin S. Chanin School of Architecture.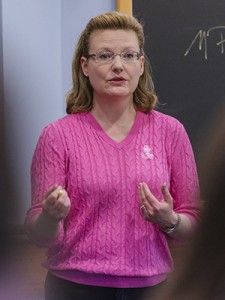 Tessendorf, as her citation notes, "is committed to student mastery" of economic concepts and principles, which results in rigorous coursework even as she inspires "a passion for the subject matter." In "Principles of Economics" and "International Trade," Tessendorf introduces students to the field while engaging their imaginations with new developments such as game theory and behavioral economics. She is equally devoted to helping students hone their writing skills, spearheading the Economics Department's Writing Enriched Curriculum efforts.
Meanwhile, Tessendorf takes on "student advising as a vocation and essential part of the academic mission." Advising 125 students in three different academic programs, she "spends innumerable hours helping each student construct (and when necessary reconstruct) their academic program and negotiate…their path to graduation." She seeks out professional development opportunities and national research initiatives, resulting in "new and innovative ways of increasing persistence of students (particularly from under-represented groups) in economics."
As a scholar, Tessendorf focuses on international economics, especially trade, as well as new institutional economics, economic development and the history of economic thought. A member of the faculty since 2001, she holds a B.A. from Indiana University and an M.A. from the University of Kentucky, and completed her doctoral coursework at the University of Southern California.