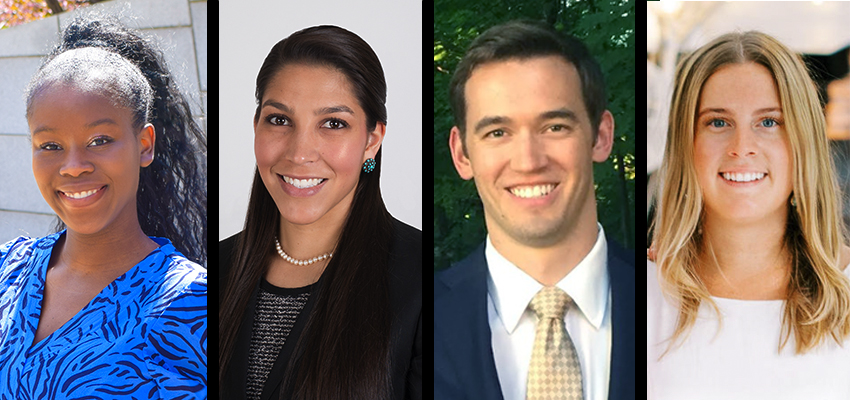 Four Alum Branding Professionals Join Media and Society Class
17 December 2021 • Alums Four Alum Branding Experts Join Media and Society Class
Students discuss branding with HWS Media and Society alums who work for Procter & Gamble, Colgate-Palmolive, Food52 and NBC's Peacock. The alums hold advanced degrees from Cornell, Dartmouth and Emerson.
During the Media and Society capstone class on branding, Associate Professor of Media and Society Leah Shafer facilitated a Zoom panel with her seniors and HWS Media and Society alums including Senior Manager of Brand Strategy at Food52 Emily Leahy Bowers '13, Senior Brand Manager at Colgate-Palmolive Molly Hinton '11, Senior Brand Manager at Bounty/Procter & Gamble Steven Van Vechten '11 and Brand Marketing Coordinator at NBC's Peacock Amber Williams '17.
The alums discussed their careers and roles in content marketing and brand management within their companies that sell consumer goods, video streaming services and recipe and cooking resources. They also covered their career journeys, graduate school decisions, business values and personal goals.
Each alum expressed a common appreciation for the role that the Colleges' interdisciplinary Media & Society Program played in developing their critical thinking skills.
Van Vechten, who holds an MBA from Cornell University's Johnson Graduate School of Management, says he recalls many faculty and class discussions from his time at HWS. "The great conversations I had with Professor Shafer and the rest of our Media and Society 'Cultures of Advertising' class have stuck with me. I've been able to apply that kind of learning and curiosity to experiences at an ad agency, business school, and now my current position [working for Bounty/Procter & Gamble]."
During a Q&A session, students asked alums about their transition from studying Media and Society as undergraduates to applying their knowledge and skills as employees in the field.
Margo Grapshi '22 posed the question: "This semester we've read a lot about the relationship between brands and culture; how does the brand you work for reflect and influence culture, and how do you address this in your work?"
Williams, who holds an MFA from Emerson College, replied: "Culture is so important. Our brand strategist team will do research on how our campaign will fit into a specific cultural context. We are always thinking about how we can fit what we have to offer into a cultural context in a natural and seamless way." In addition to her work at Peacock, Williams is founder and editor of Amber's Cooking Pantry, an online food blog.
Maggie Bonomo '22 asked: "How has the brand of the Colleges aligned with your core values to help define who you are today?"

Hinton, who holds an MBA from The Tuck School of Business at Dartmouth, offered: "I think there's a real value to a true liberal arts education that we get at the Colleges. We're curious, we ask why, and we go beyond the obvious answer. This is Media and Society, so we aren't just learning about ad campaigns but we're learning about the impacts and consequences [of advertising], and I do think that came from our HWS education."
Shayna Riggins '22 asked: "What elements do you deem most important when branding or rebranding a client's company?"
Bowers said, "It's really important to first start with a "why." We interview all of the stakeholders and ask: why are you doing what you're doing? Who is the audience you're trying to reach? What's important to you? Then you can go back and evaluate what ideas and what branding you can create in order to help the client reach their goals. That goes all the way to fonts, personas. There are so many elements that go into a rebrand – but what it really comes down to is what you stand for as a company and as a business. If you stay true to that throughout the process, that's going to be important."