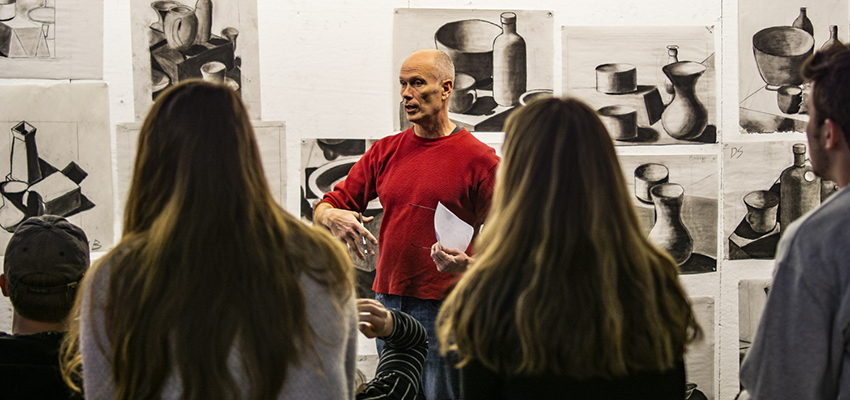 HWS News
8 June 2021 • Arts • Faculty Ruth Curates Global Printmaking Exhibition
HWS professor and artist Nick Ruth has been selected to curate the International Print Exchange Programme's 2021 exhibition.
Since 2013, the International Print Exchange Programme (IPEP) has offered printmakers a forum to share their work with one another and audiences across the globe. For the IPEP's 2021 exhibition, Class of '64 Endowed Professor of Art and Architecture Nick Ruth will set the theme, guide the artists and choose the shortlist of finalists.
For nearly a decade, the India-based non-profit has spawned more than 70 exhibitions from a community of more than 250 participants from 40 countries around the world. Applicants to IPEP's annual exhibition submit designs based on the curator's theme. If selected, finalists then mail portfolios to IPEP, which compiles exhibition materials — notes, profiles, labels, catalogs and prints from each participant. Participants then organize exhibitions in their respective locations, boosting networking among printmakers and creating awareness about printmaking as an artform.
An artist, curator and educator, Ruth works in a variety of media. His recent work in printmaking and installation explores the relationship between the built environment and human desire, and in particular addresses the function of communications infrastructure such as cell towers and signage as expressions of cultural values. He has curated several printmaking exhibitions including "Signs and Signifiers" (2017), "Within/Without" (2015) and "Nice Place to Visit: Printmaking and the Anxious Landscape" (2010). Augmenting his work as an artist, Ruth has a focus on the field of cultural geography and the map as a rhetorical device.
Ruth's work has appeared in more than 100 exhibitions in the United States and internationally, including IPCNY New Prints 2021/Summer, InkMasters Cairns (2021), 92nd Print Center International Competition (2018), Global Matrix IV (2017), 8th Douro Biennial (2016) and the 9th Triennale Mondiale de l"Estampe Chamaliers (2014).
At HWS, Ruth teaches courses in painting, drawing and printmaking, prioritizing conceptual and material exploration and visual invention. He has led semester abroad programs to Rome, Italy; Galway, Ireland; and Auckland, New Zealand. He has been recognized with the HWS Faculty Teaching Award as well as the HWS Faculty Prize for Scholarship.
Learn more about his work at www.nicholashruth.com.
In the photo above, Professor of Art and Architecture Nick Ruth discusses course policies and procedures during "Intro to Drawing" in the Katherine D. Elliot '66 Studio Arts Center.