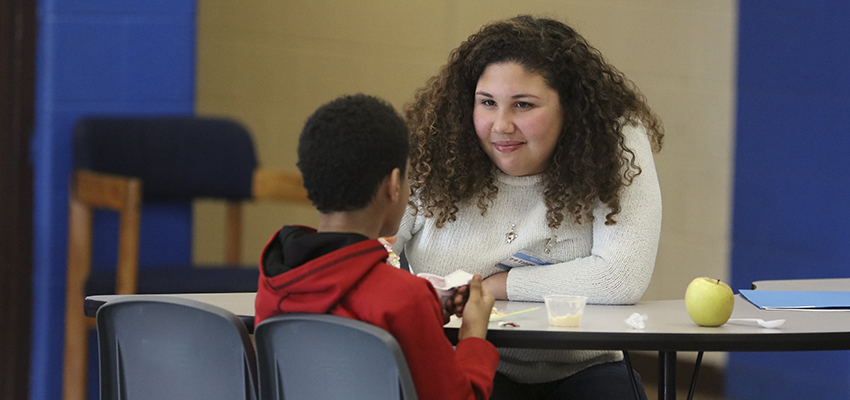 HWS News
31 August 2020

Suriel '20 Explores Bilingual Education

During her final semester at HWS, Tatianna Suriel '20 embarked on a project to highlight the value of bilingual education and ways to improve outcomes and opportunities for students. [Please note: this article appears in Spanish below.]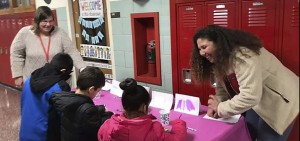 Suriel, who grew up speaking both English and Spanish and has lived her life moving between the Dominican Republic and the United States, has seen firsthand "the indubitable benefits of speaking more than one language, and being a part of multiple cultures."
Working with Professor of Spanish and Hispanic Studies May Farnsworth, Suriel began her independent study, "Bicultural Communities and Identities," with a reading list of literature by Latino/a-American authors and music and podcasts in Spanish. She also helped coordinate events within the HWS Spanish Department, attended Geneva Reads' PAWS nights at Geneva schools and volunteered weekly in a dual language first grade classroom at Geneva's West Street School before remote learning began.
Combined with Suriel's research into bilingual education across the country, in New York State and in Geneva, the project revealed a number of ways "to increase Hispanic and Limited English Proficiency students' academic success," she explains.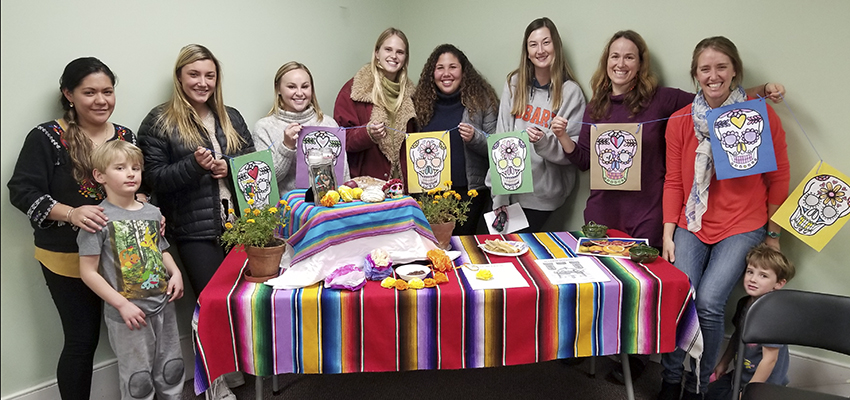 "Geneva is an extremely unique community in the sense that there are so many Spanish speaking residents, yet so few opportunities for Spanish to be used outside of the home or classroom," Suriel says. "One of my largest focuses throughout the semester was determining ways in which we can provide events, opportunities and resources to the Spanish speaking residents and anyone interested in integrating themselves in the language and adjoining cultures."
The resulting policy brief highlights "the importance of bilingual education, specifically focusing on New York State," she says.
Even with the improvements and successes of the Geneva 2020 / Geneva 2030 initiative, Suriel observed that those gains hadn't translated evenly across the board. "In 2019 only 62% of Hispanic students graduated, there was a 28% dropout rate for Hispanic students, and those with Limited English Proficiency had a 52.6% dropout rate," she explains. "I conclude my policy brief with proposed recommendations and further suggested reading to educate readers on many of the experiences Hispanic/Latino students experience both in their own lives and as a part of the United States' educational system."
A Women's Studies and Anthropology-Sociology double major, Suriel says the project brought together the "overlapping themes revolving around inequalities, race, language, privilege and policies," and helped her tie the theory and critical thinking skills from her coursework into a "more creative expression, reflecting on my own education and upbringing while still creating solutions and suggestions to encourage others to reach their own educational potential."
With the project now complete, Suriel recently joined Geneva 2030's new Bilingual Action Team, focused on increasing support to the Spanish-speaking students and families in the Geneva City School District. The team — which is putting particular emphasis on kindergarten readiness and development, literacy success, STEAM success, college and career readiness, and attendance — had its first meeting virtually this spring to discuss options to create more opportunities for Spanish-speaking and cultural events in Geneva.
"I feel so privileged to be a part of such a wonderful group of HWS faculty/staff, teachers, parents and community members. I hope to continue acting as a resource and liaison for such a wonderful, special community," Suriel says.
Spanish Translation:
Durante su último semes tre en HWS, Tatianna Suriel '20 realizó un proyecto para subrayar el valor de la educación bilingüe y estudiar las formas de mejorar la experiencia académica y las oportunidades para los estudiantes.
Suriel, quien creció hablando tanto inglés como español y ha vivido su vida entre la República Dominicana y los Estados Unidos, ha visto de primera mano "los indudables beneficios de hablar más de un idioma y ser parte de múltiples culturas".
Trabajando con la profesora de español y estudios hispanos May Farnsworth, Suriel comenzó su estudio independiente, "Comunidades e identidades biculturales", con una lista libros de autores latinos y música y podcasts en español. También ayudó a coordinar eventos para el departamento de español de HWS, asistió a las noches de PAWS de Geneva Reads en las escuelas de Geneva y trabajó como voluntaria en un aula bilingüe de primer grado en la West Street School de Geneva antes de que comenzara el aprendizaje remoto.
Combinado con la investigación de Suriel sobre la educación bilingüe en todo el país, en el estado de Nueva York y en Geneva, el proyecto reveló varias formas de "aumentar el éxito académico de los estudiantes hispanos y los estudiantes con bajos niveles de inglés", explica.
"Geneva es una comunidad única en el sentido de que hay tantos residentes de habla hispana, pero muy pocas oportunidades para que se use el español fuera del hogar o en el aula", dice Suriel. "Uno de mis mayores enfoques a lo largo del semestre fue determinar las formas en que podemos ofrecer más eventos, oportunidades y recursos a los residentes de habla hispana y a cualquier persona interesada en conocer el idioma y las culturas vecinas".
Su estudio destaca "la importancia de la educación bilingüe, centrándose específicamente en el estado de Nueva York", dice. Incluso con los éxitos de la iniciativa Geneva 2020 / Geneva 2030, Suriel observó que los resultados no son uniformes en todos los ámbitos. "En 2019, solo el 62% de los estudiantes hispanos se graduaron, hubo una tasa de deserción del 28% para los estudiantes hispanos y aquellos con dominio limitado del inglés tuvieron una tasa de deserción del 52,6%", explica. "Concluí mi ensayo con recomendaciones y sugerí libros para educar a los lectores sobre lo que los estudiantes hispanos / latinos experimentan tanto en sus propias vidas como en el sistema educativo de los Estados Unidos".
Suriel, quien obtuvo una doble especialización en Estudios de la Mujer y Antropología-Sociología, dice que el proyecto reunió los "temas superpuestos que giran en torno a las desigualdades, la raza, el idioma, los privilegios y las políticas", y la ayudó a vincular la teoría y la práctica del pensamiento crítico de sus cursos en una "expresión creativa, reflexionando sobre mi propia educación y crianza mientras sigo creando soluciones y sugerencias para alentar a otros a alcanzar su propio potencial educativo ".
Con el proyecto ya completado, Suriel se unió recientemente al nuevo Equipo de Acción Bilingüe de Geneva 2030, enfocado en aumentar el apoyo a los estudiantes y familias de habla hispana en el Distrito Escolar de la Ciudad de Geneva. El equipo, que está enfocándose en la preparación y el desarrollo para el kindergarten, la alfabetización, las ciencias, artes y matemáticas, la preparación para la universidad y la carrera, y la asistencia, tuvo su primera reunión virtualmente esta primavera para discutir opciones para crear más oportunidades para eventos culturales y de habla hispana en Geneva.
"Me siento muy privilegiada de participar en un grupo tan maravilloso de profesores / profesionales, maestros, padres y miembros de la comunidad de HWS. Espero poder seguir apoyando esta comunidad tan maravillosa y especial ", dice Suriel.